1. xFPL review
xFPL is calculated primarily using expected goals (xG), assists (xA), which combine as Fantasy Premier League (FPL) involvements (xG + xA = xI), as well as expected clean sheets (xC). These numbers are a result of underlying statistics (i.e. shot type and location will give a probability of scoring = xG). xFPL is the combination of these statistics and factors in appearance and bonus points to give an overall expected FPL point score.
Man. Utd's hat-trick hero Martial tops the Custom Stats xFPL table this week with a score of 14.2. The Frenchman landed three SoT, all three of which were 'big chances' and also created a 'big chance' for Rashford. Mané was the week's most creative player with five attempted assists. He beats Salah for xFPL score (7.8 vs 6.8) despite taking just one shot compared to the Egyptian's five. Rodriguez and Calvert-Lewin were joint-top for shots on target (SoT) with four apiece, notching xFPL scores of 4.0 and 3.9 respectively. Jiménez scored with his only shot of the game. The Mexican attempted no assists and notched an xFPL score of 5.6 only. 


2. Man. Utd. attackers compared
The Red Devils further underlined their FPL credentials with a resounding 3-0 win over Sheff. Utd. and with a favourable fixture schedule until the end of the season, tripling up on their assets looks a wise decision. Their four most popular attackers are compared using the Fix Comparison tool for the last two gameweeks. Martial leads the way for FPL points (23) and goals (three) and is joint-top with B. Fernandes for SoT (four). However, in terms of creativity, he has the lowest numbers of the lot with just two attempted assists compared to three for B. Fernandes and four each for Rashford and Pogba. One number that does stand out is penalty area actions for the Portuguese where has more than the other three combined. This is largely due to his set piece duties which are a major feather in his cap. Pogba's numbers aren't impressive but it is worth mentioning he has played the fewest minutes of the four. Based on this comparison, Martial looks a must-have with Rashford and B. Fernandes coming in close behind.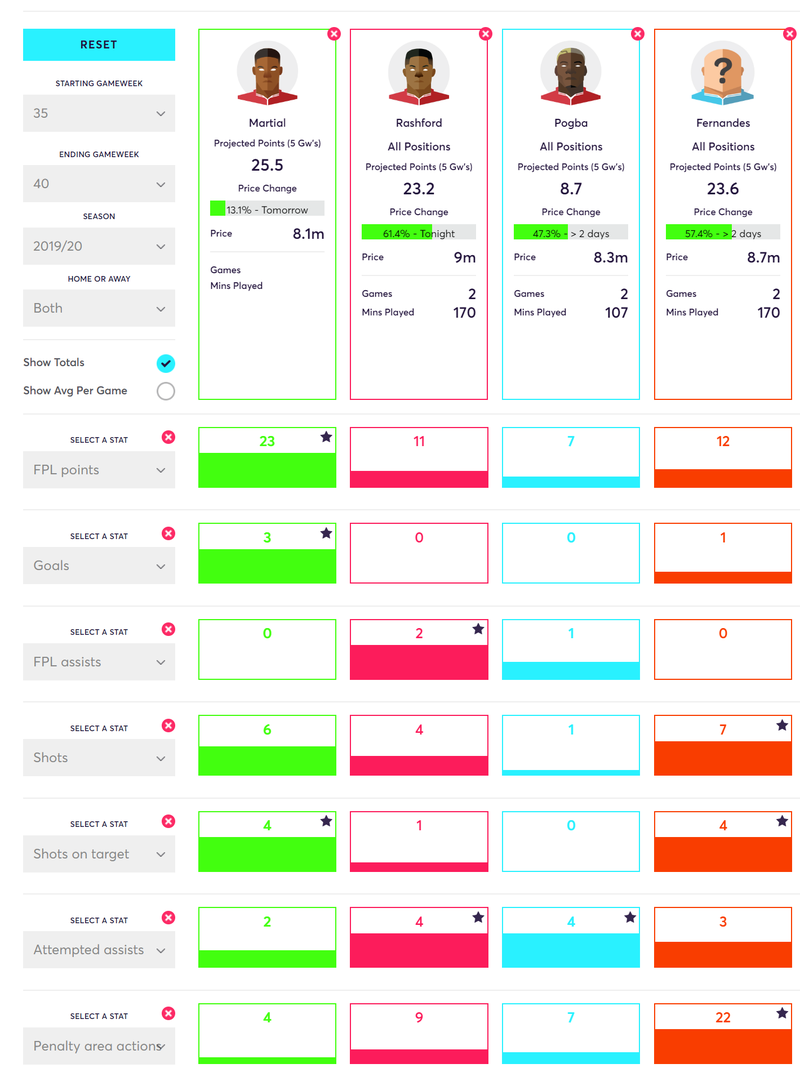 3. Chelsea continue to impress
Only two teams can boast a 100% win record since the restart – Wolves and Chelsea. Having already discussed Wolves' assets in last week's Lessons Learned, Chelsea's assets are compared using the Stats Sandbox for the last two gameweeks. Willian leads the way for xFPL (14.41), the Brazilian took five shots with two on target and he has been Chelsea's primary creator with eight attempted assists with second placed Azpilicueta creating just three. The Spaniard comes in second for xFPL (11.53) and also took two shots in the box (SiB), In terms of goal threat, no player took more shots than Pulisic's six despite being on the pitch for just 124 minutes. He leads the way for SoT (four) and 'big chances' (three). Up front Giroud has been preferred over Abraham for the first two matches but the Englishman beats him for xFPL (10.13 vs 6.57) despite playing 38 minutes to the Frenchman's 142. The numbers indicate that Pulisic offers a great budget route into the Chelsea attack and as he showed against Villa, he can make an impact off the bench which will be vital in the upcoming busy period.
*no. of games column should read "2"