Burnley, Brighton, Brentford, Chelsea, Leiecester, Man. Utd, Spurs and Watford are all currently scheduled to play twice in double gameweek 22 and the stats of their key players over the last six gameweeks are analysed in this blog using the Fix Custom Stats Table.
xFPL is calculated primarily using expected goals (xG), assists (xA), which combine as Fantasy Premier League (FPL) involvements (xG + xA = xI), as well as expected clean sheets (xC). These numbers are a result of underlying statistics (i.e. shot type and location will give a probability of scoring = xG). xFPL is the combination of these statistics and factors in appearance and bonus points to give an overall expected FPL point score.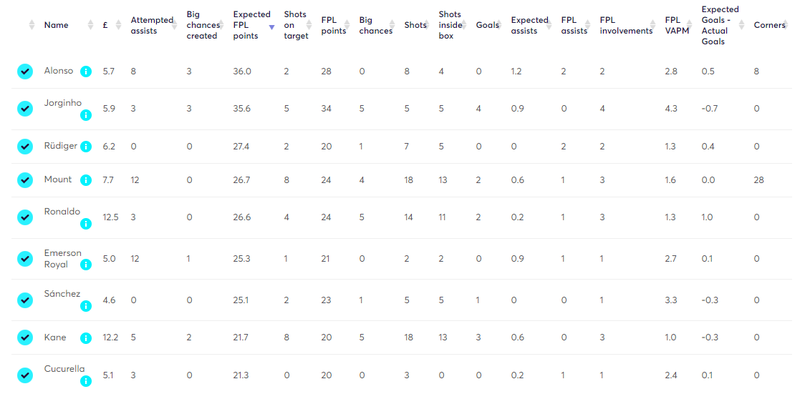 Sorting out players from the aforementioned double gameweek 22 teams by xFPL score, Alonso emerges as the top target. Only Mount and Royal (each 12) have attempted more assists than the Spanish international over the last six gameweeks. He would be one of the must-have players on a Free Hit, but given that Chelsea blank in 24 and 25, bringing him in would be a bit short-term.
Mount is another Chelsea player worth considering on the Free Hit, he tops the table for both chances created (12) and shots on target (SoT) (eight).
Defence


Sorting the table by xFPL for defenders, Royal looks like the Spurs defender of choice. The right-back has created 12 chances compared to Reguílon's five and only Alonso (1.2) has a higher Expected Assists (xA) tally than the Brazilian (0.9).
Burn (21.3) and Cucurella (21.3) notch the same xFPL score which indicates that the tall Englishman might offer better value at 0.7 cheaper. It is worth mentioning though that Brighton blank in gameweek 25.
Jansson (20.0) could also be worth a punt as a budget option.
Midfield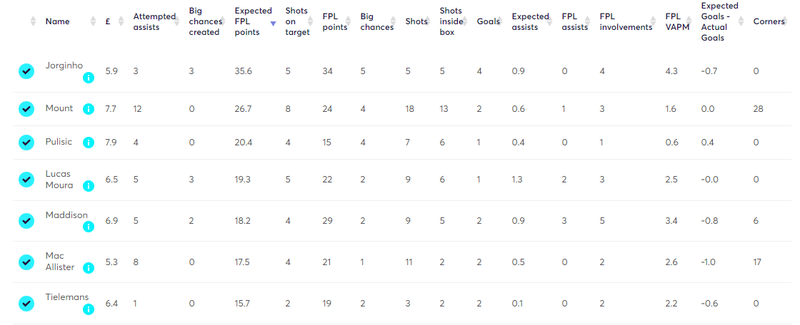 Lucas' gametime should be more assured with the injury to Son and his low ownership makes him a great differential for the double and beyond. The Brazilian tops the table for 'big chances created' (three) and only Mount (13) has taken more shots in the box (SiB) than his six.
Maddison has notched more FPL involvements (five) than any other midfielder over the last six gameweeks and is ranked fifth for xFPL score (18.2). He is ranked third for shots (nine) and chances created (five), which is considerably better than his teammate Tielemans (three shots, one chance created).
With eight attempted assists, MacAllister could be worth a punt at 5.3, especially on a free hit.
Forwards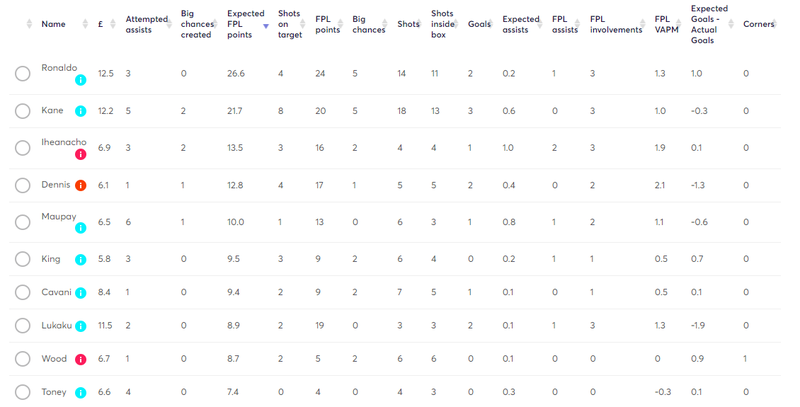 Premium options Ronaldo (26.6) and Kane (21.7) top the xFPL table for forwards over the last six gameweeks and are likely to be the most popular captaincy options. In terms of underlying numbers, Kane beats Ronaldo for chances created (five to three), SiB (13 to 11) and SoT (eight to four). However, the higher xFPL score indicates that the Portuguese international is being afforded chances of higher quality.
Dennis (12.8) beats King (9.5) for xFPL score, but there is not much to split them in terms of numbers. Dennis has attempted five SiB to King's four while the latter is better for chances created (three to one).
Iheanacho is currently away at the African Cup of Nations and both Wood (8.7) and Maupay (10.0) post numbers strong enough to be worthy of consideration.