Man. City sit top of the league and embark on a great run of fixtures over the next few weeks. The underlying numbers of their midfielders are compared using the Fix Comparison Matrix, averages are used since the likes of Foden and Grealish have played fewer minutes.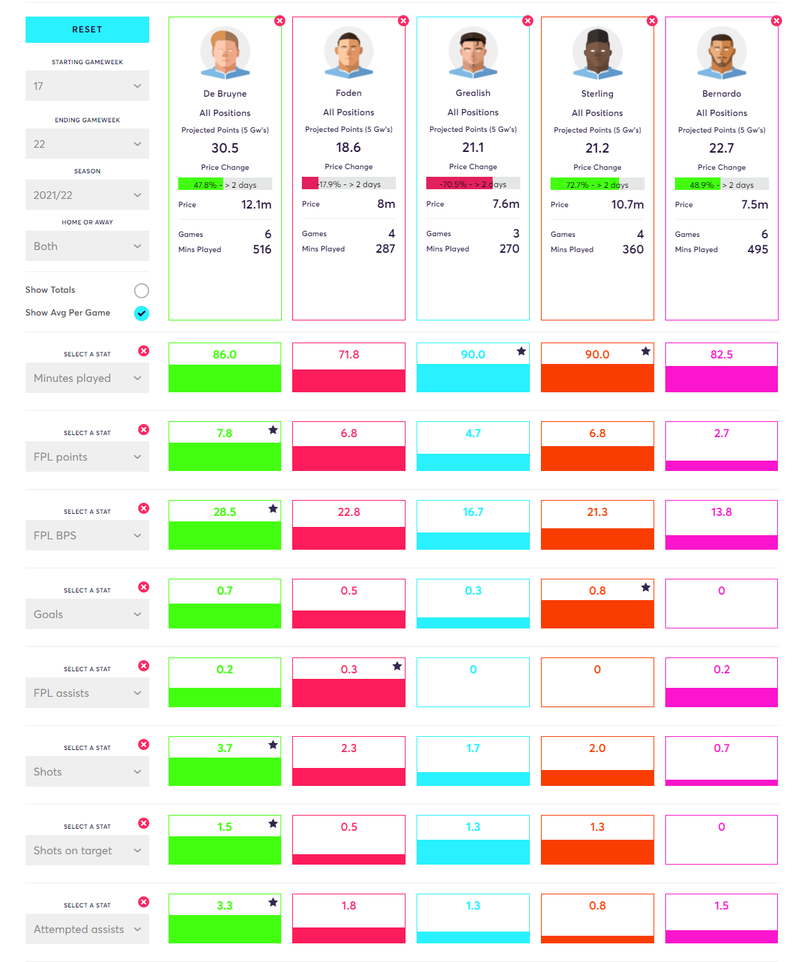 Their most expensive asset, De Bruyne (12.1) tops the comparison for Fantasy Premier League (FPL) points (7.8), shots (3.7), shots on target (SoT) (1.5) and attempted assists (3.3). He has also played 516 of a possible 540 minutes and is one of their more nailed-on players.

Foden tops the comparison for assists per game (0.3) and comes in second for attempted assists (1.8). He is also second for shots (2.3) and at a price of just 8m he represents excellent value. There is always the slight risk of rotation but Foden offers the combination of upside and a great price.

Grealish has played the fewest minutes (270) of the players in the comparison and the England international has posted decent underlying numbers which see him fourth for both shots (1.7) and attempted assists (1.3). He is also testing the keeper with a higher percentage of his attempts with an average of 1.3 SoT. Grealish still does not look settled in this Man. City side and minutes are a major concern.

Sterling tops the comparison for goals per game (0.8) but is only placed third for shots (2.0) which is surprising as he is usually a volume shooter. His creativity numbers are the lowest in the comparison (0.8) so he is relying largely on goal threat for his FPL output. The underlying numbers do not justify an outlay of 10.7

B. Silva has averaged a paltry 2.7 FPL points per game over the last six gameweeks and is bottom of the comparison for shots per game (0.7). He has scored no goals nor registered a single SoT over this period. He is however third for attempted assists (1.5). Foden looks like a much better option than B. Silva at a similar price.