Caveat: The Fix team believe Alexander-Arnold could be priced at £8.0m, however, the powerful Fix algorithm has a high-degree of accuracy, and accurately predicted De Bruyne as £9.5m last season while many suggested £10.0m+ 
With the 2019/20 season now complete, we are excited to launch our new Pre-Season Site which includes heaps of new features – including our Predicted Player Prices for the 2020/21 Fantasy Premier League (FPL) season here. Our algorithm has calculated the price of every player in FPL next season within a 98.7% accuracy tolerance (based on past season's predictions) along with a 'Fix Value rating' to assess the potential value of any player in 2020/21. This blog provides a sneak peek into our new Pre-Season site by reviewing the data and statistics from the first of ten new features.
2019/20's stellar performers between the sticks were Pope and Henderson, who both started out at £4.5m. Given their heroics, the Fantasy Football Fix price algorithm expects to see a price hike to £5.5m for both these shot stoppers. Pope and Henderson are both given a Fix Value rating of 8/10 as they provide a mixture of save points, clean sheets and bonus points. A premium goalkeeper like Alisson is expected to come in at £6.0m which gives him a Fix Value rating of 6/10. At that price point, it makes more sense to invest in a premium defender as goalkeepers from the top sides often make fewer saves and have to compete with the attackers for bonus points.
This season's top scoring defender Alexander-Arnold is expected to be priced at £7.5m, £0.5m more than the second-highest scoring defender, Robertson. The right-back is awarded a Fix value rating of 8/10 versus 7/10 for the Scotsman as his set-piece duties offer him more routes to points. The highest scoring non-Liverpool defender, Doherty is expected to be priced similar to last season, at £6.0m. The Irishman is also awarded a 8/10 Fix value rating, as he registered double digit hauls six times over the 2019/20 season and offers attacking returns as well as good potential for clean sheets. Laporte is expected to see a price drop to £6.0m from £6.5m last year. The Frenchman missed a large chunk of the campaign due to injury, registering just 63 points. This could make him a possible bargain for next year with the Fix Algorithm awarding him a 7/10 value rating.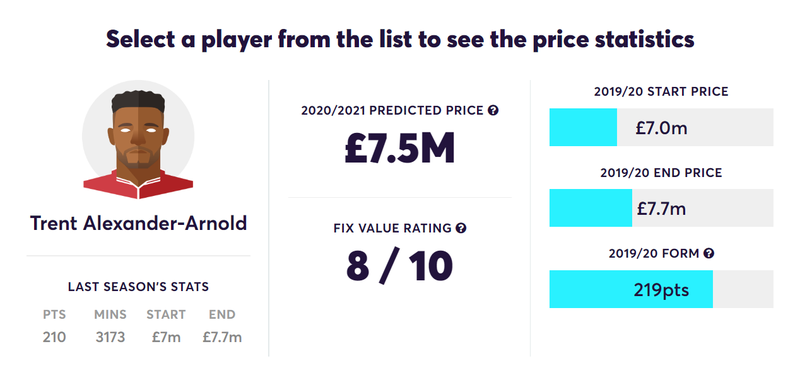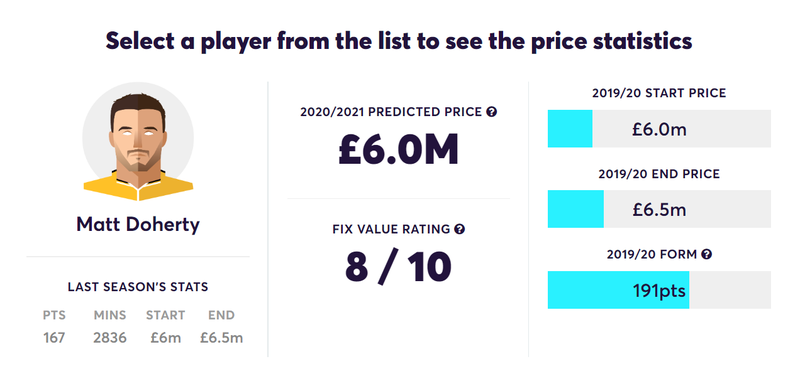 As was the case last year, most of the heavy-hitters are expected to be in midfield with De Bruyne (£12.0m) expected to see one of the biggest price hikes from his 2019/20 starting price of £9.5m. The Belgian was under-priced last year due to missing most of the 2018/19 campaign with injury but even at £12.0m, the Fix Algorithm awards him a 10/10 value rating. Salah is expected to be priced the same as last season (£12.5m) with Mané expected to see a small hike to £12.0m, close to his finishing price (£12.1m). Both the Liverpool midfielders are awarded a 9/10 Fix value rating by the algorithm. Despite his heroics over the last few weeks of the campaign, Sterling is expected to see a small drop in price to £11.5m from £12.0m. B. Fernandes is expected to come in at a whopping £11.0m, £3.0m more than his starting price for 2019/20. Like De Bruyne, he is also awarded a value rating of 10/10 by the Fix Algorithm due to his FPL returns of 117 points in just 1187 minutes last season.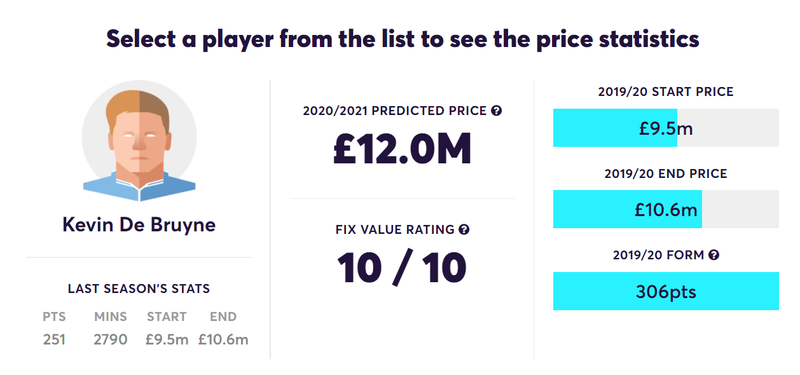 Aubameyang is predicted to be the most expensive FPL forward for the 2019/20 season at £11.5m. Having narrowly missed out on the golden boot in 2019/20, the Gabon international registered 200+ points for a second consecutive season but is awarded only a 7/10 Fix value rating by the algorithm. 2019/20's Golden Boot winner and top scoring FPL forward Vardy is expected to see a significant price hike to £10.5m from his price of £9.0m last year. The Fix Algorithm gives the Englishman a value rating of 8/10 as a result of delivering 170+ FPL points for three consecutive seasons. Popular budget forwards Ings and Jiménez are both expected to be priced at £9.0m apiece. That's a massive £3.0m increase for Ings from his starting price of £6.0m for 2019/20 and the Fix Algorithm gives him a value rating of 8/10 versus just 6/10 for Jiménez. Another player likely to get a significant price hike is Greenwood. The forward was priced at just £4.5m for the start of the 2019/20 campaign but his performances in the second half of the campaign should see him priced at £7.0m for the 2020/21 season.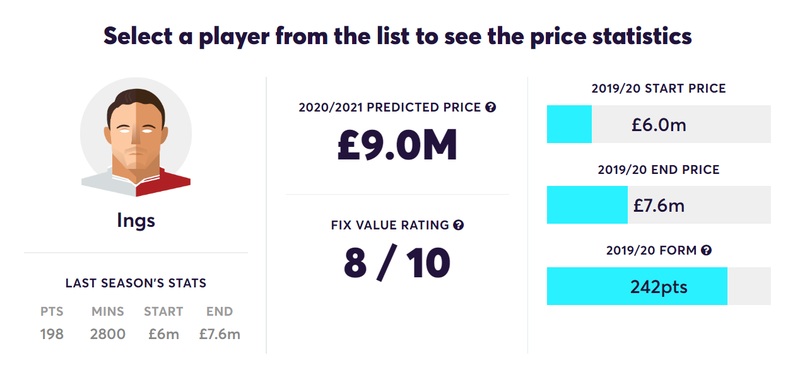 Some interesting options stick out at first look. Southampton's Adams had a strong finish to the season with a brace on the final day and he is expected to be priced at just £6.0m as seen in the Fix Predicted Player Prices feature, £3.0m less than Ings. Even with a price hike, Alexander-Arnold offers tremendous value as only Mané, Salah and De Bruyne registered more FPL points than him last season. He outscored the likes of Kane, Son, Aubameyang etc. at a significantly lower price. Last year's most owned defender Van Dijk at £6.5m also looks like a great route into the Liverpool defence once again. Saiss at £5.0m could also offer a budget route into the excellent Wolves backline with Boly, Doherty and Jonny expected to be priced higher than the Moroccan. In midfield, owning the right heavy hitters at the time could be key. It is unlikely that more than two players such as De Bruyne and Salah can be squeezed in and there is a case to be made that the cheaper options of Sterling and Mané offer better value. The price hikes for Jiménez and Ings means that they no longer fall into the category of budget forwards. Both players registered double-digit hauls just three times each so they will need to deliver consistently to justify the outlay.
Using fix Pre-Season you can combine Opta Statistics, data from how the top managers in the game perform, and apply Fix' artificial intelligence to your 2019/20 squad, so you can learn how to improve your game.
Click here now to checkout the fix Pre-Season site!