Fantasy Football Fix's new feature - Elite XI: Team Reveal tracks 11 Fantasy Premier League (FPL) managers with 74 Top-10k ranks between them. Every transfer move they make will be tracked and displayed. Real-time notifications can also be set up, so you get the latest moves direct to your device as and when they make future transfers, or simply change starting XI or captaincy. Learn from the very best, instantly. It was a low scoring week with the overall Fantasy Premier League (FPL) average just 49 and a lot of benchings for some big name assets.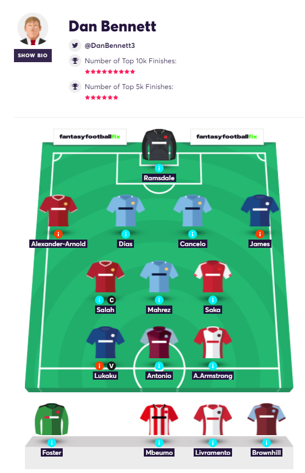 Manager: Dan Bennett
Team Value: £101.9m
Current Rank Range: Top 300k 
Chip Played: Wildcard 
Transfers : Wildcard played
Nine time Top-10k finisher Dan Bennett deployed his wildcard in gameweek eight and it was off to a rocky start with benchings for Dias, A. Armstrong and R. James. Cameos for Dias and R. James meant that Livramento's six points stayed on the bench but the veteran is well placed for the weeks ahead. The Man. City triple up should spell plenty of points and he is primed to capitalise on Chelsea's upcoming fixtures of Norwich, Newcastle and Burnley as well. He scored 50 points which was around the average score, so he has not lost much ground.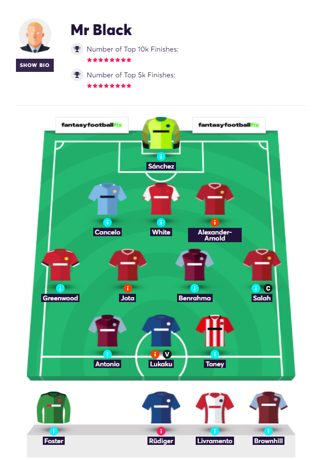 Manager: Mr Black 

Team Value: £101.9m
Current Rank Range: Top 20k
Chip played: none
Transfers : Ronaldo to Lukaku, Coufal to Cancelo
Sitting in the Top 20k, eight-time Top-5k finisher Mr Black brought in Cancelo with his free transfer which immediately paid dividends. With Livramento subbing on for Jota, he banked four clean sheets this week from the Saints defender, Cancelo, Alexander-Arnold and Sanchez. He also kept the faith in Greenwood and was rewarded with seven points. His score of 66 points meant that it was another green arrow yet again for the veteran.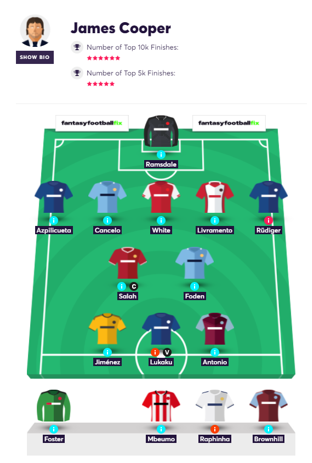 Manager: James Cooper 

Team Value: £102.1m
Current Rank Range: Top 100k
Chip played: none
Transfers: Grealish to Foden
Five-time Top-5k finisher James Cooper was one of the few Elite XI managers to bring in Foden this week and was rewarded with a return of six points from the midfielder. His double Arsenal defence let him down but he banked clean sheets from Azpilicueta, Cancelo and Livramento. His score of 59 points was still well above the average and he enjoyed another green arrow, taking him inside the Top 100k. It will be interesting to see if he brings in Alexander-Arnold back soon with the Liverpool right-back a popular choice amongst the other Elite XI managers.