1. xFPL review
xFPL is calculated primarily using expected goals (xG), assists (xA), which combine as Fantasy Premier League (FPL) involvements (xG + xA = xI), as well as expected clean sheets (xC). These numbers are a result of underlying statistics (i.e. shot type and location will give a probability of scoring = xG). xFPL is the combination of these statistics and factors in appearance and bonus points to give an overall expected FPL point score.

B. Fernandes tops the Custom Stats xFPL table for gameweek 36 with a score of 18.3. The Portuguese took seven shots in the box (SiB) and also attempted five assists. No player took more shots (12), SiB (10) or landed more SoT (six) than Benteke, the Belgian notched an xFPL score of 13.6, the fifth-highest this week. Alexander-Arnold was the most creative player with 10 attempted assists, the right-back also took four shots and registered an xFPL score of 14.1. Jota led the way for 'big chances' (four), he landed five of his seven SoT and came in sixth for xFPL 13.3.

2. Budget Strikers compared
With Iheanacho having no fixture in gameweek 36, managers are searching for a replacement and the popular candidates are compared over the last four gameweeks using our Fix Comparison Matrix. Wood tops the comparison for FPL points (8.5), goals (1.3), shots (4.3), SoT (2.3) and 'big chances' (1.5). Antonio is second for FPL points (7.5), goals (1.0), shots (3.0), 'big chances (1.0) and leads the way for attempted assists. Bamford has a kind run of fixtures but the underlying numbers have dipped from early season, he comes in fifth for FPL points (3.3), shots (1.8) and SoT (0.8). Calvert-Lewin comes in third for shots (2.5) and SoT (1.3) which makes him a good option for Everton's next two fixtures.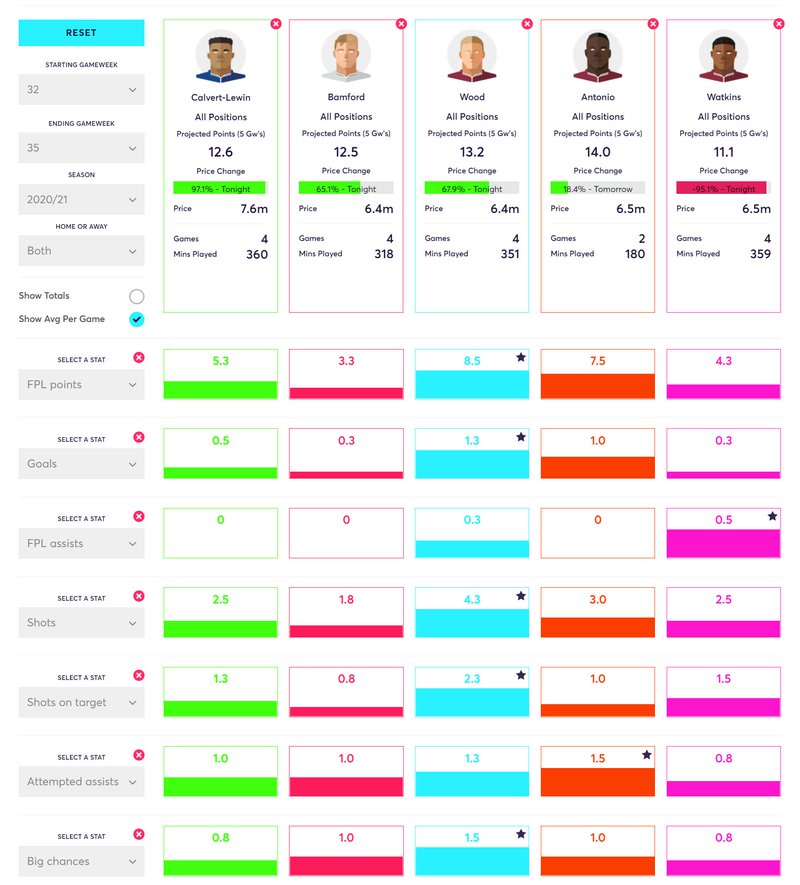 3. Midfielders to target for the run-in
With popular Man. Utd midfielders blanking in gameweek 36, the popular midfield replacement options are compared using our Stats Sandbox feature for the last four gameweeks. Salah tops the table for xFPL (27.30) and is a must-have with Liverpool's kind run of fixtures. Jota leads the way for shots (16), SoT (nine) and expected goals (xG) (3.11). Bale leads the way for goals (four), FPL points (32) and comes in second for SoT (seven). It is interesting to see Son is close behind with 31 FPL points and beats the Welshman for xG (1.61 to 1.13) and expected assists (xA) (1.00 to 0.14).