Villa vs Man. Utd

Villa and Man. Utd matched each other for shots (13) but the hosts landed more shots on target (SoT) (nine to six). Despite the superior volume of SoT, the visitors fared better for 'Expected Goals' (xG) (1.65 to 1.83).

B. Fernandes was the table topper for xG (0.96) with this match and scored from both his shots. Coutinho's numbers are impressive considering he only played 22 minutes. The Brazilian landed two SoT with an xG of 0.72.
Watkins is another player who caught the eye with four shots. However, his xG of just 0.24 indicates these were low quality chances. No player took more shots than Greenwood (five) while Buendia was the game's most creative player with four attempted assists.
West Ham vs Leeds

The game at the London Stadium was an engrossing end to end affair with a total of 33 shots attempted between the two sides. The teams landed five SoT apiece and West Ham will be ruing their wasteful finishing after notching an xG of 2.02 to Leeds' 1.94.

Bowen led the game for shots (five) and xG (1.10), it is interesting to note that he created no chances and is West Ham's primary goal threat at the moment. Harrison notched a hattrick from an xG of just 0.95, scoring from all three of his SoT. Antonio posted poor numbers again with just two attempted assists and a solitary goal attempt.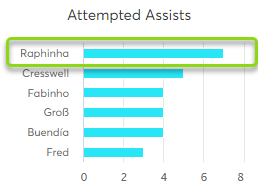 As the above image from our Match Stats feature shows, no player has attempted more assists than Raphinha (seven) so far in gameweek 22. The Brazilian this season has been more of a goal threat than a creative outlet but as Leeds are getting their players back fit, it appears that he is back pulling the strings once again.
Liverpool vs Brentford

Liverpool produced one of their most dominant displays of the season with 27 shots, 13 SoT and 2.91 xG against Brentford. Their visitors could muster just six shots with an accumulated value of just 0.45 xG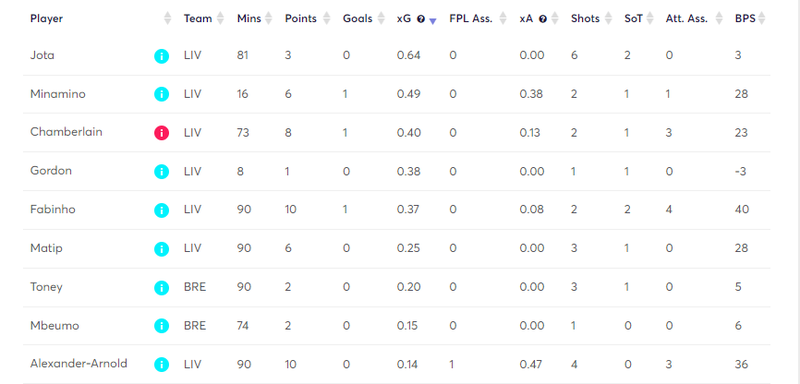 Jota dominates the underlying numbers with six shots, two SoT and 0.64 xG. No player has taken more shots than the Portugal international and he was unfortunate not to find the back of the net. Fabinho (five) and Alexander-Arnold (four) were Liverpool's main creative players in the absence of Mane and Salah.
Toney was the main goal threat for the visitors with three shots but these were low quality efforts with an accumulated xG of just 0.20.
Newcastle vs Watford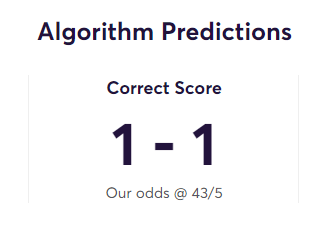 As the Match Stats feature shows, the Fix Algorithm correctly predicted a 1-1 draw between the two bottom of the table sides. Despite attempting 12 shots, Newcastle could test Foster just once while the visitors landed five SoT and were also superior for xG (1.53 to 1.29)

Dennis and King were the most popular Fantasy Premier League (FPL) picks from this fixture and the latter posted significantly superior numbers. King took four shots to Dennis' two and also created more chances (three to two). As a result King posted an xG of 0.43 compared to just 0.1 for Dennis. Pedro took a whopping six shots and landed three SoT but still trailed King for xG (0..32).
Newcastle's goal scorer Saint-Maximin scored from his only attempt of the match and it is Joelinton who tops the table for xG (0.60).