xFPL review
xFPL is calculated primarily using expected goals (xG), assists (xA), which combine as Fantasy Premier League (FPL) involvements (xG + xA = xI), as well as expected clean sheets (xC). These numbers are a result of underlying statistics (i.e. shot type and location will give a probability of scoring = xG). xFPL is the combination of these statistics and factors in appearance and bonus points to give an overall expected FPL point score.

De Bruyne tops the Custom Stats xFPL table for gameweek 17 with a score of 11.8. The Belgian took five shots, two of which were 'big chances' and also attempted three assists. B. Fernandes was the week's most creative player with five attempted assists. The Portuguese midfielder also took five shots, notching an xFPL score of 10.3. No player took more shots than Bamford (seven), the 27-year old notched an xFPL score of 4.1 as just one of these attempts was deemed a 'big chance'. Lacazette led the way for shots on target (SoT), the Frenchman was afforded more 'big chances' than any player this gameweek and he attempted three assists as well, registering an xFPL score of 9.5.

Big Hitters compared
Ahead of the blank and double gameweek fixtures, managers have tough decisions to make regarding the premium players in their squads. The numbers are compared over the last three gameweeks using our Fix Comparison Matrix. Averages are used since Spurs and Man. City both had a fixture postponed. De Bruyne and B. Fernandes appear to be the standout picks. The Man. Utd man tops the comparison for FPL points (9.3), goals (0.7), assists (0.7), shots (3.7), SoT (1.3) and attempted assists (3.7). De Bruyne marginally pips him for xFPL (9.4 vs 8.9) and 'big chances' (1.5 vs 1.3). Salah's numbers are worrying at first glance. The Egyptian has averaged just 0.5 SoT over the last three matches but his average xFPL score of 6.5 per match indicates he has been unlucky not to deliver returns and remains a good option for gameweek 19. Kane (5.9) and Son (5.1) post similar xFPL scores and average one SoT each.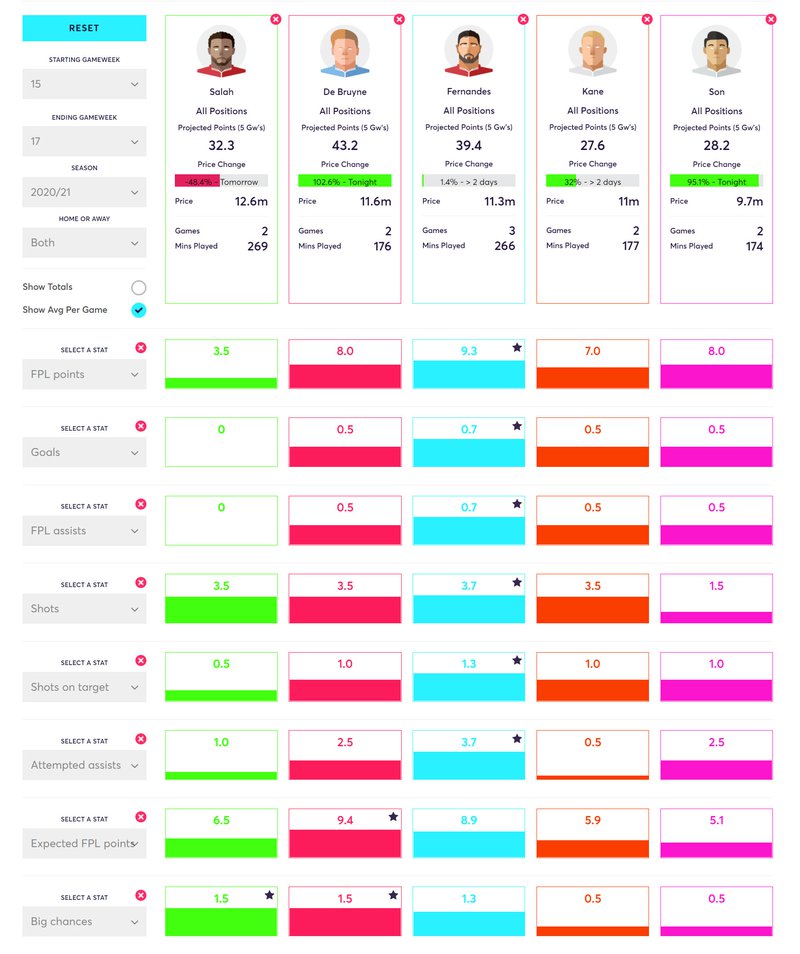 Gunners firing again
Arsenal have won their last three league matches and offer plenty of value options across all positions. Their assets are compared for the last three gameweeks using the Stats Sandbox feature. Lacazette tops the xFPL table with a score of 20.79, the Frenchman has scored four goals and landed seven SoT, four more than second-placed Saka (three) managed. Tierney has been their most creative player with seven attempted assists and also leads the way for FPL points scored (28). Holding comes in fourth for xFPL (15.12), and the presence of two defenders in the top five indicates that they have been defensively solid. Smith Rowe also looks a great option at a price of just 4.4, and only Tierney (seven) has attempted more assists than his six.