xFPL review
xFPL is calculated primarily using expected goals (xG), assists (xA), which combine as Fantasy Premier League (FPL) involvements (xG + xA = xI), as well as expected clean sheets (xC). These numbers are a result of underlying statistics (i.e. shot type and location will give a probability of scoring = xG). xFPL is the combination of these statistics and factors in appearance and bonus points to give an overall expected FPL point score.

B. Fernandes tops the Custom Stats xFPL table for gameweek 15 with a score of 10.7. The Portuguese took three shots in the box (SiB) and attempted three assists enroute to amassing a 12-point FPL haul. Watkins' nine shots were four more than any other player managed this gameweek, the forward was afforded three 'big chances' and also attempted three assists, notching an xFPL score of 9.1. No player attempted more assists (six) than Grealish this gameweek, Villa's captain was unfortunate not to register any FPL returns as evidenced by his 8.3 xFPL score. Mane outperformed Salah, registering three SiB to the Egyptian's two and beating him for xFPL score 7.4 to 3.3.

Heavy Hitters compared
Ahead of a fixture swing for Spurs, the underlying numbers for Kane and Son are compared to the other premium players using our Fix Comparison Matrix for the last four gameweeks. B. Fernandes and Salah are in a league of their own as the best premium options in the game with 34 and 33 points respectively over the last four matches. In terms of shots, Kane tops the comparison with 14 but just one of these was a 'big chance', which explains his low xFPL score of 15. Son has taken just five shots over the last four matches and seems to have taken on a more creative role, with eight attempted assists to Kane's one. The South Korean has been afforded two 'big chances' though, which lead to him beating Kane for xFPL (19). De Bruyne's xFPL score of 25 is just one less than B. Fernandes' 26 which indicates that the Belgian should have had more FPL points. He leads the comparison by a distance for attempted assists (14) and has taken 11 shots as well.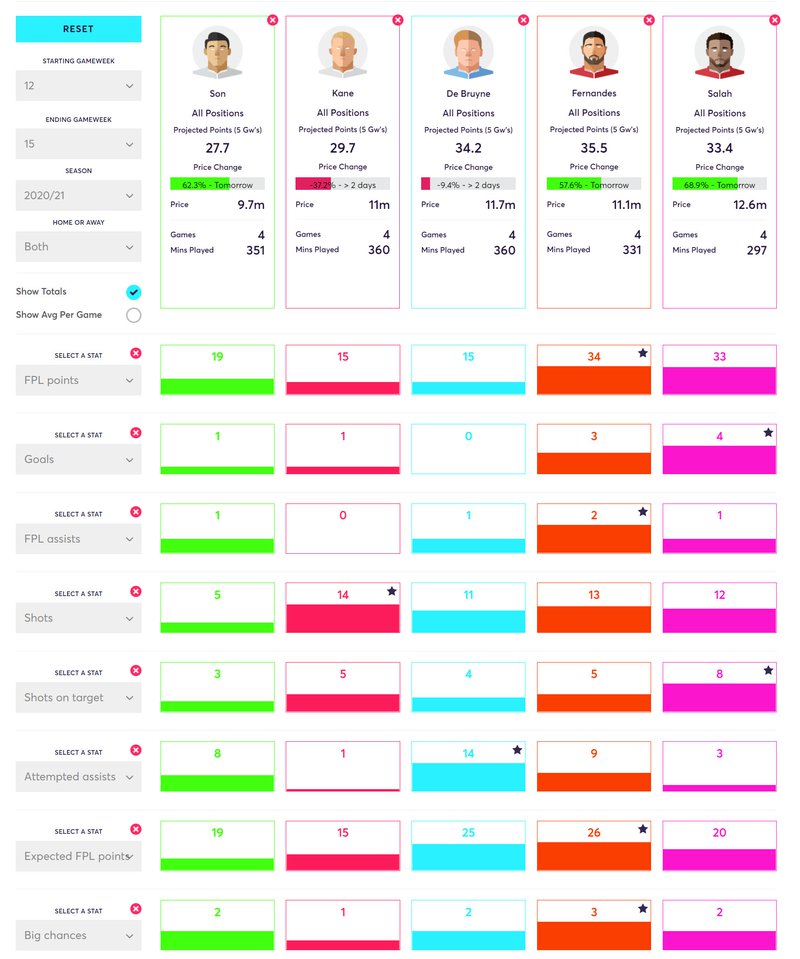 A closer look at Villa
Villa have picked up 10 points out of a possible 12 in their last four matches and are one of the form teams in the league. Using the Stats Sandbox, their players are compared over the last four gameweeks. Unsurprisingly, their joint-top FPL scorers El Ghazi and Martinez (35 points each) are the top two for xFPL scores (34.64 and 23.59 respectively). El Ghazi has taken 22 shots over the last four gameweeks, more than any other player in the league and has landed 14 of those shots on target. Watkins is not too far behind, the forward has taken 17 shots but landed just seven shots on target (SoT). Grealish has taken on a more creative role, his 23 attempted assists are the highest in the league over the last four gameweeks but he has landed just two SoT and been afforded just one 'big chance'. In terms of defence, Hause leads the way for xFPL 22.21) despite playing just three matches. The centre-back's expected goals (xG) numbers (0.80) are the reason for that.