Fantasy Football Fix's feature - Elite XI: Team Reveal tracks 11 Fantasy Premier League (FPL) managers with 74 Top-10k ranks between them. Every transfer move they make will be tracked and displayed. Real-time notifications can also be set up, so you get the latest moves direct to your device as and when they make future transfers, or simply change starting XI or captaincy. Learn from the very best, instantly.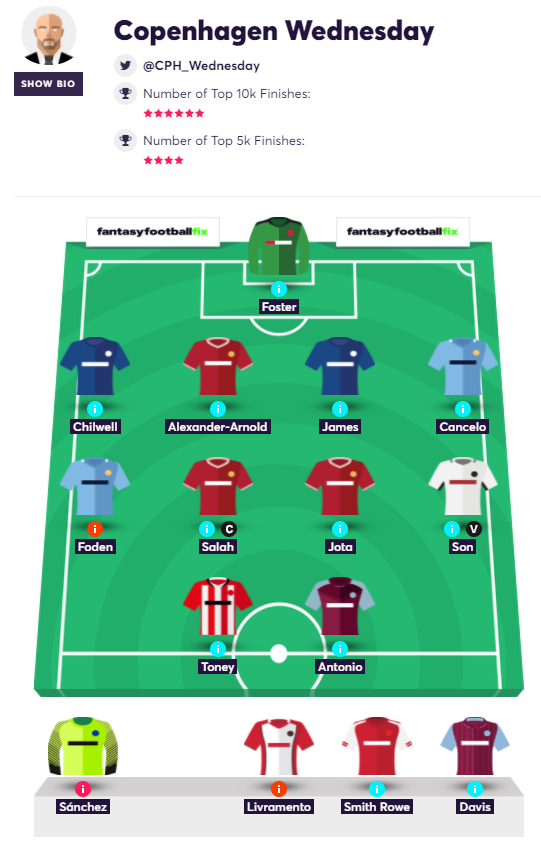 Manager: Copenhagen Wednesday 
Team Value: £103.8m
Current Rank Range: Top 200k
Chip played: None
Transfers : None
The Elite XI's top scoring manager with 88 points is six-time Top-10k finisher Copenhagen Wednesday, who banked his transfer in gameweek 12 with a Spurs attacker (Son) already in place. The monster score gave him a massive rank boost, taking him from 328k to 179k. The Chelsea wingbacks chipped in with 21 points while the duo of Alexander-Arnold (15) and Cancelo (12) also delivered handsomely making it a total of 48 points from his defenders. The transfer of Jota in last week paid dividends against Arsenal while the faith in Toney was also rewarded with a goal. It will be interesting to see how the veteran spends his two transfers going forward with no fires to put out and the team in a great position to climb up the ranks.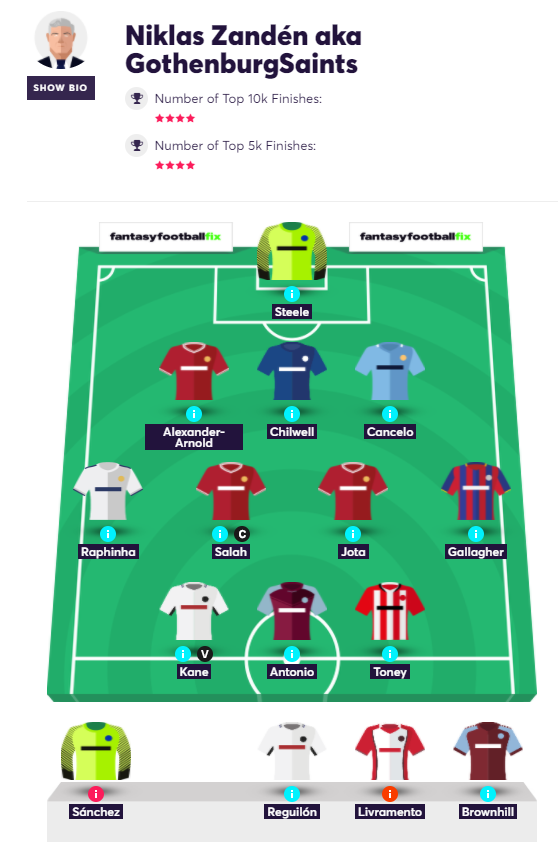 Manager: Niklas Zandén
Team Value: £103.3m
Current Rank Range: Top 200k
Chip played: None
Transfers : Vardy Rudiger out, Kane Reguillon in
Four-time Top-5k finisher Zandén racked up a score of 86 points in gameweek 12 which was a gameweek rank of 196k. His transfer out of Rüdiger did not hurt him significantly as Reguillon subbed on for Raphinha giving him 45 points from his defence. Salah captain (16), Jota (eight) and Gallagher (five) all chipped in from midfield and have favourable matchups in gameweek 13 as well. The Palace midfielder created three chances, the most of any Palace player in gameweek 12. Kane took three shots in the box and was threatening despite failing to notch any returns and is a great pick for the next few gameweeks. Zandén's squad looks great for gameweek 13 and saving a transfer looks likely.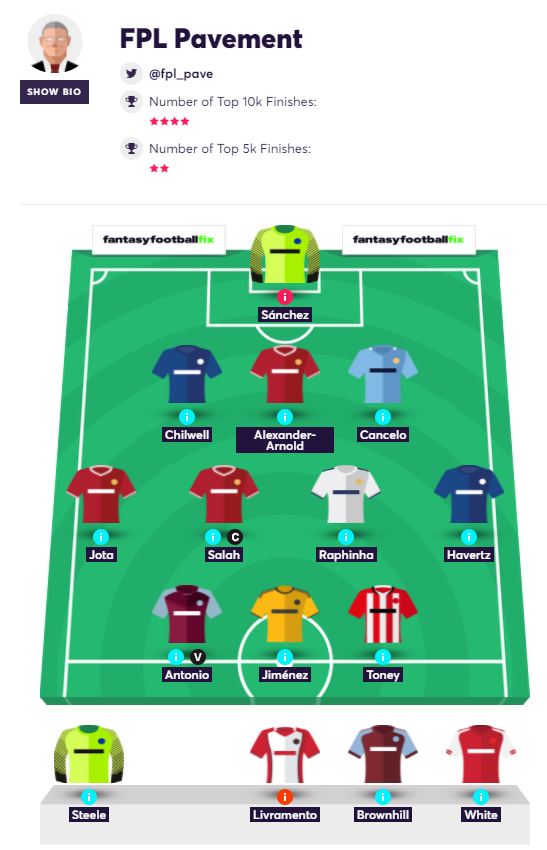 Manager: FPL Pavement
Team Value: £102.8m
Current Rank Range: Top 50k
Chip played: None
Transfers : None
Four-time Top-10k finisher FPL Pavement posted a big score of 82 in gameweek 12, taking his rank from 42k to 26k. He banked his transfer despite not owning any Spurs players and it will be interesting to see whether he brings either Kane or Son in this week. Jota could have been on for a much bigger haul, only Sterling (three) recorded more 'big chances' than the Portugal international in gameweek 12. Defence was the big contributor with 36 points, but Jiménez was a great differential as well with eight points. Havertz poses an interesting dilemma with Lukaku nearing a return,