Caveat: The gameweeks added to Fantasy Premier League (FPL) for the re-launch are listed as GW30+, GW31+ and are referred to as GW39, GW40 respectively throughout the Fix website.
1. Use a chip in Gameweek 39 (/30+)
Double Gameweek 39 (DGW39/DGW30+) sees Aston Villa, Sheff. Utd, Arsenal and Man. City play twice and is likely to be the only occasion where teams play twice for the remainder of the season, barring any unforeseen postponements. This also means there are unlikely to be any further Blank Gameweeks as the F.A. Cup has been accommodated in the existing schedule. So, depending on the chip strategy chosen, the Assistant Manager can help determine the best Free Hit or Bench Boost squad. If Bench Boosting in DGW39 (DGW30+), the 'Advanced Options' can be used with 'Wildcard' selected under the number of transfers field. Further down, the number of gameweeks to project can be selected and the emphasis on substitutes can be maximised using the scroll bar to ensure a strong 15 players rather than just a first 11. Alternatively, if on a Free Hit, the same process can be followed decreasing the emphasis on substitutes, to focus on putting as much money into the starting 11 as possible. These parameters can also be adjusted, based on requirements, as the season goes on.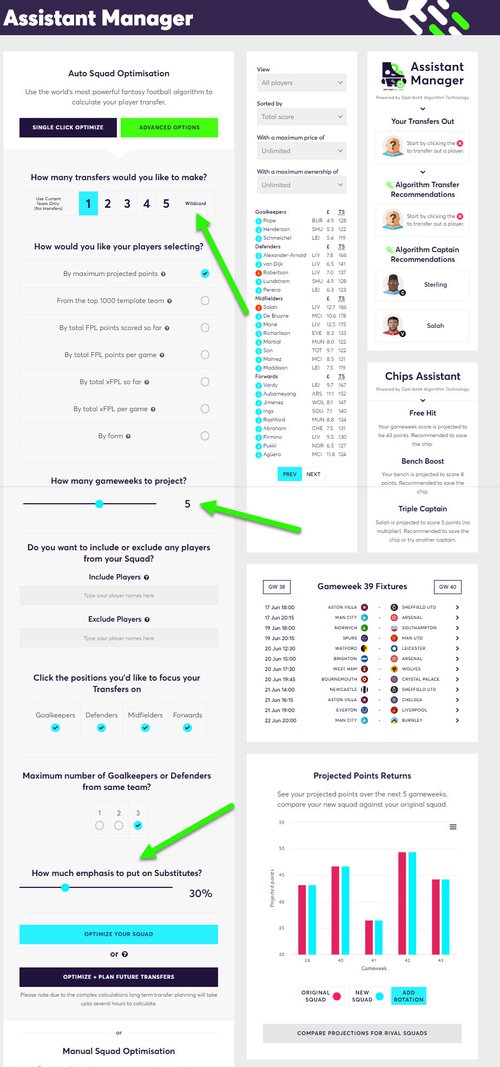 2. Load up on Man. City assets
The reigning Champions are one of four teams to feature twice in DGW39 (DGW30+) so it makes sense for FPL managers to opt for three of their players. The Fix Projected points feature suggests De Bruyne (11.0), Agüero (10.3) and Mahrez (10.2) are the optimal trio for the double gameweek, with Sterling (8.2) close behind. A look at the Stats Sandbox for the season prior to the virus outbreak backs up these projections – no player created more chances than De Bruyne's 96 this season with second placed Maddison managing just 75. Despite playing only 22 games, Agüero comes in fourth for 'big chances' amongst forwards with 23.



3. A strong bench is needed 
With the schedule so congested, there are likely to be surprise injuries and players getting benched. Rather than go with heavy hitters and bench fodder, a full playing squad of 15 is likely to be needed. Using the Fix Rotation Planner, teams with the best rotation for any desired period can be determined to ensure optimum distribution of funds. As the below example shows, a rotation of three defenders from Leicester, Watford and Bournemouth provides a favourable home fixture all the way from GW40-GW46 (GW31+ to GW37+). All these teams have cheap defensive options available under 5.0 so cash distribution can be optimised while retaining a strong squad.

4. Pay attention to the fixture list
It is rather obvious that the four double gameweek teams have the best fixture in DGW39 (DGW30+), but the Fix Fixture Analyser also shows that Norwich, Chelsea and Palace have the best single fixtures to target for the Free Hit/Bench Boost. If setting up for the long run is the objective, moving the sliders beyond the DGW indicates that Man. Utd and Wolves have the strongest and most favourable schedules for FPL returns.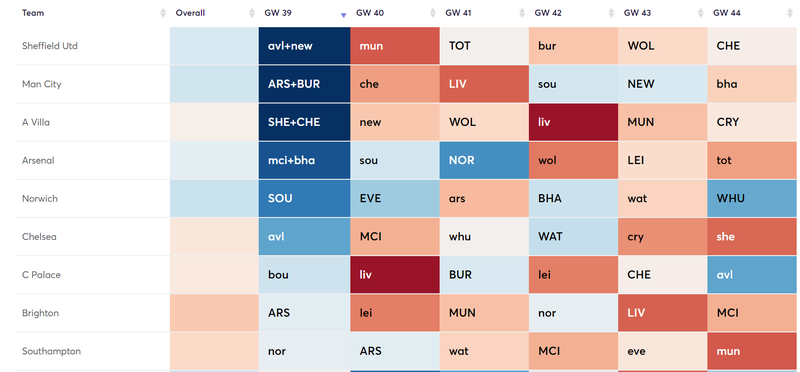 5. Watch those Price rises after DGW39 (DGW30+)
Price changes are frozen for now, up until the restart (DGW39/30+), but with the subsequent gameweek deadline also in close proximity (only six days later), transfer volume is expected to be very high through this period and movements are likely to be aplenty. Apart from general price movements, the Fix Price Predictor also shows which players in FPL managers' individual squads are close to a rise/fall using the My Squad feature, helping managers channel their attentions to what matters - their team. Price movements on players added to the Watchlist can be tracked individually as well. The Price Change feature offers push notifications using the Fix app (available on IOS and Android), and this informs FPL managers if any players are rising/falling in their squad or on their Watchlist.