Caveat: This blog was written at 09:00 BST on 05/10/21, all data (unless stated) has been collated around this time.
Townsend, Hwang and Tomiyasu went up in price overnight and there were price-falls for Ronaldo, Greenwood, Ayling, Pogba and Adams. As the Stats Sandbox image below shows, no midfielder priced at 6.0 or under has taken more shots over the last four gameweeks than Townsend. 


Smith-Rowe (102%) and Zaha (100%) are likely to go up in price tonight based on current transfer traffic (progress/hour).

Maguire (-103%), Richarlison (-102%) and Dier (-99%) are some of the players most likely to drop in price overnight but this projection updates throughout the day depending on transfer traffic (progress/hour).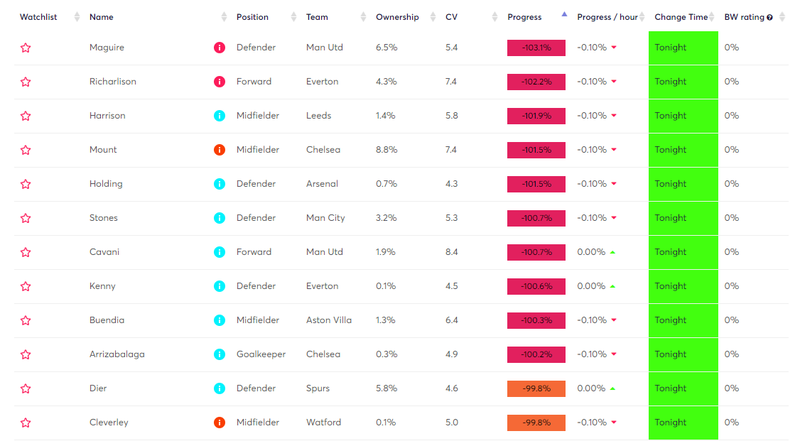 Other players to keep an eye on today (position | name, price | progress | progress / hour):

Rising:

F | Vardy, 10.4 | 92% | 0.30%
M | Raphinha, 6.6 | 78% | 0.4%
D | Cancelo, 6.2 | 14% | 0.30%

Falling:

D | Alonso, 6.0 | -15% | -0.20%
D  | Pereira, 5.5 | -38% | -0.20%
GK  | Schmeichel, 5.1 | -56% | -0.20%