With the 2018/19 season now complete, we are excited to be launching our new Pre-Season Site which includes heaps of new features – including our Predicted Player prices for the 2019/20 Fantasy Premier League (FPL) Season here. Our algorithm has calculated the price of every player in FPL next season within a 98.7% accuracy tolerance (based on past season's predictions) along with a 'Fix Value rating' to assess the potential value of any player in 2019/20. This blog provides a sneak peek into our new Pre-Season site by reviewing the data and statistics from the first of ten new features.
2018/19's standout Goalkeepers were Alisson and Ederson, having kept 20+ clean sheets each. Given their performances the Fantasy Football Fix price algorithm expects to see a price hike to £6.0m, £0.5m more than their 2018/19 price (£5.5m). The Fix Value rating for both of these shot stoppers may surprise some at 7/10, but with plenty of cheaper Goalkeepers providing fantastic value, such as Fabianski (£4.5m), the conservative Value rating seems justified. Fabianski, for example, has only scored 28 points less than Ederson, benefitting from the one point earned as a result of save points (141 vs. 57 saves / 47 to 19 points) and has been awarded an 8/10 Value rating. While it is also worth considering that £1.5m can go a long way, and it is possibly better invested in an attacking Defender.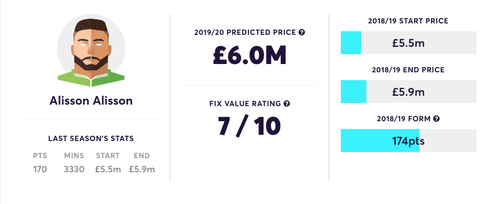 This season's top-scoring Defender Robertson is expected to come in at £7.0m, but given his outstanding attacking threat and high ceiling, our Fix algorithm places a Value rating of 8/10 on the Scottish international. His teammate Alexander-Arnold has a Value rating of 10/10, coming in at £6.5m as the 20-year old has racked up as many Fantasy Premier League (FPL) involvements (12) as Robertson having played far fewer games. Two other names that are likely to be on the tip of every manager's tongue come August are Laporte (£6.5m) and Digne (£5.5m), with both players getting a Value rating of 8/10. The two Frenchmen have cemented their place in their sides and racked up big points in 2018/19, proving stellar value after starting the campaign at £5.5m and £5.0m respectively.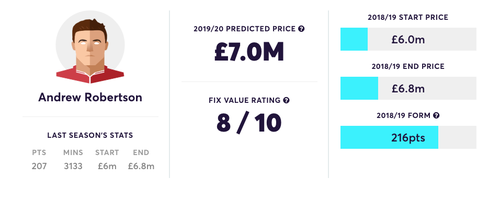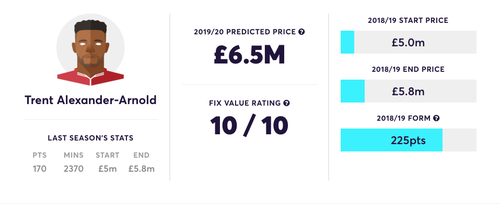 The heavy hitting Midfielders are expected to get price hikes across the board with Mané (£11.0m), Hazard (£11.0m) and Sterling (£12.0m) all predicted to be priced closer to their finishing prices for the 2018/19 season. Salah is once again expected to be the most expensive asset in the game (£13.0m), but the Fix Algorithm still awards him a value rating of 9/10. With 14 assists this season, Fraser is expected to receive a big price bump to £7.0m up from £5.5m in 2018/19, which is closer to his finishing price of £6.3m for the 2018/19 season.
Budget Forwards such as Jiménez and Wilson have both registered over 20 FPL involvements each for their respective sides, and are both expected to come in at £8.5m next season. Jiménez in particular has seen the biggest price rise over the course of the 2018/19 season having featured in every league game for Wolves. The powerhouse Mexican started the 2018/19 season at £5.5m and ended at £6.9m. Wilson's price has fluctuated significantly over the season having started at £6.0m before topping out at £7.0m in gameweek 16. The Bournemouth forward then saw a drop of £0.7m back to £6.3m by gameweek 30 after a spout of injuries before rising again to finish on £6.8m. A price hike is also expected for Agüero to £12.0m, the same as his finishing price for the 2018/19 campaign. The Argentinian has played significantly more minutes this season (2367 vs. 1960) and registered more FPL involvements (31 to 27) compared to the 2017/18 campaign and merits a 10/10 Value rating even at his expected new price. Kane's price is expected to remain unchanged (£12.5m) as the Englishman had a disappointing season by his standards, with injury and World Cup fatigue affecting his minutes and output.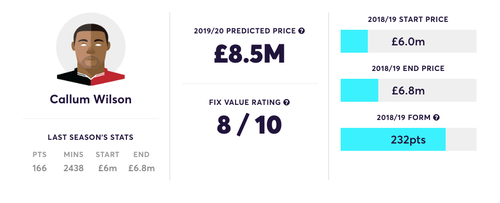 Several value options leap out from the initial assessment. Pickford kept eight clean sheets in his last 10 matches, and if Everton can keep up their end-of-season defensive solidity going into next season, the Englishman should be great value at £5.5m for 2019/20. Alexander-Arnold had his season interrupted by several injuries, and given his growing maturity he should see his minutes increase next year. The 20-year-old could then offer more value than Robertson as the Fix Value rating suggests at £0.5m cheaper. Another player who had his season blighted by injuries is De Bruyne. Expected to come in at only £9.5m (his lowest price since his arrival on these shores), the Midfielder offers an explosive nailed on route into the most prolific attack in the league. Amongst Forwards, it is hard to look beyond Vardy. The Englishman has nine goals in as many games since Rodgers took over, but is still behind his numbers for the 2017/18 campaign, which should see him hold his price (or thereabouts) at £9.0m for the 2019/20 season.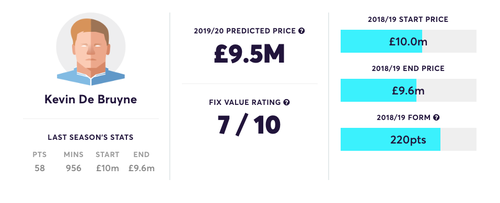 Using fix Pre-Season you can combine Opta Statistics, data from how the top managers in the game perform, and Fix artificial intelligence to your 2018/19 squad, so you can learn how to improve your game.