After blanks from Ronaldo and Lukaku, coupled with another world class display from Mo Salah, there are serious questions being asked about the "Threemium" game plan. But then, there always will be a lot of questions to be answered in the world of FPL!
Is it time to sell Michail Antonio?
If Lukaku blanks vs Norwich, do we have to sell?
Is the Brentford double up is "essential"?
Should Mo Salah be our permanent captain?
Is Son fantastic value at £10.1m?
Is it time to sell Michail Antonio?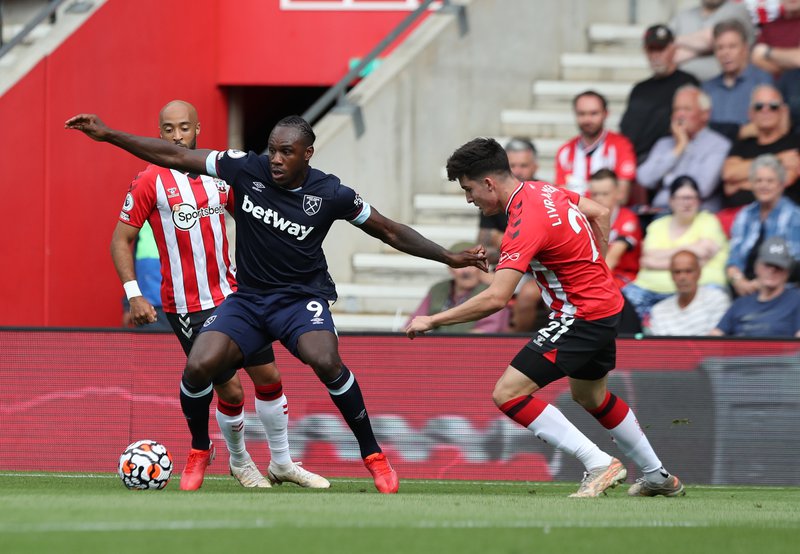 Michail Antonio scored 40 points between GW1-3, since then he has scored only 1 goal and amassed a total of 10 points in 4 matches against relatively weak opposition in Southampton, Leeds, Brentford, and Everton. In that time however, Antonio has an xG of 1.86, an xA of 0.84 and an xFPL of 20.98. Even during this tough run of "form", the Jamaican's underlying numbers are very solid. Although an xFPL per 90 of 5.27 is very strong, it is almost half the value that he had between GW1-3 (10.46).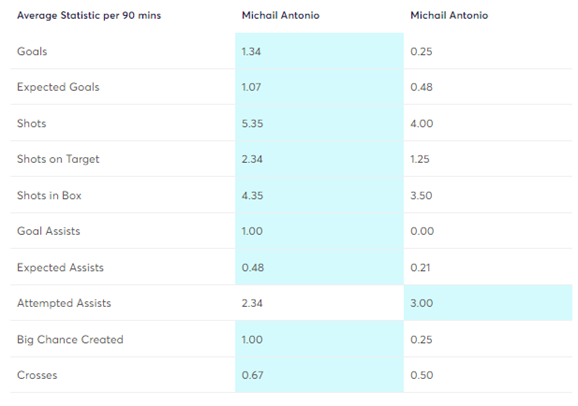 Michail Antonio GW1-3 vs GW4-8 using Player Heatmaps
Antonio has consistently offered great value as an FPL asset for 2+ seasons now, as last season he had the 4th highest xG90 and is 2nd so far this season. He was also 1st for xG90 after lockdown in the 2019/20 season. We can only rely on the likes of Bruno Fernandes, Mo Salah, Harry Kane and Kevin De Bruyne to offer consistent returns like this, so for £8.1m it is hard to ever get rid of an asset like Michail Antonio.
The obvious issue in the short/mid-term for Michail Antonio is the build up of fixtures and the difficulty of the Hammers' games. Between GW9-15 West Ham have the toughest attacking fixture difficulty using the Fixture Analyser. West Ham also have 4 more Europa League fixtures to play over the next 2 months, along with an international break where Antonio will travel to Jamaica and El Salvador. With his recent injury record, coupled with a lot of the incoming fixtures, I am personally looking to move Antonio on in the coming weeks. I truly believe that Antonio will continue to offer great value, but moving away from him to a player with better fixtures might reap significant rewards. Therefore, I'd say it's factthat it's time to sell Antonio.

West Ham fixtures (GW9-15) using the Fixture Analyser
If Lukaku blanks vs Norwich, do we have to sell?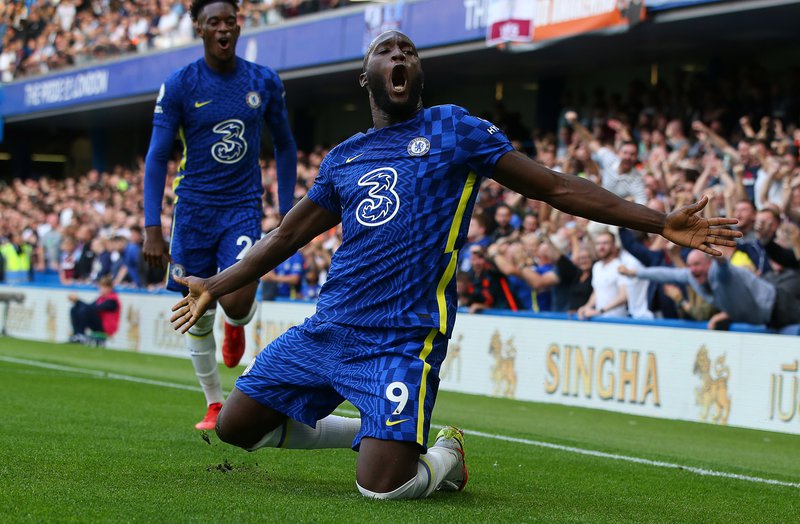 It would be insanity to sell Romelu Lukaku before Norwich at home, because despite his poor form he is still quite clearly the obvious captaincy choice. Just as he was in GW7 vs Southampton, a game in which Chelsea amassed an xG of 3.56, with Romelu being majorly involved with an xG of 0.58 and an xA of 0.57, this is no different. Lukaku hit the ground running with a superb performance vs Arsenal in GW2, followed up with a brace in GW4 at home to Villa. Since then, he has been signed by well over 3m FPL managers. Their reward? 8 points in 4 games. This form is of course worrying, but ahead of Norwich, Newcastle, and Burnley we surely have to maintain faith in the big man?
With points like that, it's obvious that Lukaku has not been in top form across the last 4 GW's, and his xG of 1.02 in that time has been bettered by 27 players and doubled by 5 of them (Vardy, Salah, Ronaldo, Mbeumo, and Son). He does sit in 4th for xA across the same span of time, so it would appear that he is potentially being utilised as the target man, rather than a goal scorer. If this remains the case against the upcoming weaker opposition, then without question it is time to sell. This target man theory is backed up by the fact that over 50 players have had more shots than Lukaku across the last 4 GW's, and nearly 100 players have had more shots on target than the Belgian. Even as I write this, I am wondering why on earth I have the armband on him…

Lukaku's form between GW5-8 using Opta Stats Sandbox
I am, however, going to say that it is fixtionthat we must sell Lukaku after a blank vs Norwich, as he has 2 fixtures just as good around the corner in GW10 and 11. If he doesn't manage 20 points between GW9-11 however, it's time to go! 
Is the Brentford double up "essential"?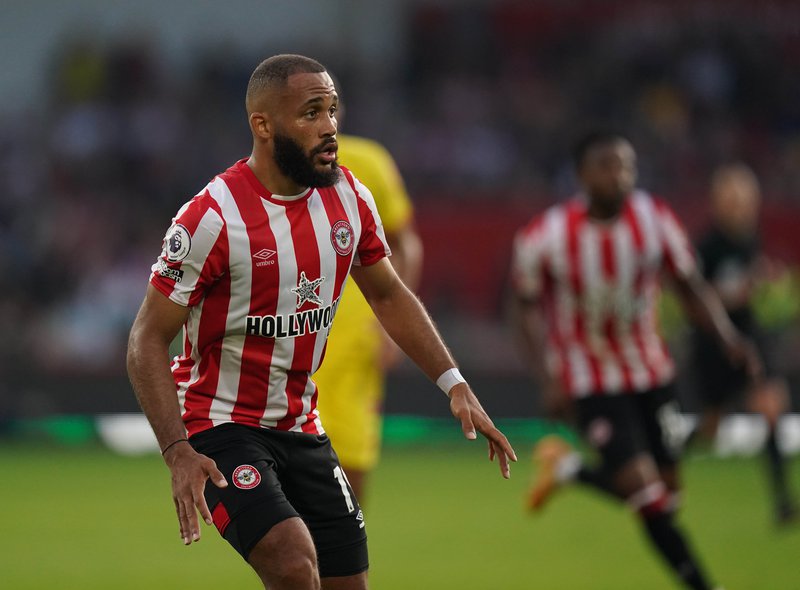 Well, how good were Brentford at the weekend? That is probably the most dominant display I have seen vs a Chelsea side in a very long time, and also one of the most undeserved defeats any side has taken in the Premier League in even longer. I am running out of superlatives for this Brentford side, as not only is their press fantastic, but their defensive solidarity is also phenomenal, and the front 2 of Toney and Mbeumo are a joy to watch.
I would argue that either Mbeumo or Toney is a must, without question. For only £5.5m, Bryan Mbeumo has the 7th highest xG in the league, and the 3rd best for a midfielder behind only Salah and Mane. Ivan Toney has also played his part with the highest xA among strikers and 3rd best overall behind Bruno and Salah. Personally, I am going into GW9 with both of them.
The reason I wonder if the double up is essential is due to the defensive numbers that Brentford are putting together. Despite being promoted through the play-offs, Brentford currently sit 2nd in the xGC charts, with both Jansson and Pinnock sitting comfortably in the top 5 for xFPL points among defenders.

xGC stats by team in 2021/22 using Opta Stats sandbox
Between GW9-16 Brentford have strong attacking & defensive difficult rating games using the Fixture Analyser. Based on that, coupled with their incredible start, I am going to say that it is factthat the double up is "essential", and you could even go for a triple!
Should Mo Salah be our permanent captain?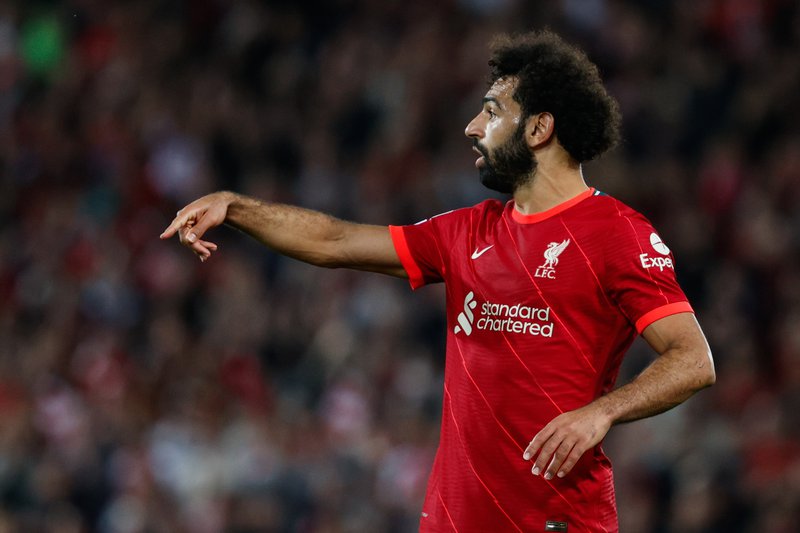 In GW7 we all veered away from Mo for the week. He had a tricky fixture against Manchester City, in the same week where Ronaldo faced Everton at home and Lukaku came up against the Saints at Stamford Bridge. Ronaldo managed a solitary point, Lukaku picked up 2, but Mo on the other hand… scored, assisted, picked up 3 bonus points, and scored a total of 13 points overall. This week, Mo travels to Old Trafford in a week where Romelu Lukaku will face bottom club Norwich at home, which bring up the age-old question of form vs fixture.
So far this season, Mo Salah has 7 goals and 5 assists in only 8 games, picking up 83 FPL points in the process. Jamie Vardy is currently in 2nd place with 56 points. In terms of xFPL points, Mo Salah has amassed 65.7 points in comparison to Michail Antonio's 52.12 in 2nd place. Salah has performed impressively so far this season against the top clubs, with 2 goals and an assist in 2 fixtures vs City and Chelsea, his form in 2020/21 wasn't incredible. With an xG on 4.1 and an xA of 2.0, it's certainly a very good total in 10 fixtures against the best clubs in the country, but you would surely favour the likes of Lukaku against Norwich or even De Bruyne vs Brighton to outscore him this week.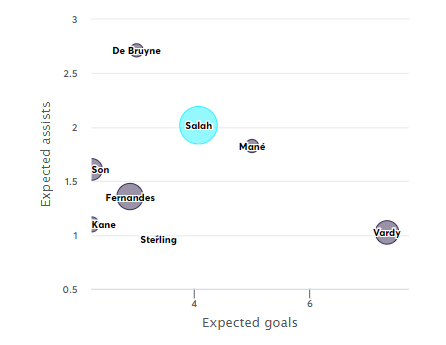 Premium assets (10m+) xG/xA vs the "Top 6". Using Custom Stats Builder.
I am going to have to say that it is fixtionthat we should always captain Mo. Although, it is likely a guaranteed 500+ points per season, I just can't justify going against the fun one week punts on players like Lukaku, Ronaldo, Kane or De Bruyne vs the likes of Norwich and Watford.
Is Son fantastic value at £10.1m?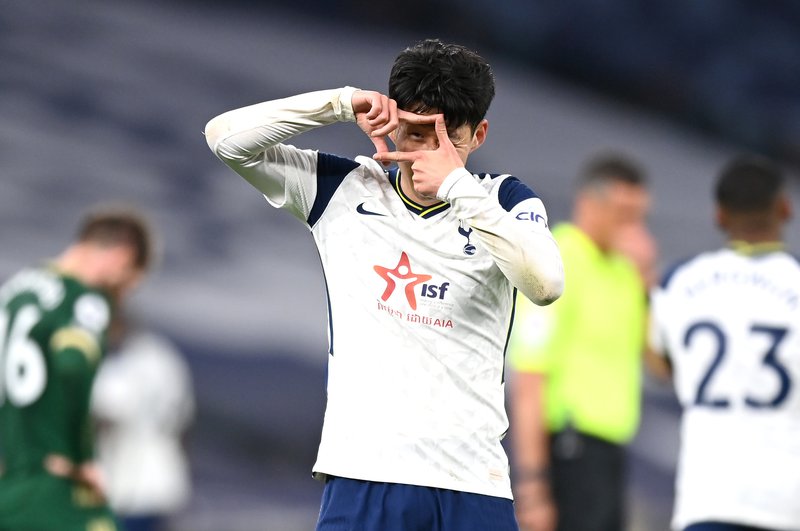 Somehow off the back of a 228 point season, a player with 51 points (3rd most in FPL), 4 goals and 2 assists in 7 games is going slightly under the radar. Son Heung-Min is owned by only 14.7% of FPL managers despite his fantastic start, and it truly is a mystery as to why he is so lowly owned. His consistency since moving to England from Leverkusen in 2015 has been fantastic, scoring over 150 points 5 seasons in a row.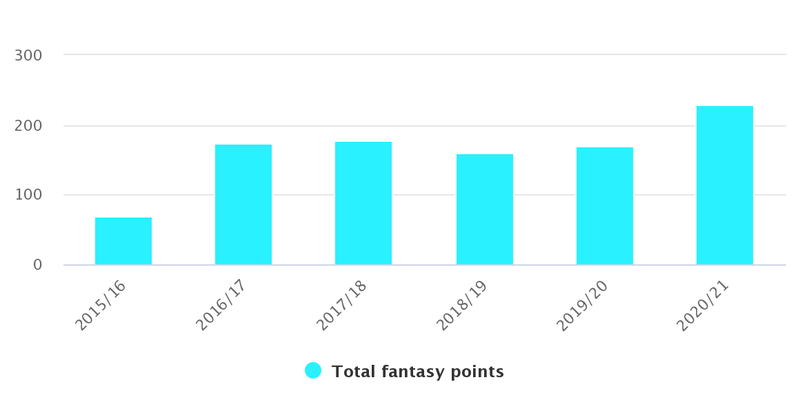 Heung-Min Son FPL points 2015-2021 using Assistant Manager
The interesting thing about Son is that he has proven to be an incredible finisher. Each year he outperforms his xG stats and the longevity of that run proves that he is an elite finisher compared to just having some outlier seasons. For example, in 2021/22 so far Son has 4 goals from an xG of 2.72, in 20/21 he scored 17 from 10.74, 19/20 it was 11 from 10.23, and finally in 18/19 he hit the net 12 times with an xG of 7.72. A player like this excites me, as he can score in any game, purely by getting 1 shot away. This is even more important given that Spurs have the 13th best xG so far this season and have also managed the 4th least shots.
Even in a weak Spurs side, Son is an outlier. His finishing is elite and he is likely to score close to, if not more than, 200 points again this season. Therefore, it is 100% a fact  that he is great value at £10.1m.