Fantasy Football Fix's new feature - Elite XI: Team Reveal tracks 11 Fantasy Premier League (FPL) managers with 74 Top-10k ranks between them. Every transfer move they make will be tracked and displayed. Real-time notifications can also be set up, so you get the latest moves direct to your device as and when they make future transfers, or simply change starting XI or captaincy. Learn from the very best, instantly.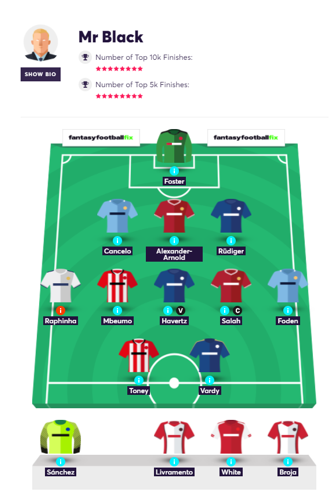 Manager: Mr Black 

Team Value: £101.8m
Current Rank Range: Top 20k
Chip played: Wildcard
Transfers : Wildcard
Eight-time Top-5k finisher Mr Black played his Wildcard in gameweek nine and made several changes to his squad, including bringing in Foden for his 18-point haul. No player took more shots (eight) than the 21-year old over the weekend. His punt on Havertz did not pay off this week but the German is still a great pick in the short term with fixtures against Newcastle and Burnley on the horizon. He remains in the Top 20k and looks poised to push on further. It will be interesting to see what he does with injuries to Mbeumo, Raphinha and Vardy in his squad.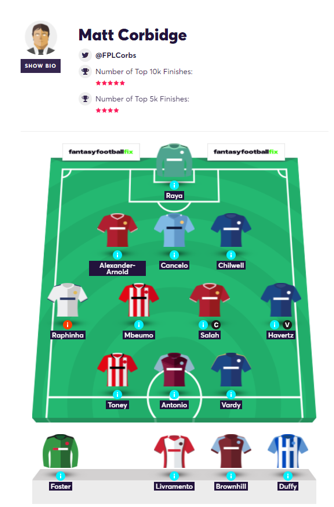 Manager: Matt Corbridge 

Team Value: £102.2m
Current Rank Range: Top 10k
Chip played: Wildcard
Transfers : Wildcard
Four-time Top-5k finisher Matt Corbridge also activated his wildcard this week and racked up 88 points taking him to inside the Top 10k. The defensive duo of Chilwell and Alexander-Arnold delivered double digit hauls and his decision to keep the faith in Antonio also paid immediate dividends. Only Salah (40) has taken more shots than Antonio (33) this season. Like Mr Black, Corbridge has some injury issues to deal with and it is worth monitoring how he intends on managing that.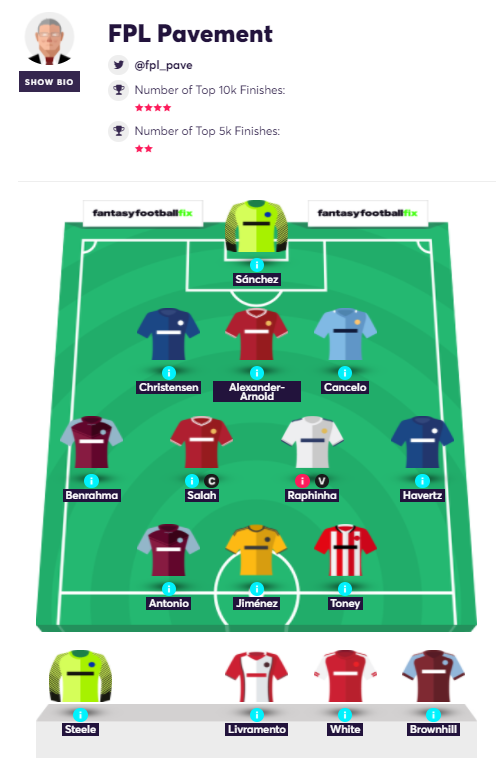 Manager: FPL Pavement 

Team Value: £101.9m
Current Rank Range: Top 50k
Chip played: None
Transfers : Lukaku to Toney, Jota to Havertz
Four time Top-10k finisher FPL Pavement opted for the cheaper option in Toney, rather than going for one of Kane and Vardy as his Lukaku replacement. He is now sitting with 4.8 in the bank so has multiple options he can look at bringing in next week. The Jota to Havertz move did not pay off but considering that Chelsea hit seven goals he can consider himself unfortunate not to get any returns. Christensen not getting any gametime worked in his favour with Livramento subbing on.