Gamweek eight presents a tricky choice for Fantasy Premier League (FPL) managers with Salah, Ronaldo and Lukaku all facing favourable matchups. Using the Match Preview feature in our Match Stats section, their numbers are analysed.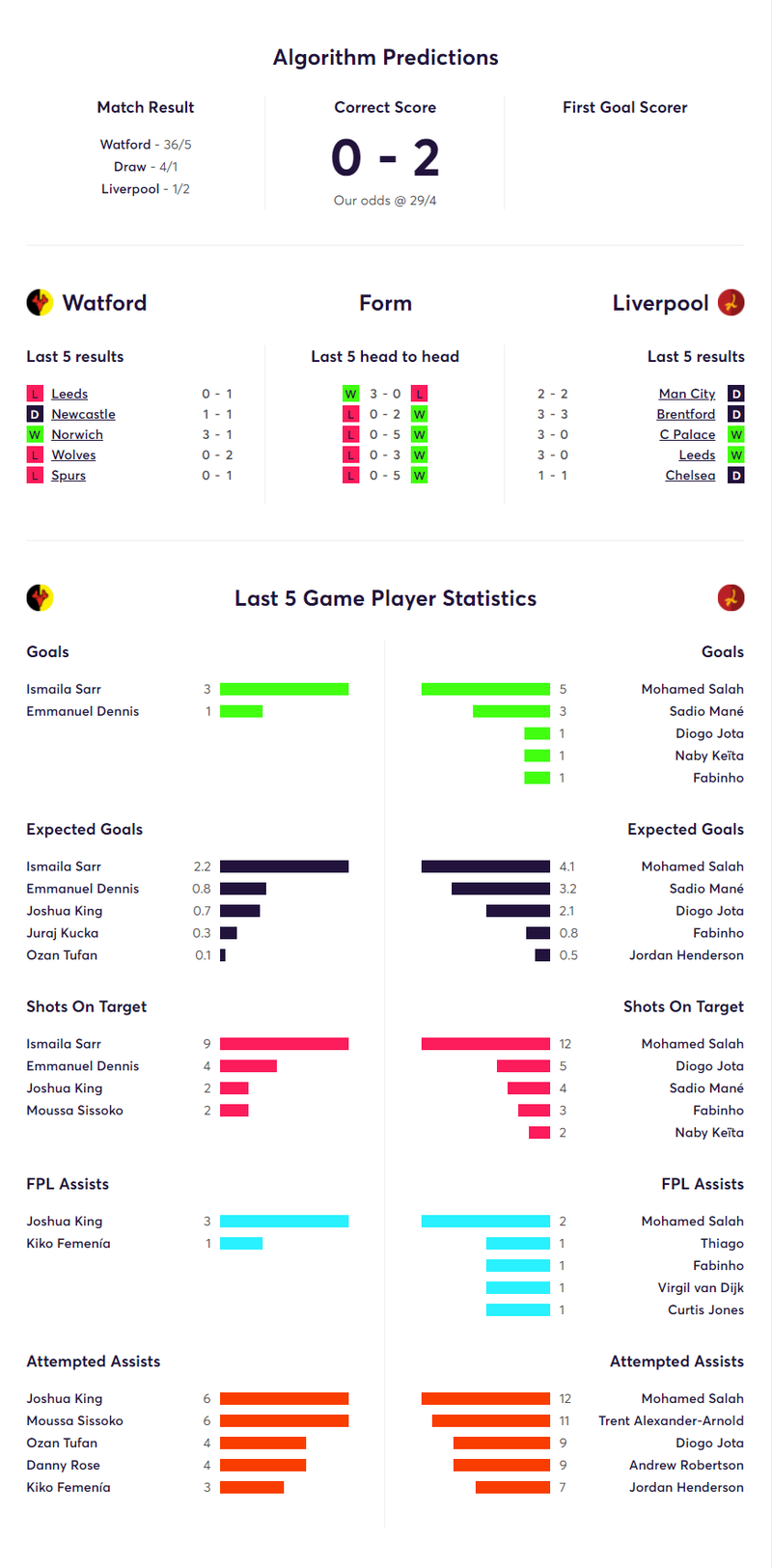 Our Algorithm projects a 0-2 win to Liverpool and given the underlying numbers, Salah is likely to be involved. The Egyptian is top over the last five Liverpool matches for goals (five), Expected Goals (xG) (4.1), shots on target (SoT) (12), assists (two) and attempted assists (12). The Merseyside outfit will be hoping that Alexander-Arnold will be fit enough to return to the side, since the right-back is their second-most creative player with 11 attempted assists. 
Watford are heavily dependent on Sarr, the Senegalese is first for goals scored (three), xG (2.2) and SoT (nine). King appears to be their main creative outlet, he is first for both assists (three) and attempted assists (six). Interestingly, budget midfielder, Sissoko, is joint-first for attempted assists (six), indicating he is great value, with the enabler costing just 4.5.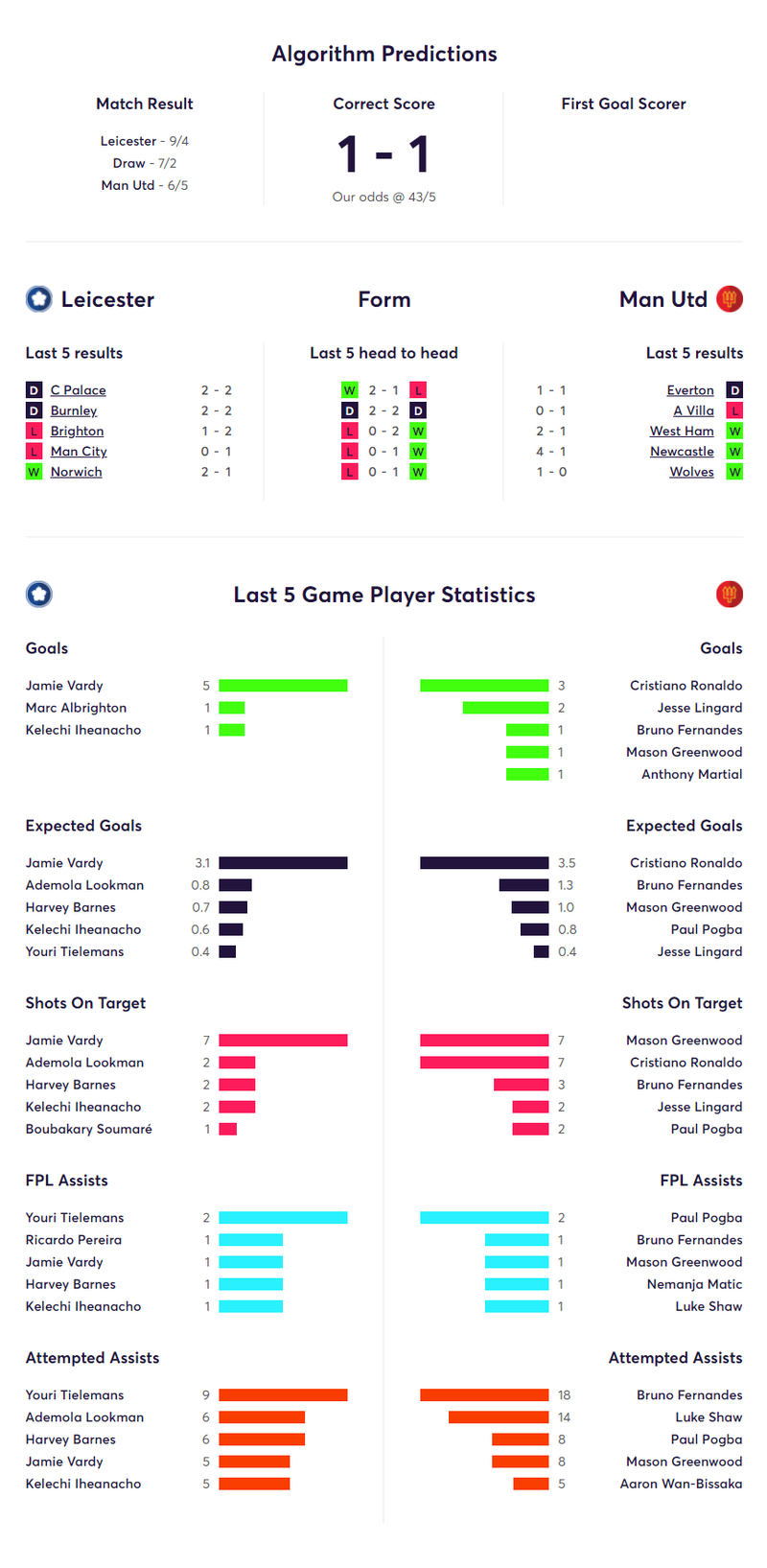 Our Algorithm predicts the matchup between Leicester and Man. Utd to be a tight affair with 1-1 the projected result. The third-highest scoring player in FPL is Vardy, and the Englishman tops the charts for goals scored (five), xG (3.1) and SoT (seven) for the Foxes. Tielemans has taken over the creative responsibilities from Maddison and H. Barnes, the Belgian is first for assists (two) and attempted assists and is perhaps going under-the-radar.
One of the most sold players this gameweek, Ronaldo, is first for Man. Utd when it comes to goals (three), xG (3.5) and SoT (seven). The numbers would indicate that B. Fernandes has been unlucky to only register one assist over the last five matches, the midfielder has created a whopping 18 chances but only one of these has been converted. Shaw's 14 attempted assists also catch the eye. The left-back is one of the most sold players this week. All three offer potential to deliver against a Leicester defence that are ranked third-bottom for shots conceded (115) as per our Opta Stats Sandbox.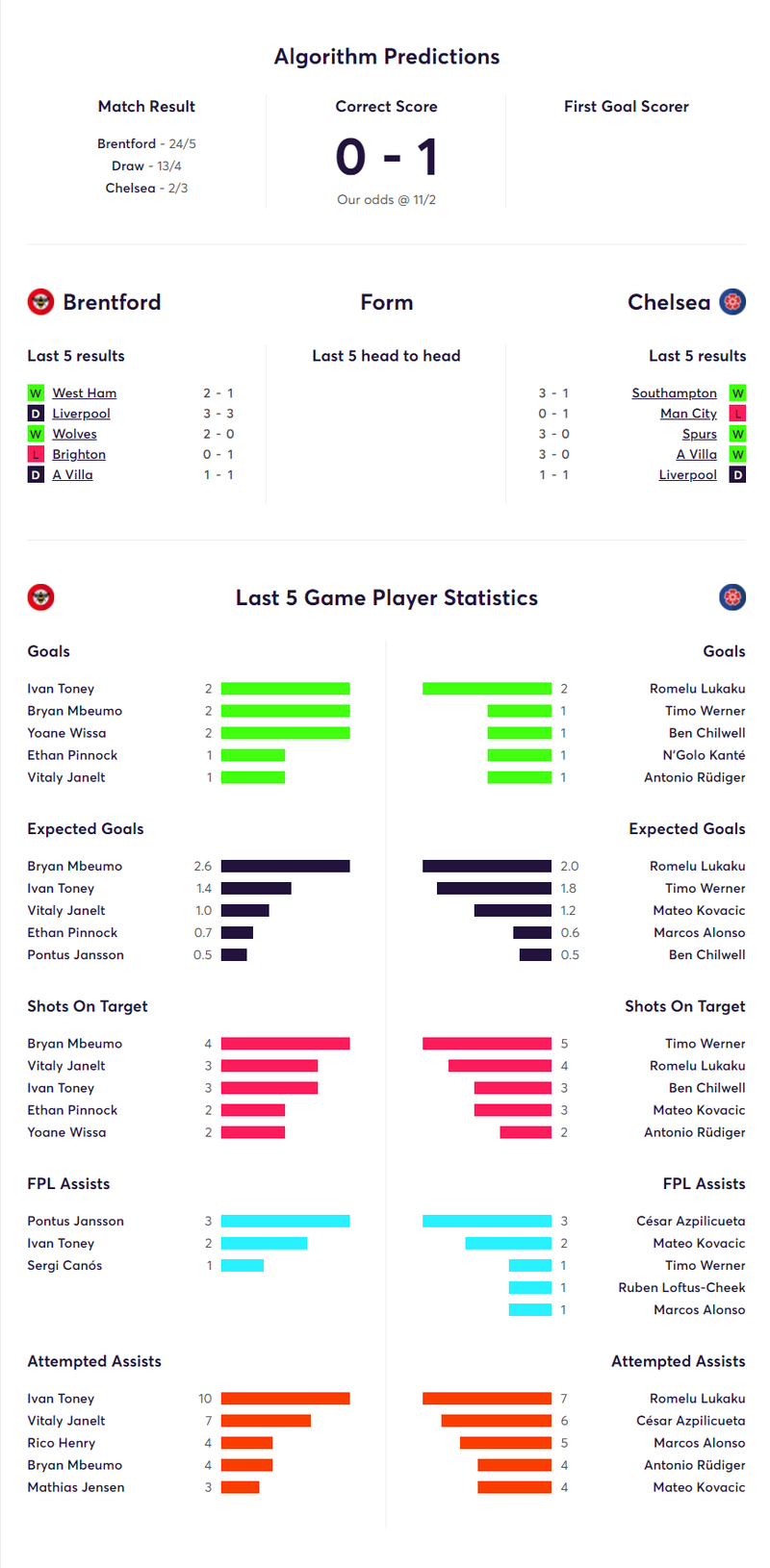 With two draws and two wins in their last five matches, Brentford are flying high, and the meeting with Chelsea is predicted to be a low scoring encounter with the Blues edging it by a goal. Mbeumo is posting superior attacking numbers to Toney, the Frenchman has scored the same number of goals (two) but is top for xG (2.6) and SoT (four) over the last five matches. Toney's 10 attempted assists indicate that the forward is taking on more of a creative role, and with penalty duties in his locker as well his multiple routes to points should not go unnoticed.
As the above image shows, Chelsea have lost just one match over the last five and although Lukaku leads the way for goals (two), Werner runs him close for xG (1.8), just 0.2 behind the Belgian (2.0). The German is also first for SoT (five), one ahead of Lukaku (four). Azpilicueta has registered more assists (three) than any other player and the Spaniard is second only to Lukaku (seven) for attempted assists (six). Like Toney, Lukaku has a lot of avenues to points and is an excellent option.