xFPL review
xFPL is calculated primarily using expected goals (xG), assists (xA), which combine as Fantasy Premier League (FPL) involvements (xG + xA = xI), as well as expected clean sheets (xC). These numbers are a result of underlying statistics (i.e. shot type and location will give a probability of scoring = xG). xFPL is the combination of these statistics and factors in appearance and bonus points to give an overall expected FPL point score.

Chelsea's much-maligned midfielder Jorginho tops the xFPL table this week, with a score of 10.9. The Italian converted his penalty and created three chances, one of which was deemed a 'big chance'. A popular pick last season, Doherty was the highest Fantasy Premier League (FPL) scorer this week (15) with a goal, clean sheet and three Bonus Points against Watford, and he comes in at second in the table with an xFPL score of 10.4. No player created more chances than Rico's six, one of which was a 'big chance' and the Spaniard notched an xFPL score of 4.6. Bournemouth had another leading man, no one took more shots (six) or shots in the box (SiB) (five) than C. Wilson as the Cherries' frontman continued his scoring streak and his xFPL score of 7.1 indicates he should have had more FPL returns.

Budget midfielders deliver
Mount, McGinn and Yarmolenko all notched FPL returns this week with popular option Cantwell failing to get returns once again. These budget assets are put under the microscope using the Fix Comparison Matrix for the last four gameweeks. Yarmolenko is the clear winner in terms of FPL points with 31 and his eight SiB would indicate he has merited those returns. McGinn is the clear leader for shots with 13, but only seven of these were SiB and only two were 'big chances'. Mount and Anderson have been the most creative, with eight attempted assists apiece, but the Chelsea man beats the Brazilian for 'big chances' created with three to zero. Cantwell's numbers are not too impressive but his total of three 'big chances' and six SiB indicates that he still offers value for Norwich's kind run of fixtures at his 5.0 price tag.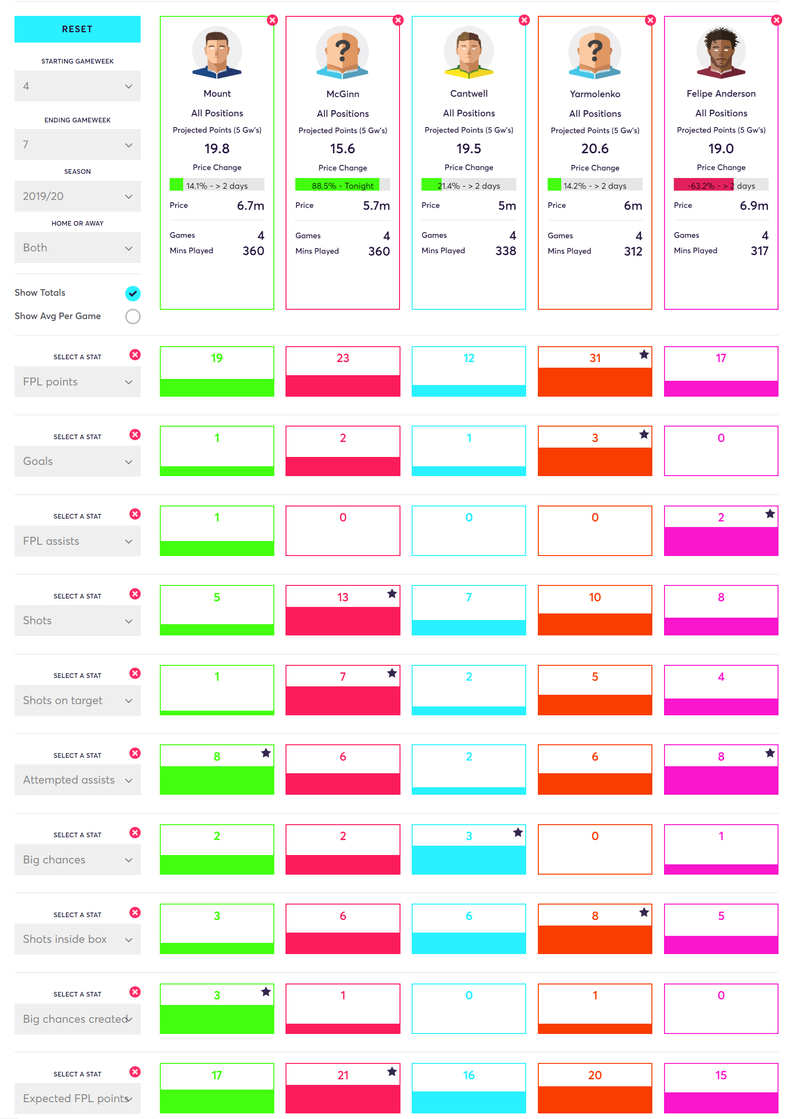 The Mahrez option
Sane's injury early on in the Community Shield meant that one of Man. City's fringe midfielders was likely to take on a more pivotal role and all the signs pointed towards Mahrez after the Algerian registered a hattrick of assists against West Ham in gameweek one. He was subsequently benched for the next two games by Guardiola, and that theory was quickly put to bed. However, after an impressive performance in the Champions League, he earned his spot back in gameweek six and has racked up two goals and two assists since. As the Stats Sandbox shows, only De Bruyne (10) has attempted more assists than Mahrez's nine over the last two gameweeks and no midfielder has landed more shots on target (SoT) than his seven. He is also third for xFPL score over the same period with 17.49, trailing only Wood (17.89) and De Bruyne (19). Guardiola was quick to single out the Algerian for praise, and at just 8.5 he could be great value going forward. 

I think the Africa Cup [of Nations] made him believe how good he can be. He knows it but I think it helps to win this kind of trophy for Algeria, for his country. It was so important for him. From the beginning he arrived with an incredible mentality, positive and the way he plays. He has the feeling when he gets that ball in that position, the 18-yard box close to the area, something is going to happen. It's a feeling and I think all the spectators can have that feeling and that is because he has a gift. He has something special.