Headliner - Romelu Lukaku (stk)
Lukaku (11.7) is the only Fantasy Premier League (FPL) Forward to have risen by £0.2m since the season begun. While other premium Forwards have been sold by FPL managers in their droves, Lukaku has risen due to being clinical, if nothing else. After all, Kane's (12.4) stats are nothing short of extraordinary for a man that has zero goals to his name after three weeks. Kane's impressive underlying numbers aside, Lukaku has averaged more shots (4.7), shots inside the box (3.7), as well as a higher score on FPL's Bonus Point System (BPS) (26.7), when compared to four other heavy-hitting Forwards, in Morata (10.1), Jesus (10.4), Agüero (11.5) and Lacazette (10.4), which can be seen in our info-graphic below. Crucially he co-leads the golden boot race with three goals, largely helped by his shot accuracy of 44.9%, better than Kane (25%), Jesus, Morata and Agüero (all 33.3%). Man. United's midfield men, namely Pogba (8.2) and Mkhitaryan (8.3) have played a significant part in helping Lukaku start strongly, and with no imminent European distractions it would take a brave person to back against the Red Devils, right now. Our Fix algorithm rating of 5.3 points is convincing enough to make him our headline pick.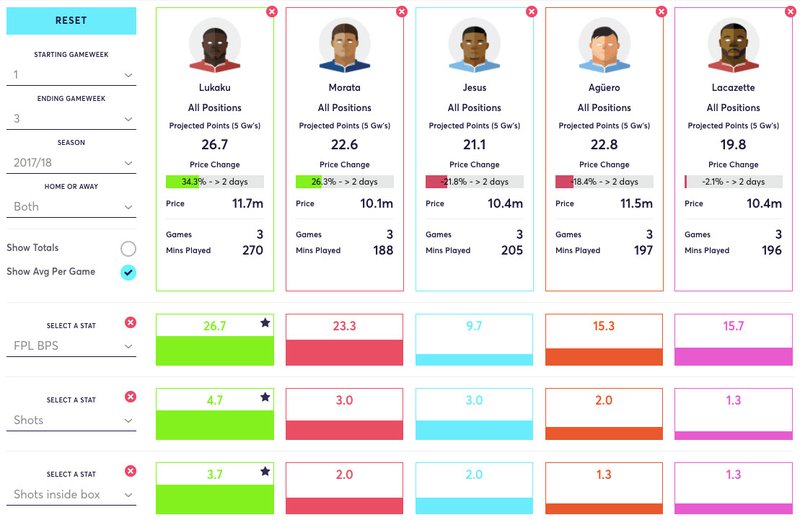 Mesut Özil (BOU)
Arsenal, in a mini-crisis, has become an all too frequent theme in the last few years, and yet they still boast the Premier League's best player, Alexis Sánchez (11.9). Gameweek four has come a little too early for the ever impressive, Alexis, with a slight concern around his pitch time, amid further rumours of unrest. Our attentions therefore turn to Özil (9.5). Arsenal need to take the bull by the horns in gameweek four, given the well-documented frustration from supporters and ex-players over the last couple of weeks. Bournemouth at home is as good a chance as any, when you consider the Cherries shipped in an average of two goals a game away from home last season. Özil has managed more attempted assists (12) and successful final third passes (9.4) in the first three gameweeks when paired against colossal FPL midfield assets such as Eriksen (9.6), Mané (9.5), De Bruyne (9.9) and Pogba (8.2). The German international also managed a goal and two assists during international duties versus Czech Republic and Norway, including a goal and an assist in the first 17 minutes of Monday night's tie with Norway. Our Fix algorithm predicts a point total of 5.9 for gameweek four, putting him right near the top of the projection charts.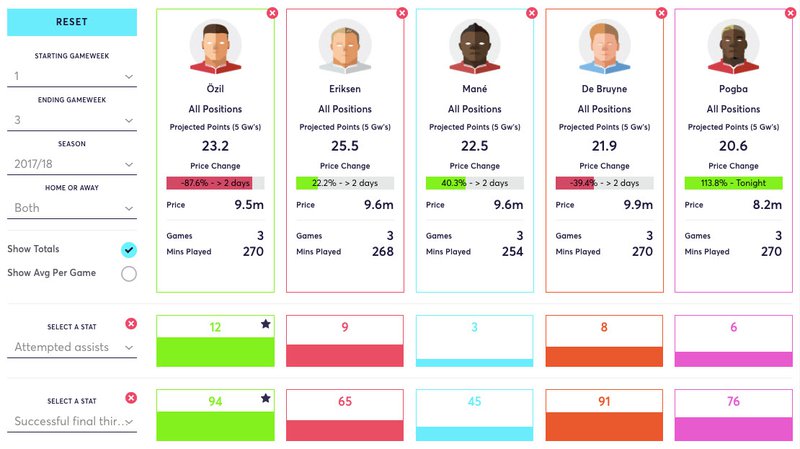 Álvaro Morata (lei)
Morata (10.1) has taken to life in England like a lion to meat. The Spanish international has required little pitch time to get off the mark, having scored two goals in 186 minutes. His early season domestic form carried across to the international scene over the last two weeks, with the Spaniard managing to score three goals and assist one versus Italy and Liechenstein. With little Premier League data on Morata, it is worth looking at his more detailed league picture from across the shore, with his most recent season standing out. Morata managed to score 15 goals and assist five, in just 1,331 minutes (which equates to 14.79 games). That is an attacking return every 66.55 minutes. He certainly has the physicality for the Premier League, and looks to be adapting quickly with two goals from three shots on target so far this season. Leicester look to be a reformed team under Shakespeare, but still managed to leak three goals against a less than venomous Arsenal side on the opening day. A Fix algorithm rating of 4.3 points is conservative, but this projection coupled with his form is more than enough for the Spanish Forward to make our grade.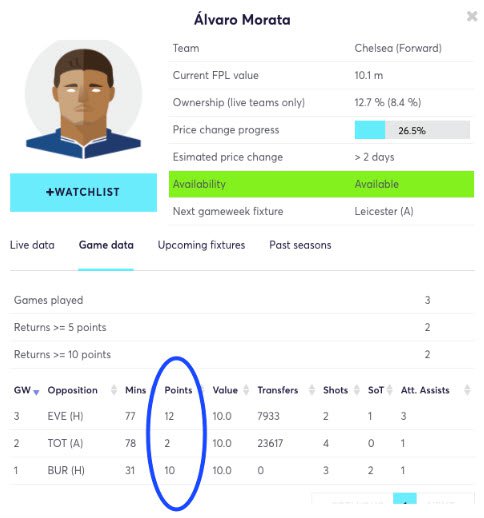 Sead Kolašinac (BOU)
With midfielder, Oxlade-Chamberlain (6.0), trading one red jersey for another, Bellerin (6.0) and Kolasinac (6.0) appeal once again. The latter makes the "Top Five" this week off the back of his early season showing, which has seen him pick up Arsenal's Player of the Month award. Kolasinac started the season well, registering an assist in Arsenal's eventful triumph over Leicester at home, where the Defender got forward at will. He has averaged more crosses (1), ball recoveries (5.5), completed passes (87%), attempted assists (1) and a BPS figure (23) when compared with Bellerin. Last season the Bosnian brute managed three goals and five assists from 25 games - More than enough to get heads turning from a FPL perspective. Hard in the tackle, with a preference to pass it short, he looks to be exactly what Wenger has been looking for long-term, having switched from a 4-2-3-1 formation to 3-4-2-1. Bournemouth have scored just the solitary goal from three games against Man. City, Watford and West Brom, so the chance of a clean sheet, alongside possible attacking returns, looks likely. Our Fix algorithm agrees, with a projected points haul of 5.3 points.

Differential - Michail Antonio (HUD)
Antonio (7.5) has been selected by just 0.5% managers so far this year, and is currently going about his business quietly under the radar.  When looking at other popular choices who are similarly priced his performances stand out. He has averaged more shots (2.5) and shots inside the box (1.5) when compared to Willian (7.1), Tadic (6.5) and Jese (6.0). His heading strength has also been on show once again, averaging an attempt on goal in each game he has played. During his Premier League career Antonio has managed attacking returns every 135.5 minutes, which is a very solid return. While the same cannot be said for West Ham's up and down season in 2016/17, it was Antonio's best yet, returning 9 goals and 8 assists for his club. Huddersfield have been resilient in their debut Premier League season so far, but much like Arsene Wenger, Slavan Bilic needs a reaction from his players on Monday night. A newly promoted team (irrespective of their start to the campaign) does present an opportunity for Bilic and West Ham to turn things around. Our Fix algorithm forecast of 4.0 points and his underlying numbers look very encouraging.