This year Fantasy Football Fix has launched a new feature - Elite XI: Team Reveal. The feature monitors 11 Fantasy Premier League (FPL) managers (who boast 74 Top-10k ranks between them) every move - from their starting team for gameweek one, to all of their transfer moves as and when they make them going forward. Click here to find out how you can receive the real-time notifications as and when they update their gameweek one team, and make future transfers.
Currently sitting in the Top-20k, eight-time Top-5k finisher Mr. Black banked a total of 27 points from his defence. Sánchez and Coufal chipped in with a clean sheet each (six points) while the attacking duo of Alexander-Arnold and Shaw delivered 12 and five points respectively.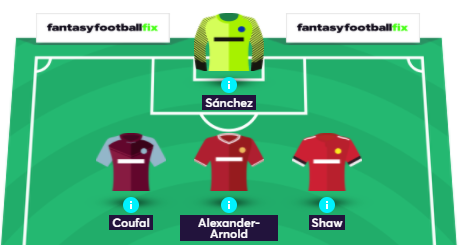 The only member of the Elite XI to use his wildcard in gameweek four, six-time Top-5k finisher Ginger Assassin went for a midfield of Benrahma, Raphinha, Salah and Jota. While Salah was the only one that delivered in gameweek four, his midfield looks primed for points in the next few games. 

The Consensus XI, which is an amalgamation of the Elite XI's choices currently has Ronaldo and the suspended Antonio up top. It will be interesting to see how this changes over the week given that the West Ham forward is suspended for gameweek five.

To see what transfers they make, the minute they make them (via push notifications), follow this link.