Headliner - Sergio Agüero (LEI)
Agüero kept Man. City in the title driving seat with his 20th goal of the season during the 1-0 away win at Burnley, firing a total of nine shots during the gameweek, which could not be topped. As the Custom Stats table shows, the Argentine has produced an average of 6.7 points per game (PPG) during this calendar year (gameweeks 21-36), with his total of 15 goal involvements ranking joint-first across all positions, alongside Vardy and narrowly ahead of Sterling (14). His total of 38 shots inside the box (SiB) ranks third in the league, just behind Salah and Vardy (each 39). The Champions have scored 11 goals in the last six gameweeks, while only Leicester (14) and Liverpool (16) have been more prolific. The Cityzens are top for both shots (119) and shots on target (SoT) (39). Although Leicester have only conceded five goals in the same period, they have only played Arsenal from the current 'top eight' over those matches. Our Fix Algorithm backs Aguero to breach the Foxes defence with a point score of 6.4.


Eden Hazard (WAT)
Only 8.5% of the top 10,000 squads owned Hazard ahead of the latest deadline, making the Belgian an exciting differential for Chelsea's final home game of the season. He has averaged 6.5 PPG this season, matching Sterling for total points (226), with Salah (249) the only player to produce more. Over the last five gameweeks, the 28-year-old ranks second to De Bruyne for 'big chances' created (five to four), while only Moutinho (18) and Eriksen (21) have provided more than his 16 attempted assists. A total of 13 SiB puts him just behind Jota (15) and Salah (17) amongst midfielders, while only Moura (eight) and Salah (11) have fired more than his seven SoT. Chelsea have scored 10 goals over the last six gameweeks, taking 115 shots, second only to Man. City (119). Only Bournemouth (19) and Southampton (21) have created more 'big chances' than the Blues' 17. Their opponents Watford have conceded eight goals over the last six gameweeks, keeping no clean sheets. Their total of 18 'big chances' conceded is second only to Huddersfield (22). Our Fix Algorithm projects a point score of 5.8 for Hazard.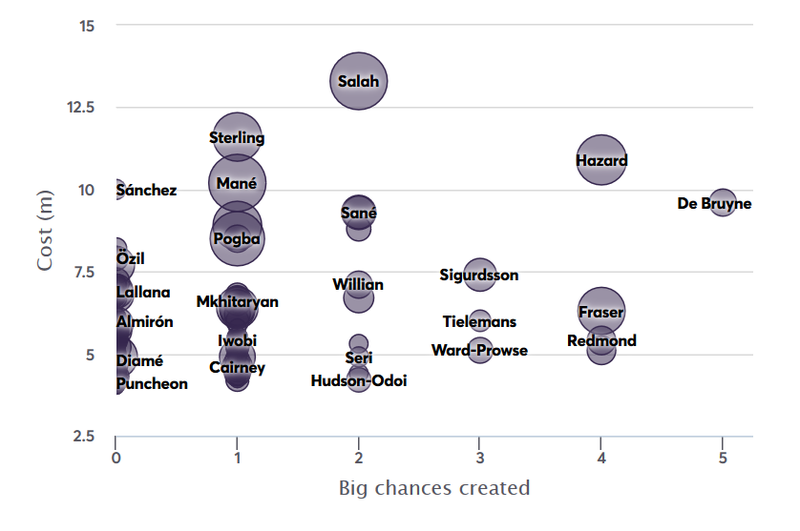 Raúl Jiménez (FUL)
A 2-1 win over Watford saw Jiménez find his 13th goal of the season, with the Mexican now directly contributing to 23 goals in total so far this campaign. The 27-year-old has returned an average of 6.0 PPG during home matches this calendar year, returning three goals and four assists across those eight matches. In that same period, he has fired more SiB (27) than any player (across all positions) and his tally of 17 attempted assists ranks joint-first amongst forwards alongside Rondón. Wolves have scored eight goals over the last six gameweeks, creating 11 'big chances' and landing 16 SoT. Fulham have conceded the same number of goals (eight) over the aforementioned period, and only Huddersfield (37) have allowed opponents more SoT than the Cottagers' 34. Our Fix Algorithm projects a point score of 5.4 for the Mexican.

Gyfli Sigurdsson (BUR)
Sigurdsson helped his side secure a 4-0 win over Man. Utd in their last outing at Goodison Park and the Icelander provided a goal, an assist and four attempted assists. The Everton midfielder has now returned an average of 5.7 PPG over the last six gameweeks weighing in with two goals and two assists. As the Custom Stats table shows, he ranks second amongst midfielders with his total of 19 attempted assists during that period and only trails Eriksen (21). Meanwhile only Babel (five) and Mané (six) have had more than his four 'big chances'. Everton have scored nine goals over the last six gameweeks, landing 35 SoT and only Man. City (39) and Leicester (39) have managed more. The Toffees have created 17 'big chances', a number only bettered by Bournemouth (19) and Southampton (21). Although Burnley have conceded just six goals in their last six matches, they have allowed opponents 88 shots, the sixth-worst over this period, indicating they have been lucky not to concede more. Our Fix Algorithm projects a point score of 6.0 for Sigurdsson.


Sead Kolasinac (BHA)
The odds are in Arsenal's favour to bounce back from recent defeats when they host Brighton, having won 11 of their 13 home games against teams outside the 'top six' this season. Since his first appearance in gameweek 11 Kolasinac has registered seven assists and provided more attempted assists (31) than any other teammate. The Bosnian ranks fifth amongst defenders for chance creation during that period (gameweek 11-36) and his total of nine 'big chances' created ranks joint-first, on par with Robertson and Digne. Arsenal have only conceded four goals in their last four home matches, keeping two clean sheets and allowing opponents just 17 SoT. Brighton have been absolutely woeful in front of goal recently, scoring just one in the last six gameweeks. The Seagulls have only created three 'big chances' over those matches and landed just eight SoT. Our Fix Algorithm projects a 48% probability of an Arsenal clean sheet and a point score of 5.1 for Kolasinac.