1. xFPL review
xFPL is calculated primarily using expected goals (xG), assists (xA), which combine as Fantasy Premier League (FPL) involvements (xG + xA = xI), as well as expected clean sheets (xC). These numbers are a result of underlying statistics (i.e. shot type and location will give a probability of scoring = xG). xFPL is the combination of these statistics and factors in appearance and bonus points to give an overall expected FPL point score.
Sterling tops the Custom Stats xFPL table this week with a score of 14.5. The winger took six shots and landed five of those on target. Three of these attempts were 'big chances', no player was afforded more. De Bruyne tops the creativity stats with six attempted assists, the Belgian also took two shots in the box (SiB), notching an xFPL score of 6.7. Man. Utd's trio of Rashford (2.1), Martial (3.4) and B. Fernandes (2.7) all posted low xFPL scores with just a combined two shots on target (SoT) amongst them. Greenwood (6.3) fared better, the youngster took two shots in the box (SiB) and also created a 'big chance'.


2. The in-form attacks
Using the Stats Sandbox Team stats feature, the expected goals (xG) for teams over the last three gameweeks is compared to determine the teams to invest in for the final gameweek of the season. As expected, Man. City top the table for xG (9.18) and they have also scored the most goals (11). Chelsea come in second with an xG of 7.08. The Blues have scored just four goals despite being afforded the second highest number of 'big chances' (11) over the aforementioned period. Owners of Ings will be encouraged by the Saints' attacking numbers. The South coast side come in third for xG (6.46) and only Man. City (22) and Liverpool (57) have landed more SoT than their 19. Liverpool come in at fifth for xG (6.19) as they have been afforded only eight 'big chances'. Man. Utd are ranked 11th for xG (4.10) and have landed just 13 SoT across their last three matches. Only nine sides landed fewer. Arsenal fare even worse, they are fifth-bottom for xG (2.69) and have landed just six SoT in their last three league matches. Only Sheff. Utd, Brighton, Everton (all five) and Norwich (four) landed fewer.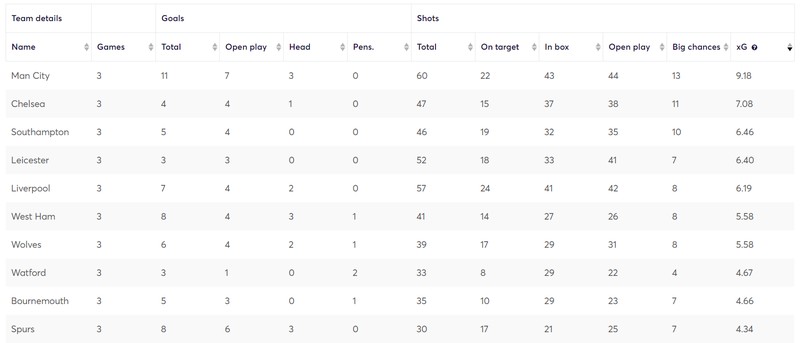 3. The leaky defences to target
Norwich have been the division's leakiest defence over the last three gameweeks in terms of expected goals conceded (xGC) with 8.70. The Canaries allowed their opponents a total of 65 shots over the last three matches. Newcastle's defensive numbers will also encourage owners of Liverpool's attacking assets for gameweek 38. The Magpies are tied with Watford for third-worst xGC (5.55). The usually resolute Sheff. Utd are seventh-worst for xGC (4.85) which again should encourage owners of Ings for gameweek 38. Leicester have been a bit unfortunate to concede seven goals with an xGC of just 3.75. At the other end of the table, Wolves' defensive numbers standout. Only Man. City (2.16) have been tighter defensively than the midlands side (2.37) which is worrying for owners of Chelsea's attacking assets.