Headliner - Mohamed Salah (HUD)
Liverpool's 2-0 win over Cardiff saw Salah find his 30th Fantasy Premier League (FPL) goal involvement of the season (19 goals, 11 assists), after winning a penalty which was then calmly converted by Milner. The Egyptian international is back to his consistent best, having found a return in each of the last four gameweeks, with two goals and two assists and only Eriksen and Hazard (each five) have directly contributed to more goals from midfield across that spell. As the Custom Stats table shows, during the same period, a total of 12 shots inside the box (SiB) ranks Salah joint-first amongst midfielders and it is only Moura who can match his total of eight shots on target (SoT). Liverpool have scored 15 goals over the last six gameweeks, more than any other team and their total of 32 SoT can only be beaten by four teams. They are also ranked fourth for 'big chances' with 17, only Southampton (19), Man. City (19) and Bournemouth (20) have created more. Their opponents Huddersfield have conceded 18 goals in the same period, more than any other team, and only Watford (20) and West Ham (21) have conceded more 'big chances' than their 19. Our Fix Algorithm projects a point score of 8.5 for Salah.

Roberto Firmino (HUD)
Firmino has played a big part in Liverpool's successful campaign, registering 12 goals and eight assists in 34 appearances. The Brazilian has produced 18 'big chances', which ranks level with Mané and he is only behind Salah (28) amongst teammates. As the Custom Stats table shows, over the last six gameweeks, a total of five goal involvements (three goals, two assists) ranks the Brazilian joint-fourth amongst forwards just behind behind Wood (six), Pérez (seven) and Vardy (eight). His total of 13 SiB ranks joint-fifth across his position, while no forward has produced more than the Liverpool forward's 11 attempted assists. Liverpool have scored 48 goals at home this season, only Man. City (56) have fared better. The Reds have  landed 110 SoT, only trailing Man. United (111) and Man. City (141). Their total of 52 'big chances' on home turf is again beaten only by the Champions, who managed 75. Huddersfield have conceded 39 goals in their 17 away matches, only Fulham (44) have been more porous on the road. The Cottagers have allowed opponents a total of 90 SoT, at an average of over five per game. Our Fix Algorithm projects a point score of 6.9 for the Brazilian.

Lucas Moura (WHU)
Moura has been directly involved in 12 goals (10 goals, two assists) this season and has made three consecutive Premier League starts, following the injury to Kane. As the Custom Stats table shows, the Brazilian has returned four goals in the last six gameweeks, a total matched only by Hazard, Mané and Milijovevic, with Sterling (five) being the only midfielder to score more. A total of eight SoT by the Spurs man during that period ranks joint-fourth amongst midfield rivals and only Hazard, Sterling (each 9) and Salah (12) have fired more. Chelsea (121) are the only team to have taken more shots than Spurs' 114 over the last six gameweeks, and only five teams have landed more SoT than their 31. West Ham's defensive statistics make for poor reading, only Huddersfield (18) have conceded more goals than their 13 and no team has conceded more SoT (37) or 'big chances' (21) than the Hammers. Our Fix Algorithm projects a point score of 3.9 for Lucas.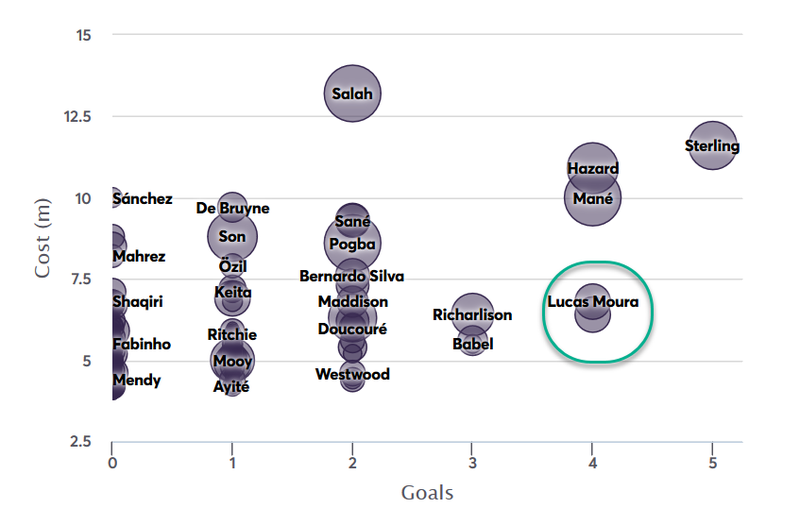 Wilfried Zaha (EVE)
Zaha's timely return to the score-sheet helped his side earn a 3-2 win over Arsenal in gameweek 35, with the forward providing three attempted assists during the game, in addition to his well-taken goal. As the Custom Stats table shows, 11 FPL involvements for the 26-year-old during this calendar year ranks joint-third amongst forwards, just behind Vardy (13) and Agüero (14). In the same period, the Ivorian has amassed a total 20 attempted assists which ranks third amongst his forward rivals, this can only be bettered by Deeney, King (each 22) and Rondón (27). Palace have scored eight goals in the last six gameweeks, landing 20 SoT and have created 12 'big chances'. Although Everton have only conceded five goals in the same period, it is worth mentioning that all five were on the road as their defence has been breached in two of the last three away games. Our Fix Algorithm projects a point score of 3.4 for Zaha.

Andrew Robertson (HUD)
Liverpool kept their 19th clean sheet of the season against Cardiff last weekend and Robertson extended his lead as the top FPL scoring defender. In fact, his total of 192 points is a figure that topples every single forward across the game. No defender has provided more than his six assists during this calendar year (gameweeks 21 to 35), while only Coleman (eight) has kept more than his seven clean sheets. A total of five 'big chances' created ranks the Scottish international joint-third amongst defenders, just behind van Aanholt (six) and Bryan (seven). Liverpool have conceded only five goals in the last six gameweeks, keeping two clean sheets. They have restricted opponents to only 12 SoT, while only Man. City have fared better (10). Huddersfield have only scored five goals in the same period, managing just 19 SoT and 10 'big chances'. Our Fix Algorithm estimates a 75% probability of a Liverpool clean sheet and a point score of 7.3 for Robertson.