Headliner - Eden Hazard (WHU)
Chelsea enjoyed a comfortable 3-0 win over Brighton midweek, with Hazard contributing a goal and assist to find his 26th Fantasy Premier League (FPL) involvement of the season. The Belgian has returned 93 points in 11 home matches against teams outside of the 'top six' this season, at an average of 8.5 points per game (PPG). As the Custom Stats table shows, no midfielder has been directly involved in more goals (four) across the last four gameweeks, while only Salah and Sterling (each 10) have fired more than Hazard's nine shots inside the box (SiB). Only De Bruyne (12), Maddison and Eriksen (each 14) provided more than his 11 attempted assists, while only Fraser (four to three) created more 'big chances'. Chelsea have scored 10 goals over the last six gameweeks, attempting 108 shots, second only to Man. City (113). West Ham have conceded nine goals over that same period and allowed more 'big chances' (23) than any other team. Our Fix Algorithm predicts a point score of 6.2 for the Belgian


Jamie Vardy (hud)
A goal during Leicester's 2-0 win over Bournemouth saw Vardy continue his impressive form in front of goal and he has now returned six goals and one assist across his last seven league matches. As the Custom Stats table shows, during that period (gameweeks 26 to 32), only Lacazette, Agüero and Deeney matched the 32-year-old for FPL involvements (with seven), and no forward produced more. Lukaku (nine) was the only forward to register more than Vardy's seven 'big chances' in that time, while his nine shots on target (SoT) could only be bettered by Lukaku and Rondón (each 10). The Foxes have scored 11 goals in their last six matches, taking 105 shots, only behind Chelsea (108) and Man. City (113). Their opponents Huddersfield have conceded 11 goals over the same period and allowed opponents 29 SoT. Our Fix Algorithm predicts a point score of 5.1 for Vardy.

Ryan Fraser (BUR)
Fraser has directly contributed to 16 goals this season (six goals, 10 assists) and has seemingly found it easier to produce attacking returns against teams outside of the 'top six'. He has returned 124 points in 21 games against those sides, at an average of 5.9 PPG. The Scottish international has created a league-high total of 10 'big chances' during home matches this season. His total of 24 attempted assists this calendar year ranks joint sixth amongst midfielders and only De Bruyne (26), Hazard (27), Moutinho (28), Eriksen (30) and Maddison (44) have managed more. Bournemouth scored seven goals in their last four home matches, creating 11 'big chances'. It is worth mentioning that one of these games was against Man. City where they took zero shots. Burnley have conceded 12 goals in the last six matches, keeping just one clean sheet and allowed opponents 80 shots. Our Fix Algorithm predicts a point score of 4.9 for Fraser.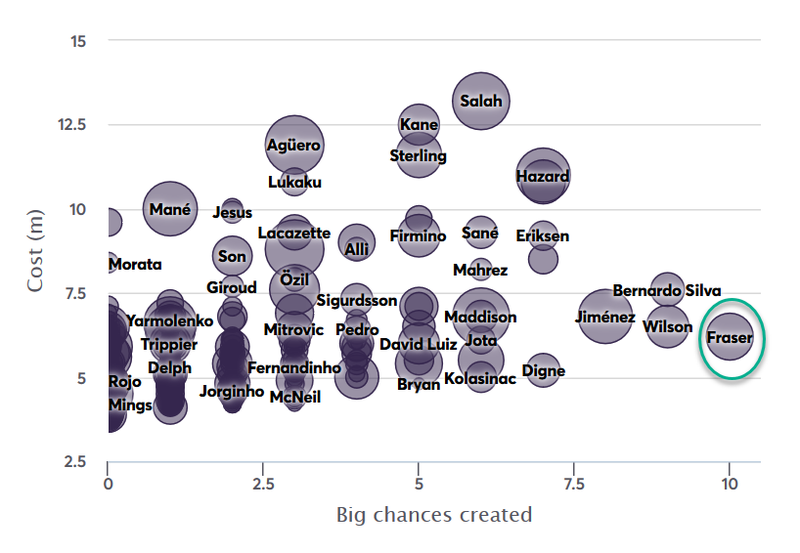 Salomón Rondón (CRY)
Rondón has accumulated an impressive total of 37 FPL points across the last six gameweeks at an average of 6.2 PPG. The Venezuelan was directly involved in five goals across that period (three goals, two assists) and only Lacazette, Jiménez, Vardy (each six) and Deeney (seven) registered more goal involvements amongst forwards. As the Custom Stats table shows, his total of 18 SiB ranked first amongst forwards, while only Kane (nine) and Lukaku (10) fired more than his eight SoT. No forward has amassed more than Rondón's 12 attempted assists, during the same timeframe. Newcastle have scored nine goals in the last six gameweeks and taken 93 shots, the fourth highest over that period. Their 29 SoT is bettered only by Watford (31) and Man. City (39). The Eagles have conceded nine goals over the same period, keeping just one clean sheet. They allowed opponents 31 SoT, with only four teams faring worse. Our Fix Algorithm predicts a point score of 4.1 for the Venezuelan.


Andrew Robertson (sou)
Liverpool's narrow win over Spurs saw Robertson deliver his 10th assist of the season and no defender has amassed more FPL points than the left-back's total of 179, an average of 6.0 per game. His six assists this calendar year (gameweeks 21 to 32) ranks top amongst defenders, while only Digne, Van Aanholt (each 18), Pereira (19) and Trippier (21) have produced more than his 17 attempted assists. A total of five 'big chances' created by the Scottish international, in the same period, ranks joint-third amongst defenders, behind only Bryan and Van Aanholt (each six). Liverpool have conceded only four goals over the last six gameweeks, allowing opponents just 15 SoT, a number which can only be bettered by Man. City's three. They limited the opposition to only five 'big chances', only Man. City (three) were more airtight. The Saints have only scored seven goals in the last six gameweeks, and their total of 17 SoT is the fifth lowest in the league. They registered only seven 'big chances', with only Brighton (four) registering fewer. Our Fix Algorithm predicts a 51% probability of a Liverpool clean sheet and a point score of 5.0 for Robertson.