1. xFPL review
xFPL is calculated primarily using expected goals (xG), assists (xA), which combine as Fantasy Premier League (FPL) involvements (xG + xA = xI), as well as expected clean sheets (xC). These numbers are a result of underlying statistics (i.e. shot type and location will give a probability of scoring = xG). xFPL is the combination of these statistics and factors in appearance and bonus points to give an overall expected FPL point score.
Vardy tops the Custom Stats xFPL table for gameweek three with a score of 12.3. The 33-year old scored with all three of his shots, all of which were 'big chances'. Fernandes comes in second with a score of 11.3. The Portuguese scored from his only shot and had one of his two attempted assists converted. Chelsea's right-back R. James was the gameweek's most creative player with six attempted assists. Only one of these was a 'big chance' created which explains his low xFPL score of 6.0. No player took more shots (eight) or landed more shots on target (SoT) (five) than Kane. The Englishman had one of his two attempted assists converted, notching an xFPL score of 8.1.


2. Son replacements compared
Son was replaced at half-time in gameweek three with what is reported to be a hamstring injury and using the Fix Comparison Matrix possible replacements are put under the scanner. Averages are used since Rashford has played a game less than the others. In terms of creativity, James Rodríguez is the winner by some distance. The Columbian averages 3.3 chances created per game and comes in second for expected goal involvements (xGI) (0.6) as well. H. Barnes leads the comparison for shots (4.0), SoT (2.3) but comes in fourth for xGI (0.4). Zaha's numbers are impressive as well, the winger has scored three in three so far and averages one 'big chance' every game. He also leads the way for xGI as well. Rashford has landed just one SoT across his two matches so there is very limited data to go on. Havertz' numbers are unimpressive but the German has played just one game in his favoured no.10 role so far and an improvement can be expected there. All of them look like viable replacement candidates for the injured Son with Rashford (25.1) projected to score highest over the next five gameweeks as per our Fix Algorithm.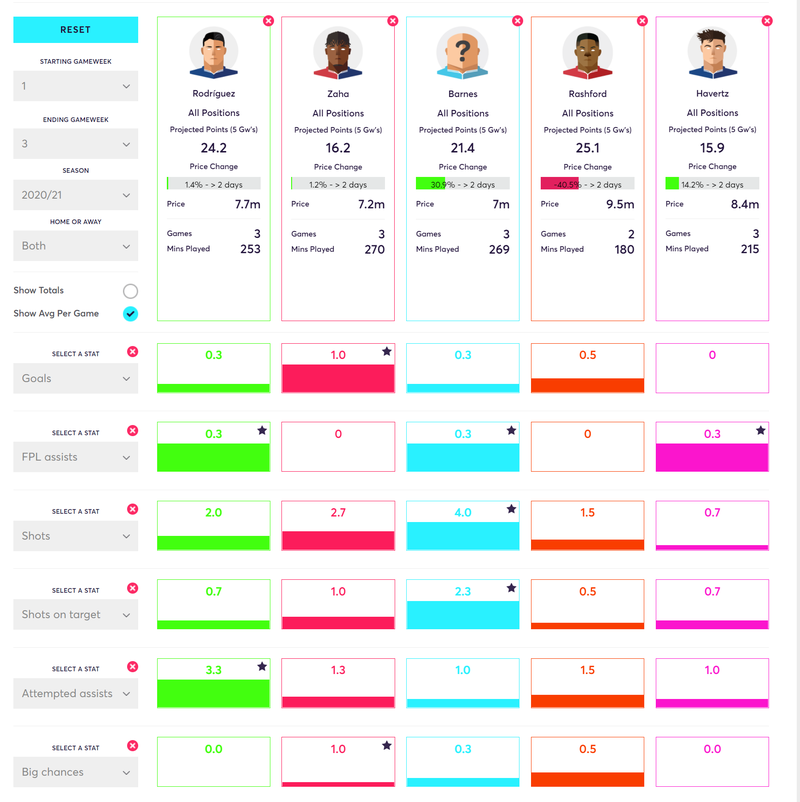 3. Keep faith in Werner?
Werner has failed to register any FPL goals (and just one assist) over the first three gameweeks of the season and his numbers are compared to the league's other strikers using the Fix Stats Sandbox feature to determine whether managers should keep the faith in the German. Werner is ranked just seventh for shots in the box (SiB) over the first three matches and 15 strikers have a higher expected goals (xG) stat than his 0.73. In terms of replacement options, Calvert-Lewin's numbers stand out. The Toffees' striker leads the way for SiB (12), 'big chances' (five) and xG (3.78) which is extremely impressive considering he does not take penalties. Richarlison has taken just one fewer SiB (11) but despite his penalty, the Brazilian (1.98) trails Calvert-Lewin significantly for xG. Mitrovic's numbers appear impressive at first glance, with 10 SiB, but nine strikers beat him for xG (1.48) which indicates these are not clear scoring opportunities. Jiménez comes in sixth for SiB (nine). The Mexican fares even worse than Mitrovic for xG (1.33) but this is mitigated by the fact that Wolves faced Man. City in gameweek two. Both Calvert-Lewin and Jiménez appear to be excellent replacements for Werner.