1. xFPL review
xFPL is calculated primarily using expected goals (xG), assists (xA), which combine as Fantasy Premier League (FPL) involvements (xG + xA = xI), as well as expected clean sheets (xC). These numbers are a result of underlying statistics (i.e. shot type and location will give a probability of scoring = xG). xFPL is the combination of these statistics and factors in appearance and bonus points to give an overall expected FPL point score.

Salah tops the Custom Stats xFPL table for a second consecutive week with a score of 14.9. The Egyptian posted impressive numbers with four shots in the box (SiB) and three attempted assists. He was afforded two 'big chances' and created two as well. Maddison, Grealish, Duda and McNeil were the week's most creative players with five chances created apiece but none of them managed to register a single assist, with xFPL scores of 4.0, 4.5, 5.4 and 5.8 respectively. No player landed more shots on target (SoT) than Man. United's new signing B. Fernandes. None of the Portuguese's attempts were in the box which explains his xFPL score of 3.0. Agüero's backers can consider themselves unlucky. No player took more shots than the Argentinian's six, five of which were in the box. However, only one of these was a 'big chance' and he notched an xFPL score of just 5.3.

2. Time to Letstram go
Lundstram was replaced by the Blades' new signing Berge in their starting lineup against Palace, and the Fantasy Premier League (FPL) favourite has now been benched in consecutive Premier League matches. Wilder lauded the praise on Berge post-game, not a good sign for Lundsram, and this could be the nail in the coffin for the FPL darling's regular position in Sheff. United's starting lineup. Using the Stats Sandbox, defenders priced at 5.0 or under are compared over the last four gameweeks to determine suitable replacements. R. James leads the way in terms of xFPL (20.29) with six attempted assists and only Cresswell (seven) and Aurier (eight) have attempted more in this price bracket. In terms of xG (expected goals), Dunk is on top with 1.02 but Egan comes in third with 0.81. The Blades' defender is the lowest priced amongst their backline (4.5) and gives you an entry into one of the division's most solid defences. As the Fixture Analyzer shows, the missing gameweek 28 fixture is a concern. Another player who stands out is J. Stephens. The Saints man has an xG of 0.62 (ranked sixth) from two shots, one of which was a 'big chance'. He is also seventh for xFPL (18.05). With the Saints ranked top of our Fixture Analyzer for the next five gameweeks, he appears to be the best replacement at an easily accessible price point.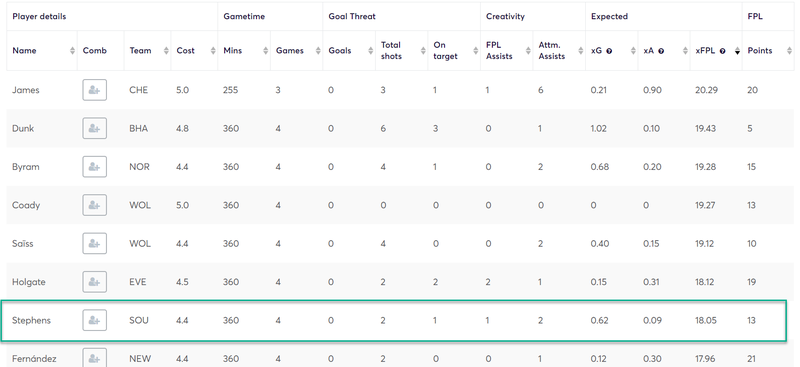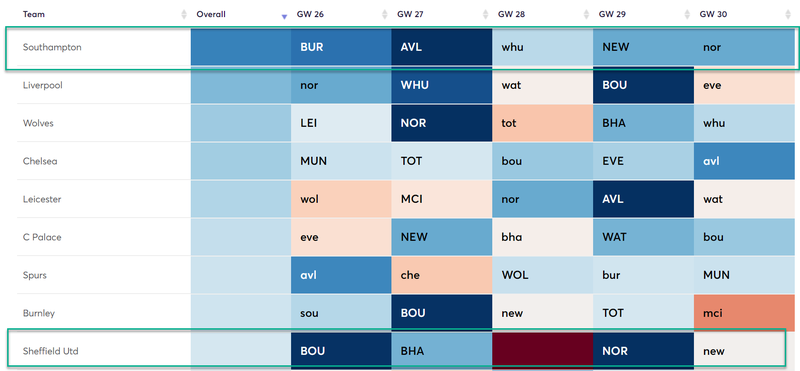 3. The budget mids – Traoré vs. H. Barnes
H. Barnes has now scored in three consecutive matches and at just 1.4% ownership appears to be going under the radar. His numbers are compared to the popular Traoré (21% ownership) over the last four gameweeks using the Fix Heatmaps feature. The average attacking radar backs up the eye test – H. Barnes has significantly more goal threat than Traoré. The latter has taken five shots to the Englishman's 10 and landed just one SoT compared to his six. Even though H. Barnes has attempted the same number of assists (eight), the higher xA (expected assist) (2.0) numbers for Traoré indicates he creates better quality chances, which is exhibited by his five 'big chances' created to none for the Englishman. H. Barnes' average attacking numbers are great overall, 0.54 xG (expected goals) vs 0.09 for Traoré and 1.68 SoT vs 0.26. Although Leicester's next two fixtures are difficult (wol, MCI), they have a great run after (nor, AVL, wat, BHA) and it is clear that H. Barnes is a great differential option.