1. xFPL review
xFPL is calculated primarily using expected goals (xG), assists (xA), which combine as Fantasy Premier League (FPL) involvements (xG + xA = xI), and expected clean sheets (xC). These numbers are a result of underlying statistics (i.e. shot type and location gives a probability of scoring = xG). xFPL is the combination of these statistics and factors in appearance and bonus points to give an overall expected FPL point score.
Man. City's assets top the xFPL table this week, with the highest scorer  Laporte posting a 19.6 xFPL score with both of his attempts deemed 'big chances'. Aguero took five shots in the box (SiB) across his two matches, with only Barnes (seven) attempting more, and no player landed more shots on target (SoT) than the Argentinian's four. Hazard posted the most impressive numbers of any single gameweek player, with three SoT and an attempted assist, leading to a xFPL score of 10.8. Groß attempted a staggering 10 assists, leading to a xFPL score of 10.5, and is one worth monitoring ahead of Brighton's kind run of fixtures.


2. Here comes the Son
Son once again displayed his importance to Spurs attack as he scored the winner against Newcastle in gameweek 25, taking his total to 10 goals and seven assists for the season. This is even more impressive considering all of these occurred between gameweek 11-25, an average of more than one Fantasy Premier League (FPL) involvement a game. As the Custom Stats tableshows, since his return from the Asia Cup, the Korean has taken 10 goal attempts, more than any midfielder, and only Hazard (five) has landed more SoT than his three. Currently the most transferred in player this gameweek as per our Transfer Stats feature, going without the Korean appears to be a risky proposition given their upcoming games against Leicester and Burnley.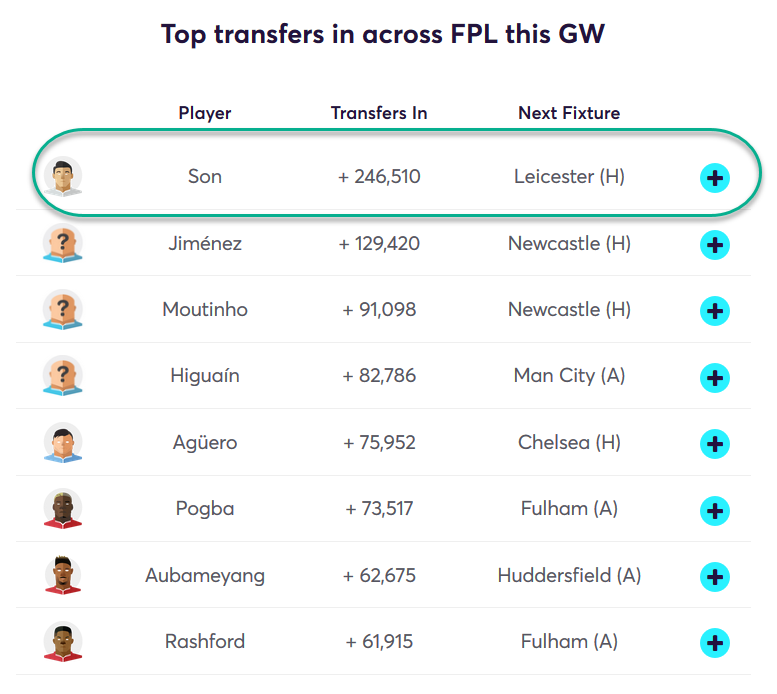 3. Wilson/Ings replacements under the scanner
With Wilson and Ings injured, the budget forward options are dissected using the Fix Comparison Matrix. Rashford appears to be as close to 'essential' as it gets, as he tops the comparison across all metrics except attempted assists. Jimenéz has scored the most goals after Rashford, but despite firing 16 shots landed only five on target. He does however have a creative spark to his game, with eight attempted assists, and has the highest projected score of the players under scrutiny. Mitrovic and King both post similar numbers, with nine attempted assists each, along with eight and nine SoT respectively. Both appear decent options if you already own Jimenéz and Rashford, with Rondon's two SoT over six matches putting him out of contention.