Caveat - This blog was written prior to the matches on 19/1/2020 
Picks are always in the below format
No.1 predicted by Fix 
Alternative high-ownership option. Over 20%
Differential option. Under 20%
Mohamed Salah (wol,whu)
With 10 goals already this season, Salah trails only Mané and Sterling (both 11) for goals amongst midfielders. He is top for shots (66), shots in the box (SiB) (54) and shots on target (SoT) (31). He has been afforded 15 'big chances' with only Mané and Sterling (both 20) faring better. Only Man. City are ahead of Liverpool for goals (64 to 50) and 'big chances' (88 to 67) this season. Their first opponents Wolves have shipped 30 goals so far, keeping just four clean sheets. Only Tottenham and Norwich (both three) have registered fewer. They are ranked eighth-best for both shots (265) and SiB conceded (170). West Ham have conceded 34 goals, and only Bournemouth (36), Burnley (37), Southampton (42), Villa (44) and Norwich (45) have conceded more. Meanwhile, only seven teams have conceded more SiB than the Hammers' 200 this season. Our Fix Algorithm currently projects a point score of 12.3 for Salah.

Sadio Mané (wol,whu)
No midfielder has scored more goals than Mané's 11 this season and the Senegal star is also top for 'big chances' (20). His total of 42 SiB is beaten only by Richarlison (44), Sterling and Salah (both 54). He has created 36 chances compared to Salah's 31 and only Son, Groß (both nine), Mahrez (10) and De Bruyne (20) have created more 'big chances' than his seven. As per our FPL Statistics feature he is owned by a whopping 76.3% of the top 1000 managers and is likely to be the most captained player this week. Only Chelsea (249 and 130) and Man. City (314 and 161) have taken more than Liverpool's 241 SiB and 129 SoT this season. Wolves have conceded just 34 'big chances' this season and one only Spurs (33), Man. Utd (31) and Liverpool (28) have been more frugal. While just six teams have allowed opponents fewer SoT than Wolves' 86. West Ham's defensive statistics are much worse though. They are sixth worst for SoT conceded (113) and no team has allowed opponents more 'big chances' than their 70. Our Fix Algorithm currently projects a point score of 11.8 for Mané.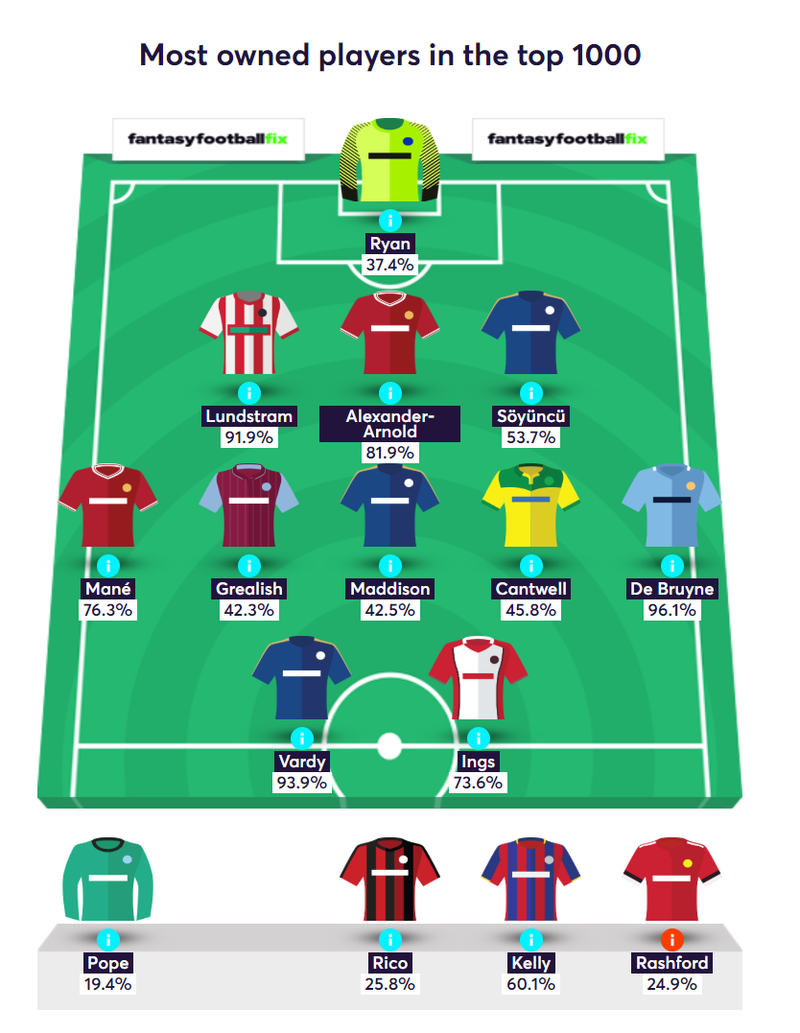 Roberto Firmino (wol,whu)
Under 15% ownership at the time of writing, Firmino has notched seven goals this season with only Abraham (70), Rashford (74) and Jiménez (76) taking more shots than the Brazilian's 65. He is also third for SiB (55) and only trails Jiménez (60) and Abraham (62). His total of 15 'big chances' is ranked eighth amongst forwards and only six forwards have landed more SoT than his 26. As always, his creativity numbers are excellent. Only Vardy and Jiménez (both six) have managed more assists than his five amongst forwards and only the Mexican (11) beats him for 'big chances' created (eight). As the Stats Sandbox shows, his total of 27 chances created is bettered only by Jiménez (35) and Deulofeu (39). Wolves have conceded six goals over the last four matches and only Norwich, Burnley (both seven), Bournemouth (10) and Villa (11) have conceded more. West Ham are ranked third-worst for 'big chances' conceded over the same period (11) with only Newcastle (13) and Villa (16) more obliging. Our Fix Algorithm currently projects a point score of 9.6 for Firmino.