Mohamed Salah (LEI)
A brace against Crystal Palace saw Salah return double-figures for the fifth time in six gameweeks, amassing a total of six goals and three assists across that run and scoring an average of 10.7 points per game. As our Fix Custom Stats table feature shows, the Egyptian has a league-high total of nine 'big chances' to his name in the last six gameweeks, beating Barnes (eight), Aubameyang (six) and Firmino (five). Only Pogba (15) has fired more than Salah's 14 shots inside the box (SiB) amongst midfielders, while only Rashford (16) and Pogba (14) have taken more than his 11 shots on target (SoT) across all positions. No midfielder has scored more goals than Salah's nine on home turf, with the Reds scoring 31 goals in their 11 home matches, second only to Man. City who have scored 40 at the Etihad. No team scored more goals than Liverpool's 17 in the last six gameweeks, and only Man. United (47) landed more SoT than the Reds' 40. Leicester have conceded only eight goals in their last six games but with the Reds determined to maintain their point gap with Man. City it is hard to see a Foxes clean sheet in this fixture. Our Fix Algorithm predicts a point score of 8.2 for the Egyptian.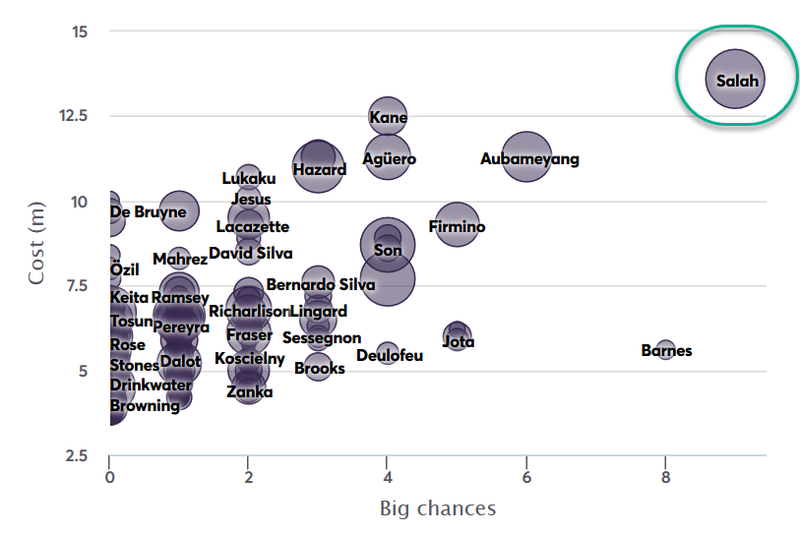 Pierre-Emerick Aubameyang (CAR)
Aubameyang returned to the scoresheet in Arsenal's FA Cup defeat to Man. United and came close to adding to his league total during the win over Chelsea last gameweek, where he took three goal attempts and missed one big chance. Over the last six gameweeks the 29-year-old has returned four goals and one assist which only Kane and Rashford (each seven) have toppled being directly involved in more goals amongst forwards. As our Fix Custom Stats table feature shows, his total of 17 SiB in the same period can only be bettered by Rashford's 18, while Barnes (eight) is the only forward to have been involved in more than Aubameyang's six 'big chances'. The Gunners have scored 26 goals in their 12 home matches, only Liverpool (31), and Man. City have scored more on home turf, and only Liverpool (17), Man. United (17), Tottenham (17) and Man. City (14) have scored more goals than their 11 over the past six gameweeks. Their opponents Cardiff have conceded 11 goals in the same period, and only Watford (34) allowed opponents more SoT than their 33. Our Fix Algorithm backs the Gabonese international to breach the Bluebirds defence with a point score of 7.4.

Marcus Rashford (BUR)
Man. United's 2-1 win over Brighton saw Rashford find the back of the net for a fourth consecutive gameweek. He has now scored in all but one game under Solskjær in the league, returning five goals and two assists during those six matches. No forward has scored more goals during that time (five), with only Firmino and Kane matching the 21-year-old's output. As our Fix Custom Stats table feature shows, 18 SiB by Rashford is a league-high over this period and his total of 14 SoT is more than what Salah (11), Kane (10) or Firmino (nine) have managed, with only Pogba (16) taking more. No team have scored more goals (17) or registered more SoT than the Red Devils (47) over the past six gameweeks, with only Liverpool (13) registering more 'big chances' than their 11. No team has allowed opponents more shots than Burnleys' 234 on the road, and only Fulham (30) and Bournemouth (25) have conceded more away goals than their 22. Our Fix Algorithm backs Rashford to keep his scoring run going with a point score of 5.6.

Diogo Jota (WHU)
After initially struggling to adapt to the demands of the Premier League, Jota has now been directly involved in seven goals (five goals, two assists) across his last five league appearances for Wolves, weighing in with a hat-trick in the 4-3 win over Leicester last gameweek. As our Fix Custom Stats table feature shows, since gameweek 15, only Salah (11) has had more 'big chances' than Jota (seven) amongst midfielders, and the 22-year-old had an impressive total of five 'big chances' against the Foxes alone, three more than any other player was able to manage in gameweek 23. His total of four SoT was joint-first in the league, along with Mané, and each of his efforts came from inside the box. Wolves have scored only eight goals in their last six league games, but it is worth mentioning that these included games against Liverpool, Man. City and Tottenham who are all very strong defensively. They have scored 16 goals in their 12 home matches and remain a force to be reckoned with on home turf. Their opponents West Ham have conceded nine goals in the past six gameweeks and have only one clean sheet to their name. Fulham (15), Bournemouth (15), Huddersfield (18) and Watford (19) are the only teams to have allowed opponents more 'big chances' than the Hammers' 14. Our Fix Algorithm backs Jota to get attacking returns with a point score of 3.1. 

Sead Kolasinac (CAR)
Arsenal kept their fourth clean sheet of the season with a 2-0 win over Chelsea in gameweek 23, allowing Maurizio Sarri's side just one SoT. Since gameweek 11, when he first broke into the Arsenal side this season, no defender has provided more assists than Kolasinac (four), while only Digne (28) has had more than his 21 attempted assists. The Bosnian created seven 'big chances' in that period, with only Digne, Salah and Sané producing more across all positions. Surprisingly, Arsenal have the third best defensive record in the league at home with only 10 goals conceded in 12 matches and only Liverpool (six) and Chelsea (nine) have conceded fewer. Their opponents Cardiff have only scored six goals in their 11 away matches so far, the lowest in the league, and registered only 29 SoT, also a league low. Our Fix Algorithm predicts a 47% chance of a clean sheet for Arsenal and a point score of 5.4 for Kolasinac.