1. xFPL review
xFPL is calculated primarily using expected goals (xG), assists (xA), which combine as Fantasy Premier League (FPL) involvements (xG + xA = xI), as well as expected clean sheets (xC). These numbers are a result of underlying statistics (i.e. shot type and location will give a probability of scoring = xG). xFPL is the combination of these statistics and factors in appearance and bonus points to give an overall expected FPL point score.

Pérez tops the Custom Stats xFPL table with a score of 13.3, no player has registered more 'big chances' (three) than the Spaniard and he also attempted four assists. Salah and Jesus lead the way for shots on target (SoT) with four. No player took more than the Brazilian's eight shots, seven of which were in the box, leading to an xFPL score of 10.3. Even though Salah took more shots (five to four) and created more chances (three to one) than Mané, the Senegalese registered a higher xFPL score (12.1) than the Egyptian (11.5), as he registered two more 'big chances'. Robertson and Buendia were the week's most creative players with five attempted assists each. No player created more 'big chances' than the Scot's two, leading to an xFPL score of 11.3.

2. West Ham assets shine
The Hammers notched their biggest win in 12 years as they beat Bournemouth 4-0 and many of their assets are now on Fantasy Premier League (FPL) managers' radars ahead of their double gameweek in 24. A look at the Match Statistics feature from that game shows that no player took more shots than Fornals' four although only one was on target. He registered an expected goals (xG) score of only 0.25, so these were not high quality chances. Noble leads the way for xG (0.82) but that is largely due to his penalty. Snodgrass was their most creative player with three attempted assists but attempted no shots. Haller took just two shots, notching an xG of 0.14. Anderson scored from his only SoT, notching an xG score of 0.20. Fredericks' expected assists (xA) (0.56) numbers are impressive, he could be a good option if Moyes can get them organized at the back. Overall, the statistics are not very impressive with the Hammers managing just an xG of 1.98 in the game despite scoring four goals and more time is needed to see if they have truly turned a corner.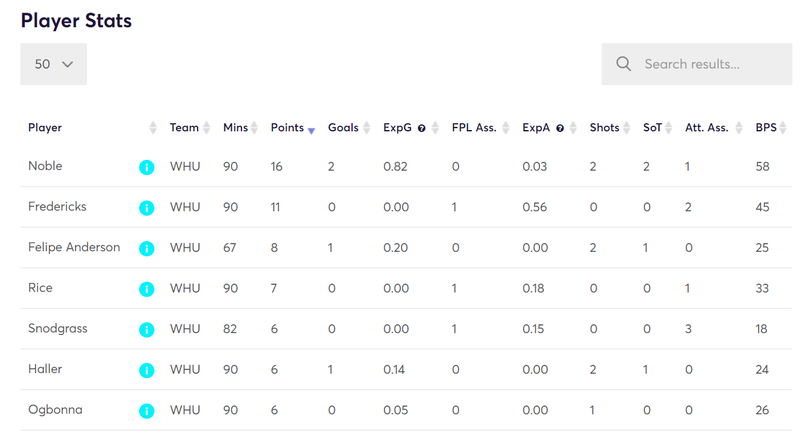 3. Pope replacements
A popular FPL asset, Pope has conceded five goals in his last three games and with Burnley ranked bottom of our Fixture Analyzer for Defensive difficulty over the next 10 matches, our Transfer Stats feature shows many FPL managers are getting rid. At the other end of the ticker, Bournemouth, Brighton and Sheffield. Utd. offer similarly priced options with good fixtures. Ramsdale should probably be ignored given Bournemouth's poor defensive form so the best replacements appear to be either Ryan or Henderson. Looking at the Stats Sandbox for the season so far, Ryan ranks second for xFPL (80.86) amongst goalkeepers 5.0 or under which again underlines his value. Henderson is not too far off either at 73.82. The Fix Algorithm also projects Ryan (34.0) to be the top scoring keeper under 5.0 for the next eight weeks. Despite a double gameweek, Fabianski (23.6) is some way behind. Leno (32.8) could also be a decent option if Arteta can shore up the Arsenal defence. Keeping all these factors and his bonus point potential in mind (11 this season), Ryan appears to be the best Pope replacement.