1. xFPL review
xFPL is calculated primarily using expected goals (xG), assists (xA), which combine as Fantasy Premier League (FPL) involvements (xG + xA = xI), as well as expected clean sheets (xC). These numbers are a result of underlying statistics (i.e. shot type and location will give a probability of scoring = xG). xFPL is the combination of these statistics and factors in appearance and bonus points to give an overall expected FPL point score.
For the first time, the xFPL table is topped by a 4.0 defender as Lundstram registered an 11.5 xFPL score and rewarded his backers with a 14 point haul against Palace. The Englishman created a 'big chance', which McGoldrick spurned, and scored from his only shot on target (SoT), which was also deemed a 'big chance'. De Bruyne was the most creative player of the week attempting nine assists, three of which were 'big chances' and he also took two shots in the box (SiB), notching an xFPL score of 9.6. Despite scoring a hat-trick, Pukki surprisingly comes in at fourth with an xFPL score of 8.9, as only one of his seven SiB was deemed a 'big chance'. Mane's numbers are also impressive with five chances created and two SiB leading to an xFPL score of 9.4, double that of Salah (4.7). 

2. Budget forwards compared
Pukki put forth his case as a must-have budget forward with a hattrick against Newcastle, while other options such as Jota continue to disappoint. As the Fix Comparison Matrix shows, the Portuguese's numbers are abysmal, with no shots and just one attempted assist. Wilson shows his edge over King (despite the Norwegian's penalty) with five chances created - but just one shot against a promoted team is disappointing. Barnes' numbers are impressive with three SoT at the Emirates, and despite Burnley's tough upcoming fixtures he looks to be a great pick. Pukki's statistics leap off the page though, with six SoT, indicating that the Finn could have scored even more.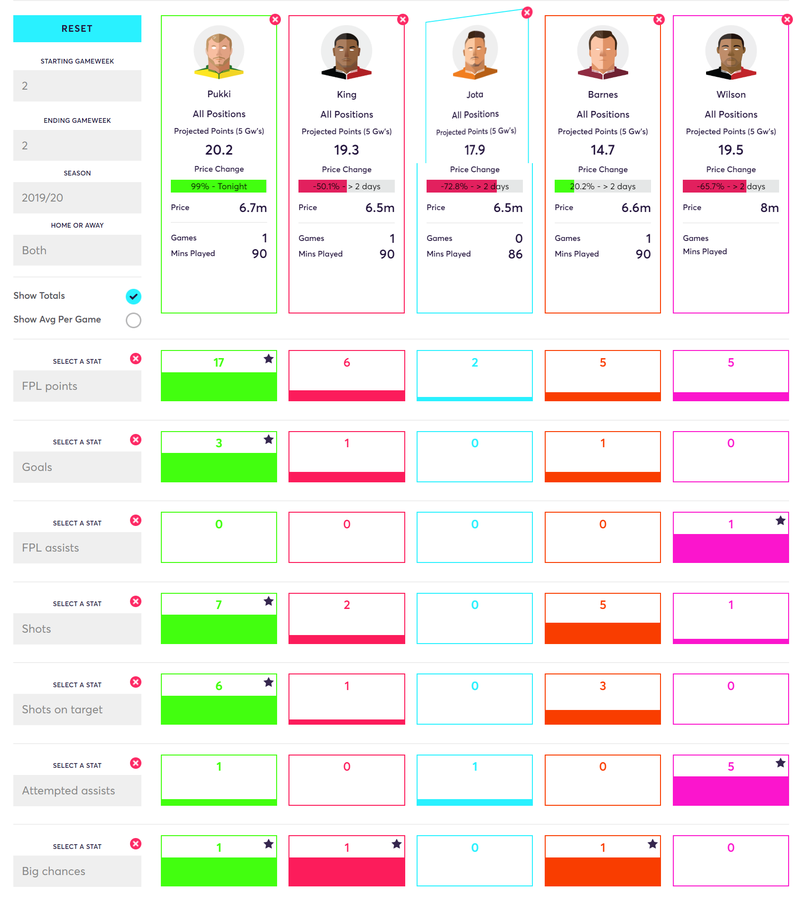 3. Budget midfielders deliver
It was a good week for the budget midfielders with Mount, Lamela, Trossard and Ceballos notching FPL returns and their statistics are compared along with McGinn's in our Fix Comparison Matrix. Mount landed the joint-most SoT of the players under consideration, tied with McGinn but he beats the Scot for SiB, three to two. Lamela's returns appear to be fortunate as he scored with his only shot and had his only attempted assist converted. Ceballos' creativity stands out with four attempted assists and three shots to boot, but it is worth mentioning that none of these were within the penalty area. Trossard was afforded the most 'big chances' of the lot, but that maybe down to the Hammers' poor defensive setup. The Belgian did take the most SiB amongst these players though, and could prove to be a great option.