1. xFPL review
xFPL is calculated primarily using expected goals (xG), assists (xA), which combine as Fantasy Premier League (FPL) involvements (xG + xA = xI), as well as expected clean sheets (xC). These numbers are a result of underlying statistics (i.e. shot type and location will give a probability of scoring = xG). xFPL is the combination of these statistics and factors in appearance and bonus points to give an overall expected FPL point score.

Lundstram tops the xFPL table for the second time this season with a score of 15.3, not far off his actual Fantasy Premier League (FPL) score of 21. The 'defender' took five shots in the box (SiB) and landed three shots on target (SoT), all of which were 'big chances'. Jiménez showed a return to his shot volumes of last season as he took eight shots this gameweek, more than any other player and also landed the most SoT (four). No player attempted more assists than Maddison's eight but none of these were 'big chances' and only one was from open play. Trossard's numbers are impressive considering his reduced minutes. The Belgian attempted four assists, two of which were 'big chances' created and also scored from his only SoT.

2. Is Mané the main man now?
With Salah visibily impaired because of his ankle injury, Mané put forth his case as the Liverpool midfield asset of choice with a 12-point haul against Villa. A look at the Fix Comparison Matrix for the last four weeks highlights the Senegalese's dominance in the premium midfield category. The only one to have played the entire possible 360 minutes, he leads the way for points (31), goals (two), assists (three) and 'big chances' (five). He only trails Salah and Sterling for SiB (both 11) and is only narrowly behind the Egyptian for SoT, eight to six. He has added an element of creativity to his game as well, attempting just one assist fewer than De Bruyne and Sterling (both 10). He's registered as many 'big chances' as Salah and Sterling combined (five) as well. Mané has definitely put forth his case for his inclusion in FPL squads and the question "Salah or Mané" seems to have been settled for the time being at least.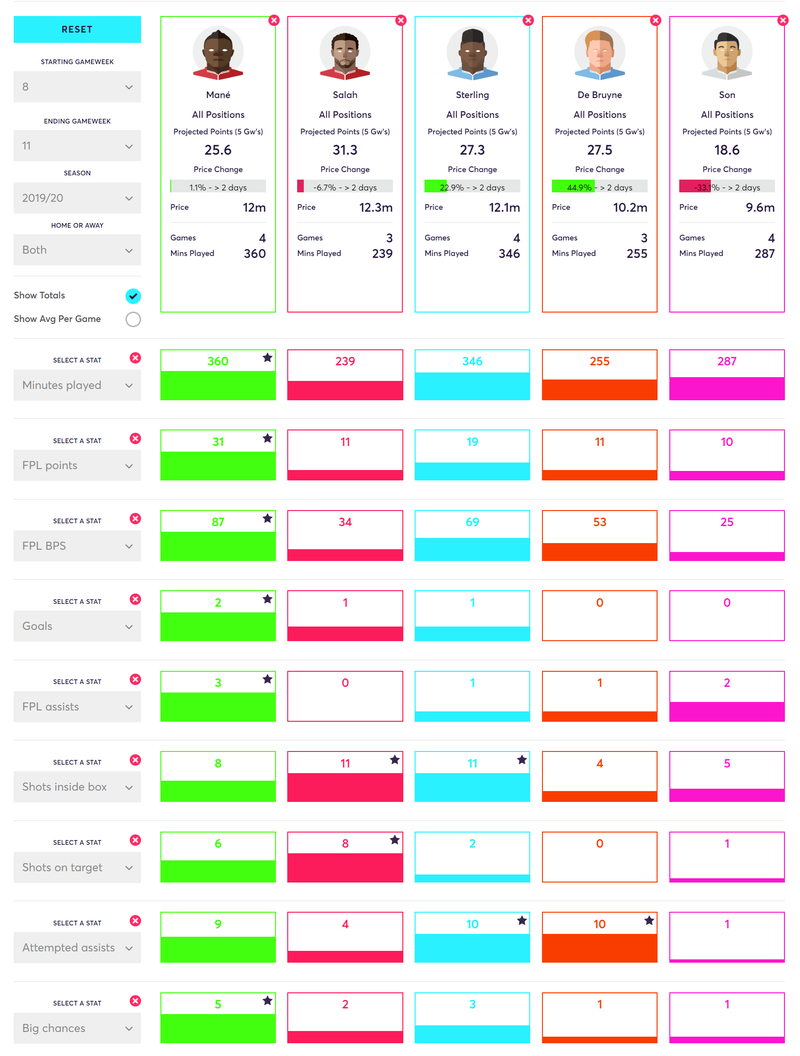 3. Budget strikers compared
Pukki and C. Wilson again disappointed their backers with blanks and it was a poor weekend for budget strikers in general as only four strikers priced under 7.5m got on the scoresheet. A look at the Stats Sandbox sorted by xFPL scores shows that Mousset might be emerging as a value pick, the Sheff. Utd man had three of his four attempted assists converted but failed to register any SoT. Deulofeu has a high xFPL score because of the penalty but did not offer much otherwise. Jiménez' numbers have already been discussed earlier but it is worth pointing out the numbers for his team-mate Jota. The Portuguese attempted four assists and took five shots, indicating that he might be finding form again after his early season struggles. Pukki's slide continues as the Finn landed zero SoT and attempted just one assist.