1. xFPL review
xFPL is calculated primarily using expected goals (xG), assists (xA), which combine as Fantasy Premier League (FPL) involvements (xG + xA = xI), as well as expected clean sheets (xC). These numbers are a result of underlying statistics (i.e. shot type and location will give a probability of scoring = xG). xFPL is the combination of these statistics and factors in appearance and bonus points to give an overall expected FPL point score.

Martial tops the xFPL table this week with a score of 14.0 on his first league start since his injury, as Man. Utd won 3-1 away to Norwich. Only Perez and Salah (both five) landed more shots on target (SoT) than the Frenchman's four this gameweek and no player was afforded more 'big chances' than his four. Alexander-Arnold was this week's most creative player with seven attempted assists, but notches an xFPL score of only 5.5, given that just one of these was a 'big chance'. No player created more 'big chances' than Yarmolenko's four and the Ukranian registered an impressive xFPL score of 13.4 and also took two shots in the box (SiB). Three players registered 20-point Fantasy Premier League hauls (Perez, Vardy and Pulisic) but it is worth mentioning that the American's xFPL score is only 7.9 as none of his five attempts were 'big chances' and he scored from three of his four SoT.
2. Fantastic Foxes
Leicester's nine goal demolition of Southampton grabbed all the headlines this weekend and with a kind fixture run for the next six matches their assets are in high demand. Currently, four of their players (Vardy, Chilwell, Perez and Tielemans) are the most transferred in players, at the time of writing, as per our Transfer Stats feature. A look at the Match Stats feature shows the average position of the Leicester players and Maddison's deeper role sticks out. Playing alongside Ndidi, he dictated the play for the Foxes, recording the second most touches of any player on the pitch (115) but as the table shows, he attempted zero assists and scored from his only SoT, not fantastic reading from an FPL perspective. Perez took the most shots of any player with seven and the position map indicates he was playing closer to Vardy than in previous games but whether this was purely due to the Bertrand red card remains to be seen. Chillwell attempted six assists compared to zero for Pereira, while H. Barnes attempted four as the Foxes exploited Saints' weakness down their right. While the statistics are impressive, the numbers indicate that the scoreline was as much down to Saints' defensive ineptitude as the Foxes' attacking prowess.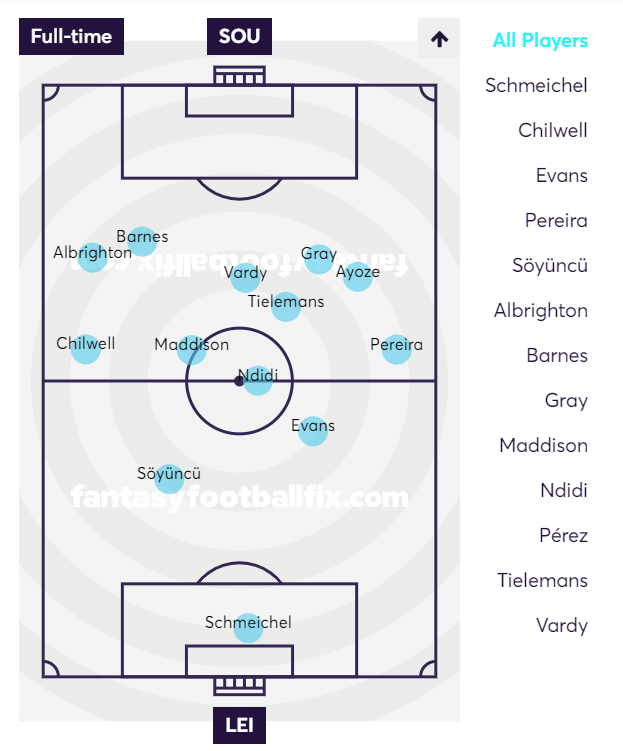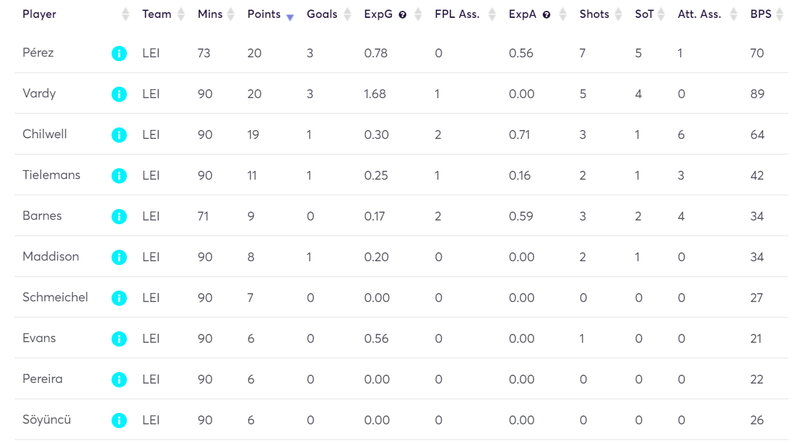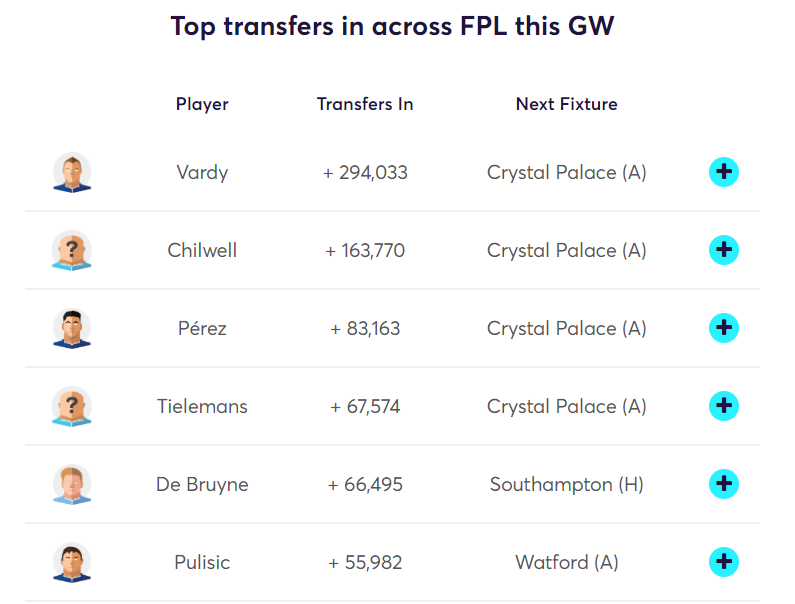 3. Callum Wilson blanks again
C. Wilson was one of the most transferred in players over the last few weeks, especially ahead of the fixtures against Norwich and Watford, but the Englishman has now recorded three blanks in a row after seven gameweeks of successive returns. In the last two gameweeks he attempted just two shots in total, against two sides that are firmly rooted to the bottom of the table. His possible replacements are put under the scanner using the Fix Comparison Matrix for the last two gameweeks. Vardy is the obvious replacement but if budget is a constraint, Maupay is a good option, especially given that they face Norwich next. Ings numbers are impressive with three SoT,  particularly as he has seen limited minutes, however, Saints assets are probably best avoided until the team's form improves. Haller's numbers have dropped massively from earlier in the season and with just one SoT over two matches he does not justify his price. Jimenez is the highest projected scorer of the players under consideration but Wolves seem a lot less potent overall due to Europa League exertions, as seen from just two attempted assists and two SoT for the Mexican.