Headliner - Mohamed Salah (LEE)
With goals in gameweek one against Norwich, West Ham and Watford over the past three seasons, Salah has built a reputation for starting the season strong. His consistency at Anfield throughout the years cannot be ignored, with 62 goals, 20 assists and 489 Fantasy Premier League (FPL) points recorded, at an average of 8.7 points per game (PPG). As the Fix Heatmaps feature shows, in the 2019/20 season, no player scored more than his 148 FPL points during home matches. The Egyptian produced league-high totals of 15 goals, 60 shots in the box (SiB) and 36 shots on target (SoT). Over the last six gameweeks of the season, Liverpool scored 15 goals and only Man. City 21 scored more. Their 42 SoT was also only bettered by Man. City's 46. Leeds had the best defensive record in the Championship, keeping 22 clean sheets and conceding just 35 goals but Bielsa is an attacking manager who is unlikely to park the bus at Anfield like most promoted teams would do, so this should have plenty of goals. Our Fix Algorithm currently projects a point score of 9.3 for Salah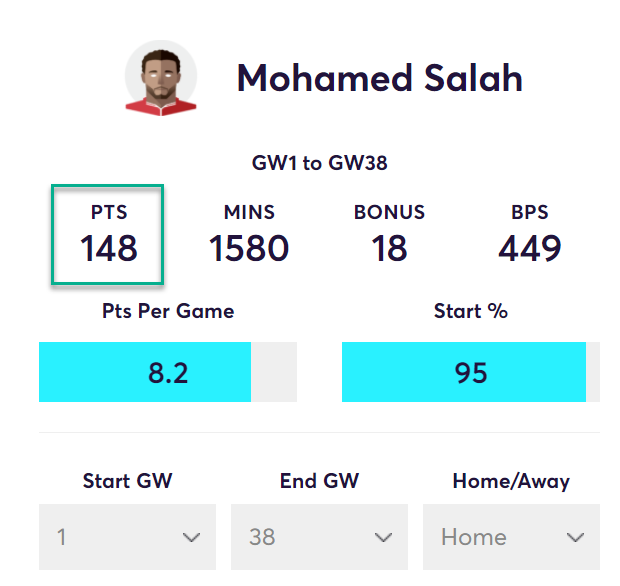 Pierre Emerick-Aubameyang (ful)
Aubameyang has scored against Man. City, Chelsea and Liverpool across recent F.A. Cup and Community Shield wins to net seven goals in his last five outings in all competitions. With five goals and two assists in his last eight Premier League matches, the Arsenal talisman averaged 6.1 PPG. Only Sterling (eight) scored more goals across that period amongst FPL midfielders, while only Salah (16) and Sterling (13) landed more than his 12 SoT. As the Stats Sandbox shows, the 31-year-old ranked fourth with tallies of six 'big chances' and 15 SiB. Arsenal scored 16 goals over the restart, only Chelsea (18), Liverpool (19), Man. Utd (22) and Man. City (34) found the back of the net more often. Meanwhile, only Southampton (48), Man. Utd (50), Chelsea (51), Liverpool (55) and Man. City (72) landed more SoT than their 41. Fulham had the fourth-best defensive record in the Championship, conceding 48 goals in 46 games but it is worth mentioning 26 of these goals were conceded in home matches. Seven sides had a better defensive record at home in the Championship, which highlights that they set-up more offensively on their own patch. Our Fix Algorithm currently projects a point score of 6.6 for Aubameyang.

Dele Alli (EVE)
While injury plagued the end of his season, Alli enjoyed an immediate improvement in form following Mourinho's appointment ahead of Gameweek 13. Up until Gameweek 29, when the season was suspended, the 24-year-old was directly involved in 12 goals across 17 appearances under the new manager (six goals, six assists). Only Alexander-Arnold (10) and De Bruyne (eight) supplied more assists over that period (GW13-29). As the Stats Sandbox shows, amongst current FPL midfielders, only Aubameyang could match his 12 'big chances', while only Jota (33) and Salah (50) took more than his 29 SiB. Spurs scored 10 goals over the final six gameweeks and only West Ham (11), Chelsea (12), Man. Utd (15), Liverpool (15) and Man. City (21) faring better. They landed 21 SoT and created eight 'big chances' over those matches. Everton conceded nine goals over the same period, keeping just one clean sheet and only eight sides conceded more goals. Just seven sides allowed opponents more shots than their 78. 

Danny Ings (cry)
Since 'Project Restart' began in Gameweek 30+ last season, Ings amassed seven goals and an assist in nine appearances, to average 6.4 PPG. Amongst current FPL forwards, only Antonio (66) and Martial (78) earned more points during that period. Just four forwards took more shots in total (25) or from inside the box (22) and only Jesus and Vardy (each 16) could better his 14 attempted assists. The Saints have one of the best fixture schedules at the start of the season as per our Fixture Analyser so Ings is a great pick for the longer term. Southampton scored 10 goals over the last six gameweeks of the 2019/20 season and only West Ham (11), Chelsea (12), Man. Utd (15), Liverpool (15) and Man. City (21) were more prolific. Their total of 15 'big chances' was bettered only by West Ham (16), Man. Utd (18), Chelsea (20), Man. City (25). Palace conceded 13 goals over the same timeframe, keeping no clean sheets. Only Newcastle, Watford and Norwich (all 15) shipped more goals over this period and only Brighton (19) allowed opponents more 'big chances' than their 18. Our Fix Algorithm currently projects a point score of 4.4 for Ings.

Trent Alexander-Arnold (LEE)
Last season's top scoring FPL defender begins the new campaign with a visit from newly promoted Leeds. Featuring in all 19 games at Anfield, Alexander-Arnold picked up two goals and nine assists on home turf, averaging 6.0 PPG. No defender attempted more assists (51) or created as many as his 11 'big chances', while only van Dijk (9) took more than his eight SoT. Liverpool conceded eight goals over the last six gameweeks of the season but this was when the title was already won. They still conceded the third fewest SiB (34) with only Chelsea (31) and Man. City (26) more solid at the back. It is worth mentioning that they were the league's meanest defence last season, conceding just 33 goals. Leeds scored the most away goals (37) in the Championship last season but to face the Champions away on the opening day is a stiff task. Our Fix Algorithm currently projects a 60% chance of a Liverpool clean sheet and a point score of 7.1 for Alexander-Arnold.