The fix team are excited to announce we are starting a Grassroots Community Project. Each month we will be donating to a good cause and helping support football at grassroots level, by providing any equipment that we can. Our first donation has gone to a primary school in Wiltshire, who got in contact with us to see if we could help. Here is a little more information from their Deputy Head, Alice Simpson. 
We are so grateful at Rowde C of E Primary Academy to have received the £100 donation from Fantasy Football Fix. Our school has been through a challenging time and was deemed 'Inadequate' by Ofsted in 2019. You might think this means the school receives a lot of additional funding, but that's not the case and we have been struggling to make the required improvements with a limited budget.  
The sports and football equipment we have received, the goals, balls and bag, will really help. Unsurprisingly, we have a large group of budding footballers, spurred on by the Euro 2020 success, and they will be extremely enthusiastic about these new goodies. I enlisted our Year 6 Sports Ambassadors to choose how best to spend the money, and they are over-the-moon as PE lessons, football club and training will be so much better now!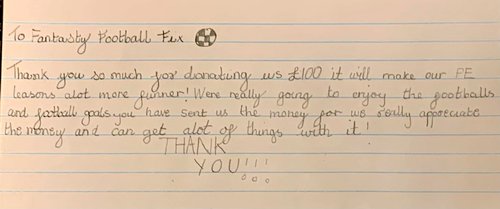 Thank you again for supporting community projects; it will make a real difference and sadly not many of the companies I've approached have been willing to help.  
Alice Simpson 
Deputy Headteacher