It was a tough GW5 for many. Alexander-Arnold, Torres and Reece James were all no-shows, along with several other highly owned players. This led to many managers being able to barely field a full XI. The likes of Salah, Ronaldo, Benrahma and Raphinha helped to make the average somewhat respectable. Once again, there is a lot to discuss!
Arsenal's defence is perfect to invest in?
Adama Traore is an FPL "Troll"?
Michail Antonio is the best captain in GW6?
Jota was/is a bad pick?
Time to sell Luke Shaw?
Arsenal's defence is perfect to invest in?
This topic might seem a little bit hyperbolic after 2 clean sheets vs Burnley and Norwich, however, isn't that exactly what we want from our cheap defenders? Ben White is available at £4.4m and Aaron Ramsdale seems to have locked down the spot in goal, priced at £4.5m. If Arsenal put up decent numbers defensively against the weaker opposition then you have precisely what you need from your asset, the weeks in which you give them a start, you can trust them to get you the clean sheet points.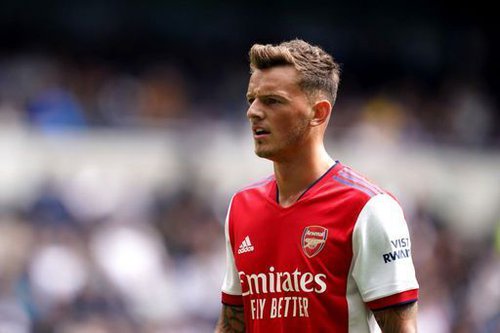 Ben White is now just £4.4m.
Between GW1-3 Arsenal faced a decent Brentford side along with Manchester City and Chelsea, giving up an xG of 8.45, ranking them as the 19th best defence in that time. However, between GW4-5 against Norwich & Burnley, Arsenal have the 4th best defence, giving up an xG of only 1.45. Despite Arsenal's poor season last year finishing in 8th, they did have the 3rd best defence in the league vs teams outside the top 6, conceding only 24 goals in 26 games. The underlying numbers back this up too, Arsenal gave up an xG of 20.63 in 26 (0.79 per game).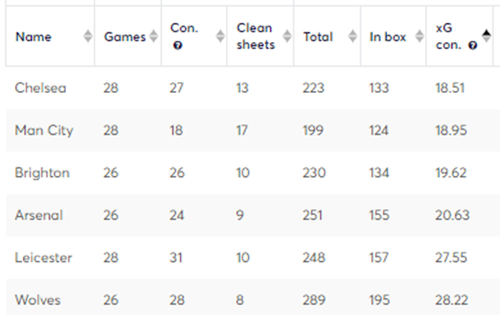 xG conceded vs club outside the top 6 in 2020/21 using OptaStats Sandbox
Given that Arsenal do not have a particularly explosive attack this season (10th for xG, 4.79 total), where Arsenal keep a clean sheet, their defenders have a serious chance at getting some bonus points. I found this out myself at the weekend, with a very nice 7 pointer from Ben White, therefore I am going to say that this is fact and Arsenal's defence is perfect for some cheap rotation!
Adama Traore is an FPL "Troll"?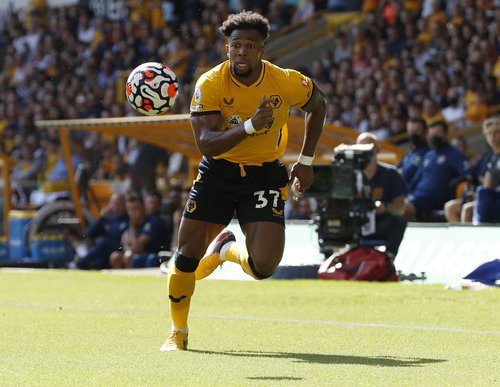 Adama Traore has been frustrating certain FPL managers. 
Adama Traore has started the season in fine form, he has racked up an xG of 1.65 and an xA of 1.16, which puts him in 2nd place for both statistics for Wolves so far this season. However, despite these fantastic statistics, Traore has managed to score a total of 11 points with 0 attacking returns in 5 fixtures. It is often unfair to claim that a player who is not assisting is "trolling" us, as that is often due to poor finishing. However, only 7 of Traore's 24 crosses have been successful so far this season, a 29% success rate. His end product is a key reason as to why people claim that he is a poor FPL asset, so often he will beat the full back, hit the byline and then smack the ball 10 yards over the striker and give the opposition a throw in.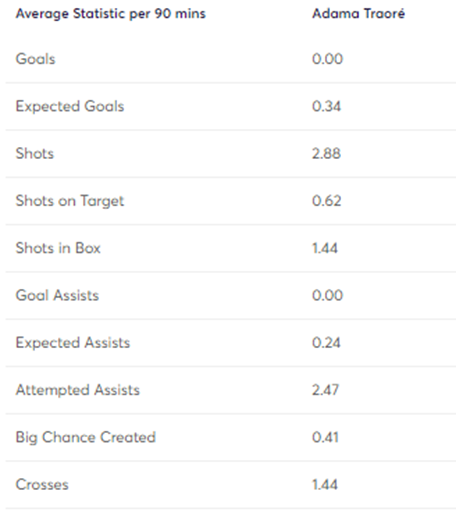 Adama Traore stats 21/22 using Player Heatmaps
If we analyse Adama Traore in his previous seasons for Wolves, he managed 2 goals, 4 assists from an xG of 2.71 and an xA of 4.34 in 2020/21. In 2019/20 he scored 4 and assisted 7 from an xG of 4.19 and an xA of 6.78. Finally, in 2018/19 he scored 1 and assisted 3 from an xG and xA of 1.43 and 1.81 respectively. What this does prove is that Adama Traore is not an FPL troll and that he will revert to his underlying stats across a season. If Adama can maintain these per 90 statistics, then he will be a fantastic asset over the season and should score or assist well over 10 goals.
Michail Antonio is the best captain in GW6?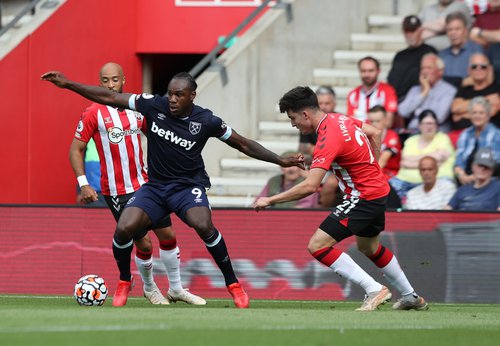 Michail Antonio could be a popular captain option this gameweek. 
Of players with over 180 minutes played, Michail Antonio has the 4th highest xA90 and the 3rd highest xG90, so we know what he has to offer as an FPL asset. If he is rested midweek in the Carabao Cup, then he will have had a 9 day rest by the time the Irons face Leeds away in GW6, this all bodes well for an explosive gameweek. Of course, this one isn't simple as Ronaldo faces Aston Villa (H) and Mo Salah faces newly promoted Brentford (A).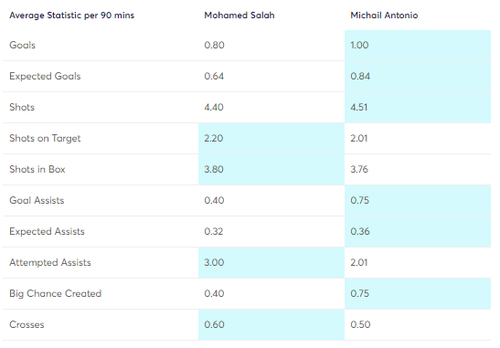 Mo Salah vs Michail Antonio in 21/22 using Player Heatmaps
The main reason that several FPL managers are considering Michail Antonio as a captain is the Leeds defence. Leeds have a number of defenders injured or suspended currently. Full back Luke Ayling had to fill in at centre-back last week against Newcastle, and like the rest of his defensive teammates he was subbed off with an injury. So, currently I would not be able to guess the Leeds starting defence in GW6. If Antonio comes up against an academy graduate or young player, alongside Liam Cooper, it could be an absolute bloodbath.
However, as already mentioned, Cristiano Ronaldo comes up against Aston Villa this weekend at home. In only 180 minutes, Ronaldo has 3 goals from an xG of 3.17 (4th highest in the league). I think it would take a brave person to bet against him going into GW6 and that is why I am going to say that it is fixtion that Antonio is the go-to captain.
Jota was/is a bad pick?
A big discussion topic in GW1 was whether you should triple up on Liverpool assets, and if so, whether to go for Tsimikas or Jota. Tsimikas had a limited shelf life with Robertson only out for a few weeks and Jota has competition from Firmino. I think that Tsimikas owners will currently feel like the winners, given that for £3.5m less both players have scored 23 points after 5 GW's. I personally do not believe this tells the full story however.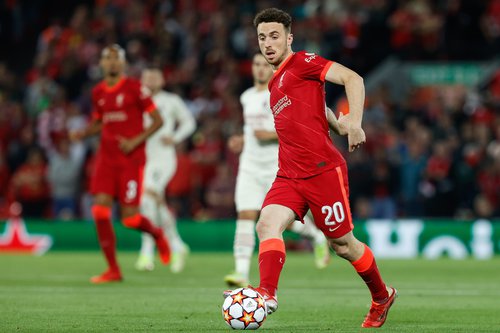 Diogo Jota is yet to reward many of his owners in FPL. 

When we look at expected FPL points, Jota has a total of 26.91 compared to Tsimikas' 17.51. Jota is also still likely to start most weeks in the future. In the past 2 weeks, Jota has accumulated 6 FPL points compared to 16 and 20 for Mane and Salah respectively. Jota in that time has an xFPL of 14.59 with an xG of 1.12 and an xA of 1.31, 3 or 4 returns and 25+ points would not have been unjust, it just hasn't gone his way.

Mane vs Salah vs Jota GW4-5 using Opta Stats Sandbox
As an FPL manager who decided to choose Tsimikas over Jota, I can count myself incredibly lucky that Jota has not hurt me more over the past few weeks, and I personally will seriously consider bringing him in on a wildcard. A £7.7m midfielder, starting up top for Liverpool 25/30 games a season surely ends up being fantastic value with well over 160 points across a season. So therefore, I believe that Jota is, and was a great buy!
Time to sell Luke Shaw?
Manchester United have started the season with only 1 clean sheet in their opening 5 games, with Luke Shaw picking up 18 points in that time. Shaw has picked up 1 assist and 2 bonus points, but outside of that he has been a pretty poor asset so far. The United man is still taking all corners and free kicks from wide areas, so there will be plenty of opportunities for him to pick up assists over the season for a strong defensive unit.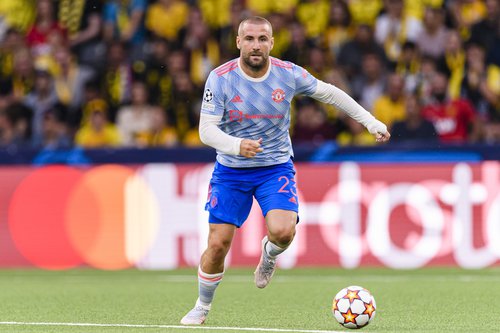 Luke Shaw has only achieved one attacking return so far this season. 
Of all defenders priced at £5.5m or less, Luke Shaw ranks 22nd in terms of points, however, he does rank 5th in terms of expected points. So it is quite clear he has been unfortunate so far. I personally will be giving him a few more weeks to see if he can get me the inevitable 12/15 pointer than is coming his way.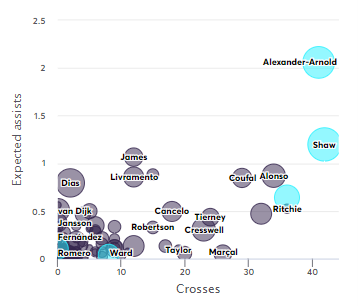 Crosses/Expected assists for all defenders in 2021/22 using Custom Stats Builder
As you can see, no defender in the league has put more crosses into the box than Luke Shaw so far this season (42), in the long run this is going to lead to a lot of assists, especially with Cristiano Ronaldo in the box. Over the season, if he remains fit, Luke Shaw is a guaranteed 150+ point defender for £5.5m.
From GW8, Manchester United face 6 of last seasons top 8 teams in the space of 7 weeks, I will personally be looking to sell him for a Chelsea/City defender at that point. He will then drop in price a bit and we can buy him back at a cut price deal down the line! Therefore, it is fixtion that we need to sell Shaw right now, but potentially could or should do in a few weeks time!