The first international break is finally over - much to the relief of most FPL managers. Four more gameweeks of fun and chaos are about to ensue as the dust begins to settle and people either play, or start to consider playing, their first wildcard of the season. When planning that wildcard, there might be spaces for certain differentials to enter your thoughts. The sample size remains small, but hopefully the abundance of tools at your disposal on the Fantasy Football Fix website will be able to help you to make those key decisions when considering your transfers or wildcard strategy. In terms of the differential blog, its safe to say that I have been on a downward trajectory since the GW1 21 points. Lets quickly look at how the selections in Gameweek 3 went. 
Jose Sa was my goalkeeper of choice - with the hope that the combination of save points and a clean sheet meaning a double digit haul could be on the cards. I wasn't far away, was I? Of course, the fact I didn't get that haul was essentially a combination of his fault and the fault of the referee and VAR, failing to overturn a pretty clear foul by Paul Pogba on Ruben Neves. Sa came away wih a 2 pointer after only making 2 saves vs Man Utd. Wolves actually produced their third good performance of the season but yet again succumbed to a 1-0 defeat - from an xCS of 0.63, I feel like that gamble was very close to paying off. Those that do own Sa will be looking at his upcoming fixtures with relish and expecting that surely some clean sheets will be arriving. The defensive gamble, however, undoubtedly failed. Chelsea were looking very solid until my selection, Reece James, was sent off for handball on the goal line. Again, there's an element of bad luck here. James had produced the assist (albeit a 0.03 xA assist) for Kai Havertz opening goal, and the way that Chelsea defended after his red card would give credence to the argument that a clean sheet at Anfield was possible. But the red card means James finishing with a 1 point return and a suspension in GW4. Meanwhile, my midfield selection completed a third successive game of 'how did he not get a return?'. Adama Traore had an xG of 0.09 and an xA of 0.64 with 4 attempted assists vs Man Utd, creating 1 big chance for his midfield partner Trincao and threatening throughout the 90 minutes with his driving runs. The criticism of Traore is always his end product, but the fact he doesn't have an assist so far this season from an xA of 0.67 per 90 is more of an indictment of the end product of his teammates than him. The fixture run for Wolves goes on and on, and I think there's a very reasonable prospect of good returns in the coming weeks. The pick last week that I was least confident with was Teemu Pukki and he rescued me with a penalty goal against Leicester in Gameweek 3. In reality, this was a fortunate return with the penalty being one of only 2 touches in the box for the Finnish striker in GW3, but we know that Norwich are now headed towards a much more pleasant fixture run that could lead to the 5.9 FWD becoming a viable 3rd striker for his owners. So, 12 points for the 4 picks in GW3 was not the expected return - lets see if we can knock that out of the park in Gameweek 4 with these 4 selections. 
Goalkeeper: Bernd Leno Ownership: 1.9% Fixture: Norwich H 
Yes, I know. Arsenal have looked criminally underprepared so far this season. There are a multitude of factors that contribute towards that. Arsenal were lacking key players across their team in the opening 3 gameweeks, with Ben White, Gabriel, Thomas Partey, Pierre-Emerick Aubameyang and Alexandre Lacazette all missing minutes in the first 3 gameweeks. The fixtures were also obviously unkind with a fixture against a crowd-driven newly promoted Brentford in Gameweek 1, before fixtures against the two Champions League finalists from the 2020/21 season in Chelsea and Manchester City in the subsequent two gameweeks. Arsenal have scored no goals, and conceded 9 so far this season, and that makes looking at their goalkeeper a gamble. For me, the gamble really is on whether Leno continues to hold his place over the new signing, Aaron Ramsdale. I believe he should - Leno has made 9 saves in the 3 fixtures and his 5 saves at the Etihad actually prevented Arsenal from a much more significant humiliation. But for me, the fixtures indicate that Bernd Leno is a very viable option. Arsenal top the defensive fixture ticker when looking at the next 8 gameweeks - and at 4.9, he could be an absolute bargain. The one factor against could be that Tierney (4.9) and White (4.4) could be better Arsenal defensive options at a potentially cheaper price. But I think Leno could be someone who picks up significant points in the upcoming weeks and with White and Gabriel hoping to commence their defensive partnership against Norwich, I have a belief that they could get their first win and first clean sheet this week at The Emirates. 

Arsenal are top of the Fix Defensive Ticker for the next 8 gameweeks. Taken from Fixture Analyser 
Defender: Antonio Rudiger Ownership: 8.1% Fixture: Aston Villa H 
Apart from the obvious Cristiano Ronaldo hype, Chelsea are the place where most FPL managers have their eyes locked. The majority of people are looking at Gameweek 7, when Chelsea's real fixture swing commences, but there is an opportunity to go in early on the defensive maestros. Chelsea have already had 2 clean sheets from their fixtures with Crystal Palace and Arsenal, and the defensive statistics for the team are skewed by the Reece James red card - but even with playing over 45 minutes with 10 men at Anfield, Chelsea have yet to concede a goal in open play. While Luke Shaw looks a great option for Gameweek 4 specifically, I think Rudiger could offer wonderful long term value from Gameweek 4 onwards. Even in the bigger and tougher games (Chelsea face Spurs and Man City in GW5-6), Chelsea never look vulnerable to concede a lot of goals. As you can see in the defensive comparison I've put together, there isn't much to split some of the key defenders around his price point in the first 3 gameweeks - but as stated already, those stats are potentially skewed by that Reece James red card at Anfield. 17 of the 24 shots in the box that Chelsea have conceded came in that fixture, and also had an xGC of 2.21 but managed to restrict Liverpool and relatively comfortably keep them out in the 2nd half by putting their bodies on the line. Aston Villa in GW4 looks a great entry point - and Rudiger would be my preference over Christensen with the shadow of Thiago Silva lurking in the background behind the Dane.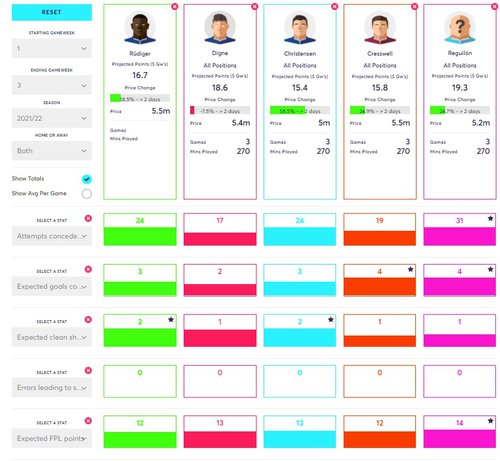 This shows Rudiger matching up relatively evenly with other defenders at his price point despite over 45 minutes at Anfield with 10 men. Taken from Fix Comparison Matrix

Jack Harrison Ownership: 2.8% Liverpool A 
There's every chance that this selection would be Raphinha if we didn't have the International suspension threat looming over Brazilian players following the chaos of this international break - but I think that the Leeds attacking fixtures upcoming are very tough to ignore. The threat of suspension for Raphinha has pushed me towards Jack Harrison for this particular selection - perhaps due to the hypothesis that Raphinha might face the same issue again after the next international break. Harrison has posed a threat against Liverpool before, scoring against them brilliantly in Gameweek 1 last season. Harrison looks nailed at least in the short term with Bielsa having a history of taking time to integrate his new signings, meaning the Daniel James threat is likely to come a little further down the line. Harrison's heatmap is comparable to Raphinha - The Brazilian has certainly offered more of a goal threat, while Harrison has the higher xA. The reason why I would be looking at bringing one of these two into your thinking as soon as possible is the fixtures. Leeds are 2nd in the attacking fixture ticker (behind Everton) between now and GW10. Harrison opens up the possibility to throw more money into the other areas of the team and I wouldn't be that surprised if he poses a problem for Liverpool this weekend - particularly if they are forced to leave out goalkeeper Alisson. 

Jack Harrison offers great value at £5.9m with Leeds 2nd on the attacking fixture ticker for the next 7 gameweeks. Taken from Fixture Analyser.
Raul Jimenez Ownership: 3.2% Watford A 
Yes, we're back at the Wolves well again! Their statistics and underlyings continue to defy belief when you factor in that they haven't scored yet this season. Jimenez has 12 shots and 10 attempted assists so far this season. The problem is that those shots and assists haven't yet led to the threat of big hauls - with only 1 shot on target and 0 big chances created. The problem for Jimenez has been the profligacy in front of goal of Trincao and Traore, and perhaps some unsurprising rustiness infront of goal considering the length of time he was out with a horrendous injury.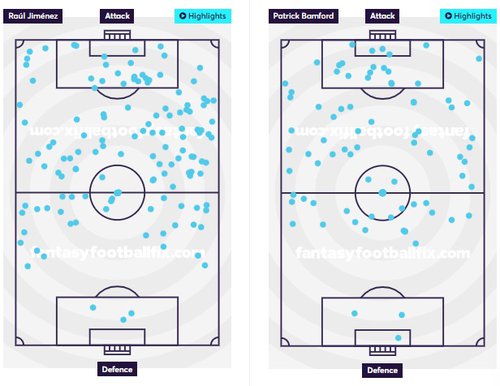 Jimenez and Bamford look like the best attacking options under 8m apart from Michail Antonio. Taken from Player Heatmaps
If you are unable to stretch to Dominic Calvert-Lewin with a transfer this week - or you are put off by the known niggles he has, then I think the 2 best striking options to bring in would be either Jimenez or Patrick Bamford. From my perspective, Jimenez is the best asset to own in the Wolves attack - if Wolves do put it together and score goals, it seems hugely unlikely that he won't be involved in some capacity. While at Leeds, you have reliable Premier League assets that have proven they can contribute goals and assists in Harrison and Raphinha who are a significant cost saving. That is what makes me lean towards Jimenez as the preference between the two. Wolves have excellent fixtures - and it seems a matter of time before the attacking returns do come. I have included a comparison between Jimenez and Bamford. The underlyings are there, as are the touches in the box, we just have to hope that the returns will follow.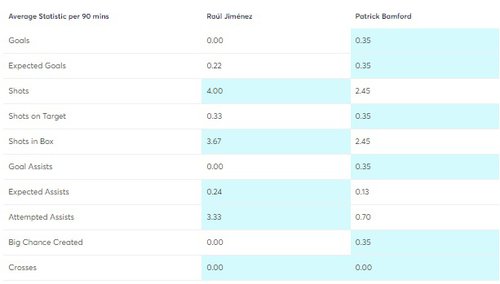 I slightly favour Jimenez over Bamford for the price difference, and the fact that Leeds have proven Premier League assets at cheaper prices in midfield. Taken from Player Heatmaps
Whether its transfers or a wildcard you are working on, good luck with all your decisions in GW4 - all the options here should be good in the medium term, rather than just a 1 week move. 
Good luck! 
Rob Pick
@rpick86